Vermont is a small, out-of-the-way place, and if recent discussions about its future are any indication, its residents often wonder if their way of life is compatible with the rest of the country's. No other state proudly trumpets the fact that a sitting president refuses to visit; none has argued so passionately for secession — a movement that surely embodies collective concern about whether the United States of America can live up to its good name.
Every generation over the course of our history has witnessed assaults on the civil liberties that lie at the heart of American democracy. And the generation that has lived through eight years of George W. Bush has good reason to conclude the country will never be the same. If there's any comfort to be had, though, it's in knowing there are people actively engaged in the struggle to preserve those liberties on behalf of all of us.
In Vermont, you don't have to dig very deep into the news to find people who believe "a more perfect union" is worth fighting for. The locals featured here demonstrate personal commitments to the rights and principles set out in the United States Constitution — a document that, for better or worse, has outlived those who sought to weaken it.
******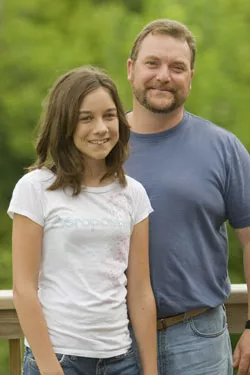 Mel Downs
Mel Downs considers himself a tolerant person. But a couple of years ago, the 44-year-old Irasburg cattle farmer started hearing disturbing reports from his daughter, Kaytlyn Oliver, that religion was part of the curriculum in her sixth-grade language arts class.
At first, Downs says he was inclined to give the teacher, Wally Rogers, the benefit of the doubt. But last December, Kaytlyn brought home a document entitled "Why Jesus Is Better Than Santa Claus," which concluded with a command: "Put CHRIST back in Christmas."
As it turns out, Rogers had also posted the Ten Commandments on the classroom wall and used a school-funded Web page with links to Christian sites that, among other things, espoused the views of Creationists. He told his students they couldn't put Santa Claus in the Christmas cards they were making in class. According to Downs, the teacher only allowed "either a nativity scene or Jesus" on the handmade cards.
In Downs' mind, Rogers' actions were blatant violations of the separation of church and state as outlined in the establishment clause of the First Amendment. Downs brought his daughter's complaint to the attention of school officials. That led Stephen Urgenson, superintendent of the Orleans Central Supervisory Union, to order Rogers to remove the Ten Commandments and other religious material from his classroom.
"We are open-minded," Downs says. "We just don't want anybody teaching our kids Christianity in a public school . . . As Americans, that's our right."
Downs brought the issue to the ACLU of Vermont, which is keeping an eye on the case. Among Downs' lingering concerns is that Kaytlyn and other students who complained about Rogers' classroom theology might be harassed for standing up for that right.
"Hopefully," Downs says, "the school learns something, and they educate the parents, the teachers and students in the future. That's the important thing."
Kirk Kardashian
******
Jennifer Larsen
Workers' rights are human rights, says labor organizer Jennifer Larsen. But don't take her word for it. The principle is embedded in a 73-year-old law, the National Labor Relations Act, which established the rights of workers to organize to protect their health and well-being on the job.
Larsen, the only female member of the Governor's Labor Advisory Council, says the NLRA guarantees everyone the right to work and the right "to make enough money to maintain your individual dignity as well as that of your family."
Unions enable employees to challenge the balance of power between workers and those who control wages and working conditions. At its core, Larsen says, the right to organize is as American as the Bill of Rights itself.
"Organizing is all about the right to assemble, the right to free speech," she says. "And sadly, those things get challenged in any anti-union effort."
Larsen, who is a lab technician at the University of Vermont, says that without labor unions, workers would be unable to demand decent working conditions without fear of losing their jobs. For example, Larsen often comes in contact with dangerous chemicals and gases at her job, and she worries about the school administration's commitment to worker safety.
"We have a program at UVM for staff support, but the system is designed to support the administration," she says. "It's not confidential, and no one is protected if they speak out about a problem."
Larsen was instrumental in the creation of UVM's United Staff, an unaffiliated organizing effort. The group, which is attempting to build solidarity among about 1500 UVM workers, has faced resistance from campus administrators.
"This is not a mutiny to take over the ship," she says, "but an attempt to drive the ship in a more meaningful way."
Shay Totten
******
Sam Mayfield
The news media have always been essential to upholding and protecting American democracy. But at a time when the voices seem to be controlled by fewer and fewer people, that role may never be more important.
"The concentration of media ownership puts us all at risk," says Sam Mayfield, the community-relations coordinator at CCTV, a Burlington public-access station. "When media is being manipulated by corporate interests, we don't have access to information that is representative of our lives."
One of three community-access stations in Burlington, CCTV encourages average people with no media experience to tell their stories. The station makes its equipment available to anyone who wants to use it, and offers training in capturing and editing video.
Mayfield, who has a background in communications and media theory, is troubled by the inherent conflict between the commercial interests that drive mainstream media operations and the editorial decisions those outlets make. Too often the result is sound-bite journalism that fails to reflect the real, and sometimes difficult, lives of ordinary Americans.
Mayfield is proud of CCTV's commitment to covering local government in "a full, rich and unedited way" that most other media cannot match. "We provide a complete picture of an agenda item or a meeting," Mayfield says, "so they can really see how something came to be, rather than how someone's subjective influence informs the story."
Burlington residents have shown strong support for community-access television. But Mayfield refuses to take it for granted, warning that all independent media remain under constant economic threat.
"Our local paper is owned by Gannett, which is not local and people need to know that," Mayfield says. "They need to resist it the best they can, and that includes making their own media that represents their own lives."
Brian Wallstin
******
Paul Wright
Paul Wright champions the cause of those who have already surrendered most of their rights: the 2.3 million Americans who are incarcerated in the United States. In fact, many people would say that Wright himself doesn't deserve many of the freedoms afforded to other Americans.
In 1987, Wright was sentenced to 25 years in prison for killing a cocaine dealer in a botched robbery attempt. A short time into his term, he found his calling as a prisoners' rights activist, legal expert and editor of Prison Legal News, a publication devoted to exposing abuse, neglect, violence and malfeasance in the American penal system. Wright has published more than 200 issues of PLN, which can be found in nearly every state and federal prison in the country.
Assuming wardens allow it in, that is. They often don't, despite well-established constitutional law that says they must. As a result, Wright, who lives in Brattleboro, has sued sheriff's departments, wardens, corrections officials and even the federal government to ensure that inmates have the right to subscribe to his publication. In February, for instance, Wright won an injunction against the Fulton County Jail in Atlanta, Georgia, which had banned all publications, including PLN, because the sheriff didn't like the Atlanta Journal-Constitution's coverage of the jail.
"[The sheriff's] response was, 'I don't want to appear as though I'm singling them out, so I'm going to ban everything,'" Wright recalls. "Unfortunately, the Journal-Constitution didn't sue him, so we did."
Wright, who's written and edited several books on the U.S. correctional system, doesn't hold out much hope for reforming a system that most Americans would just as soon ignore.
"We win the occasional battle, but overall, we're losing the war," he says. "In over 20 years as a prisoners' rights activist, I can't say that we've made a lot of progress."
Ken Picard
******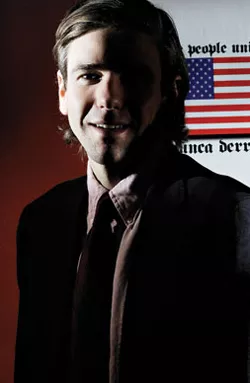 Jared Carter
On May 28, a third-year Vermont Law School student appeared in federal court in Burlington to argue for a constitutional right that isn't on most Americans' radar: the right to "familial relations."
Opposed by seasoned attorneys from the U.S. Department of Justice, Jared Carter was attempting to reverse a decision by the Bush administration that restricts the rights of Cuban-Americans to visit relatives back in Cuba. The policy, set in 2004, tightened the definition of family by excluding aunts, uncles and cousins, and it authorized the government to deny travel licenses to Cuba for such "exigent circumstances" as birth, marriage, illness and death.
According to some legal experts, Carter is the first to challenge government restrictions on the "familial relations" of Cuban-Americans. If successful, his legal action would remove the political and diplomatic barriers on travel between the U.S. and Cuba — reversing, in essence, a half-century of American foreign policy.
Standing before District Court Judge William Sessions, Carter argued that the Constitution and federal case law guarantee him and his wife, Yurisleidis "Yuri" Leyvis Mora, the right to celebrate their wedding with Mora's sick and elderly grandparents. As Sessions grilled him on the executive branch's presumed authority to set foreign policy, Carter kept his cool and maintained compellingly that the president's actions set a "dangerous precedent." He said that the administration has denied millions of Cuban-Americans, including two other Vermont plaintiffs, the right to be with their loved ones during seminal life events.
Although Sessions has yet to rule on the plaintiffs' request for an injunction — both sides filed briefs late last week — the judge was clearly impressed with Carter's oral argument. Sessions, who himself taught at Vermont Law School for many years, summed up Carter's performance with an evaluation straight from the bench: "A-minus".
Ken Picard
******
Bennett Law
Pick any effort to advance the cause of Vermont's LGBT community — from hate-crimes legislation to civil unions — and Bennett Law has been a part of it.
Law got his start as an activist more than a decade ago chairing the board of Vermont CARES, an AIDS service organization. He later helped found the Gay and Lesbian Fund of Vermont, a group he currently helms. He's also a member of the Vermont Freedom to Marry Task Force.
Law describes himself as someone who is unable to witness wrongdoing without trying to make it right. "Some of what drives me," he says, "is a recognition that I can't wait for someone else to make the world the way I want it to be. I might as well jump in and try to have some impact myself."
Law, who just turned 50, is too young to have participated in the civil rights and anti-war movements of the 1960s. He sees the struggle for marriage equality as a once-in-a-lifetime opportunity to engage "a groundbreaking, society-changing kind of issue," and he describes his work as an attempt to convince all Americans that they set the standard for human rights and dignity around the world. "The common elements of our lives far outweigh the parts of our lives that are unique," he says.
Those who would amend the U.S Constitution to prohibit gays and lesbians from marrying, Law says, "must really respect that document" as the cornerstone of the country's legal structure. He believes, however, that the Constitution should be interpreted in ways that reflect changes in society, rather than codifying the intolerance of a particular minority.
"It doesn't seem like a healthy response for our society to go to that extreme out of fear," Law says. "If people want to make changes to the Constitution, in my fantasy world, they would make them for more insightful, constructive reasons."
Brian Wallstin
******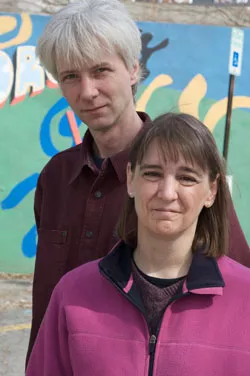 Lise LePage and Chris Grotke
During the run-up to the Iraq War, two Brattleboro web designers surveyed the state of the media and decided to take a "think globally, act locally" approach to the news. Chris Grotke and Lise LePage started a website called iBrattleboro.com, which allows citizen journalists to report and post their own news items. It was "kind of a revolutionary concept," notes Grotke, that quickly became a powerful platform for the town's residents.
"In a lot of ways, we're sort of the early pioneers of Vermont cyberspace," Grotke contends. "People find out about it and they start gathering around it, and time goes on and it develops into something."
In November 2007, iBrattleboro became a test case for the First Amendment rights of citizen journalists who publish on the Internet. A local woman sued the couple's corporation, MuseArts, Inc., alleging that another user posted libelous comments about her on iBrattleboro.com.
LePage and Grotke fought back, arguing that the Communications Decency Act shielded MuseArts from liability. Congress passed the CDA in 1996, noting that the Internet had become a platform for "a true diversity of political discourse, unique opportunities for cultural development, and myriad avenues for intellectual activity." To foster this marketplace of ideas, the CDA does not subject websites like iBrattleboro.com to the same standards of liability that traditional publishers face. In March, a judge dismissed the case, ruling that, under the CDA, Grotke and LePage were not required to edit or remove user-submitted postings to the site.
For LePage, the CDA is vital to the journalistic mission of sites like iBrattleboro.com. Without it, she says, Web-based citizen journalists would be subject to legal threats and, in all likelihood, silenced. "If we weren't protected," she says, "all of this would go away."
Kirk Kardashian
******
Bob Rachlin
Over the course of his long legal career, Bob Rachlin hasn't handled many cases involving the writ of habeas corpus. But when the Center for Constitutional Rights asked him to represent detainees at the U.S. military prison at Guantanamo Bay, Cuba, he didn't hesitate.
"When I was admitted to the bar, I took an oath, and in that oath I promised to support and defend the Constitution of the United States," Rachlin says. "All I am doing is keeping my promise."
Rachlin has two clients at Guantanamo: a Saudi national who has so far refused counsel (expressing, rather, the desire to achieve martyrdom); and an Algerian who, Rachlin says, is clearly innocent. Both men have been at Gitmo for about six years, and, of course, neither has been allowed to challenge the U.S. government's grounds for detaining him — until last month, when the Supreme Court granted the 270 people currently held at Guantanamo the right to seek redress in an American court.
As Rachlin sees it, the detainees' legal plight began with the Bush administration's decision to describe America's response to the 9/11 attacks as a "war" on terror. "If we're using [war] in a metaphorical sense," he says, "then it's not entirely cricket to import into that concept all the things that normally accompany a real war, including the curtailment of civil rights."
Unlike Bush administration lawyers, Rachlin says he has the utmost confidence in American jurisprudence. Indeed, more than 80 terror-related cases, "with the full panoply of rules of evidence and constitutional protections," have been tried in American courts. And, despite several high-profile convictions, he says, "jihadists did not rampage through the streets, and our national security was not compromised."
In the face of public outrage, the Bush administration now acknowledges that Guantanamo should be closed, its inhabitants granted either freedom or their day in court. Rachlin hails the apparent vindication of core American values as cause for optimism.
"Sure, we've seen an administration that has ignored the law," Rachlin says. "But, to paraphrase and misquote Mark Twain, I would say that rumors of the death of the rule of law are greatly exaggerated."
Brian Wallstin
******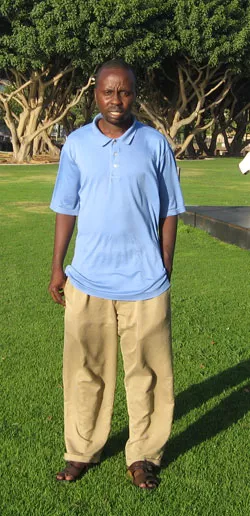 Mohamed Abdi
Vermont is a world away from the East African refugee camps he endured for 14 years, but Mohamed Abdi knows that simply arriving in America can be difficult for immigrants.
Abdi, 32, came here four years ago from Kenya, where he was a case manager for orphans and rape victims and an education supervisor for the International Rescue Committee. He recalls how hard it was when he settled in Winooski to take care of the simplest tasks, such as bringing his groceries home in a blizzard.
Abdi noticed that his neighbors in Burlington's growing Somali Bantu community were also struggling to adapt to their new country. Some were having trouble paying their utility bills or finding health care. Others couldn't understand the legal system or how to assert their rights with landlords and employers. So Abdi got together with a few neighbors and formed the Somali Bantu Community Association of Vermont, which serves more than 400 Somali Bantu refugees in the greater Burlington area.
The American legal system is a big improvement over the lawless environment that prevailed in the camps, Abdi says. But newly arrived refugees still need counseling and support. The association provides that, along with financial assistance and legal advice. It has also created a "problem-solving" committee to help with personal disputes. "Everyone can say whatever they want," Abdi says, "and someone will be there to listen and protect them if they need any protection."
When Abdi and his family landed at the Burlington International Airport in February 2004, no one was waiting for them at the gate. These days, Abdi makes sure a friendly face is there to greet those who have come seeking a better life. "Life will be very easy for them," he says. "It's very easy now, compared to what it used to be."
Mike Ives
Photo Credits:
Mel Downs photo: Gregory Lamoureaux
Jennifer Larsen photo: Matthew Thorsen
Sam Mayfield photo: Matthew Thorsen
Paul Wright photo: Jason Henske
Jared Carter photo: Jay Ericson
Bennett Law photo: Tim Calabro
Lise LePage and Chris Grotke photo: David Shaw
Bob Rachlin photo: Jordan Silverman
Mohamed Abdi photo: Courtesy of Masiti Mohamed