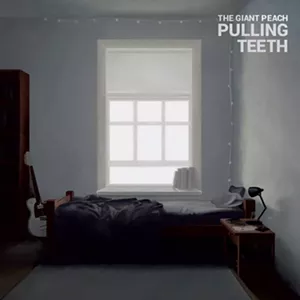 The Giant Peach, Pulling Teeth
(Self-released, CD, digital download)
After a significant breakup, it's natural to want to be surrounded by friends. Sure, some prefer to go it alone until the last teardrop falls, but many folks want a cadre of besties to distract them until their broken heart's stitches dissolve. The Giant Peach's multi-instrumentalist, songwriter and front man, Harrison Wood Hsiang, probably prefers a group hang.
Born at Middlebury College, the Giant Peach is a sprawling, orchestral family. A self-described breakup album, their debut, Pulling Teeth, is a fully outfitted indie-rock record featuring trumpet, saxophone, slide guitar, upright bass and violin. More than a dozen players — most of whom appear on a single track — bring Hsiang's heartbreak to life through eight glossy tracks.
Largely about the loss of love — and, consequently, the loss of self — the album casts off sorrowful dirges and sad-sack lethargy. Conversely, the debut is chock-full of bright tones, close-up vocals and hooks that wade into downright commercially appealing waters. Hsiang and company create artful, ornately arranged songs that burrow into your brain's pleasure center.
"Over Again" unfurls with an upbeat, contemplative guitar riff. As the hi-hats become more imposing, Hsiang lithely sings of a safe place that suddenly feels vulnerable. A tsunami of piano arpeggios sweeps in under off-time surges of guitar and bubbly trumpet as the song reaches its earworm chorus: "Goddamn / Well, I did it wrong / Did it again / Is this the end?"
Leaning into folk-rock, "Used" pairs acoustic guitar with a weary chorus of oohs and twinkling piano. Nearly whispering, Hsiang seems to come to grips with his failing relationship as he sings, "Get what you asked for / Do you really still need more? Spin some words to hide it all away / See, I've been pulling teeth to / Try and catch you with a smile." As the song reaches its climax, grating beds of distortion erupt beneath the singer's docile vocals.
"(...)" is a 90-second neoclassical interlude. Largely a piano composition, it feels like a wedding processional until its dissolution into unwieldy, overdriven cacophony.
"Waiting," with its slaphappy trumpet, punchy percussive pattern and instantly singable hook, contains the album's most standout melodies. Brassy blasts accentuate the negative space in Hsiang's phrasing. He weaves his words through tightly harmonized triplets before wondering, "So it's just a fling? / So it's just some silly little thing we'll both forget?"
The Giant Peach present an instantly likable offering of forlorn yet upbeat songs on music's most familiar subject. Hsiang's vocals are smooth and titillating, and his cohorts do him a great service by bringing his earnestness to life in a juicy, concise package.
Pulling Teeth is available at thegiantpeachband.bandcamp.com. The Giant Peach perform on Saturday, April 28, at Foam Brewers in Burlington.