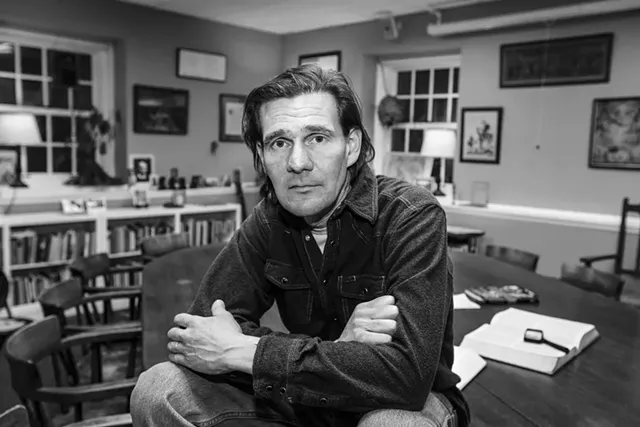 Courtesy of The Frost Place
Todd Hearon
A hundred years ago, a relatively unknown poet named Robert Frost bought a farm in Franconia, N.H., and settled in with his wife and four children. The family lived on the farm for five years and summered there for 20. Frost later served as Vermont's first poet laureate and had a long-standing affiliation with Middlebury College and its Bread Loaf Writers' Conference in Ripton. But it was during his time in this 1860s farmhouse overlooking the White Mountains that Frost published three acclaimed books and transformed himself from an obscure to a famous poet.
Now his former home is an established museum and nonprofit educational center for poetry, called simply the Frost Place, which affords contemporary poets the chance to advance their work. Each summer it hosts poetry readings, workshops, conferences and one writer in residence.
Begun in 1977, the residency was designed to offer a poet who is at an "artistic and personal crossroads" an opportunity to live and write on this quiet lane with a mountain view, taking advantage of the museum's "spartan but comfortable" accommodations.
Among the 38 writers who have spent time at the Frost Place are Katha Pollitt, Robert Hass, William Matthews and Cleopatra Mathis, as well as Vermont literary luminaries such as Major Jackson, Mary Ruefle and Jody Gladding. In an email, Gladding recalls of her experience at the rural site: "There was definitely a charged, or laden, atmosphere about the place. Was it Frost's presence? Possibly ... But the presence of the bear, the raccoon, the moose (!) in the woodlot, those were unmistakable."
On Wednesday, July 1, poet Todd Hearon will unpack his suitcase and begin his stint as this year's Dartmouth Poet in Residence at the Frost Place, which includes an award of $1,000 from the museum and an equal amount from Dartmouth College. Hearon is the author of two full-length collections, including 2010's Strange Land, and the recipient of numerous poetry prizes and awards. During the school year, he teaches English at Phillips Exeter Academy in Exeter, N.H. This summer Hearon, along with his wife, poet Maggie Dietz, and their 8-year-old twins, will settle in at the Frost Place to devote himself to poetic work. He'll also give public readings there and at other venues in the area.
In an email, Hearon expresses his anticipation of having "the sustained time of just letting thought and imagination roam down their own winding dirt roads, seeing where they'll take me."
Is Frost's legacy intimidating? "Of course, the Frost House comes with its own pressures and hauntings — his is a great shadow (influence, I mean) to have standing behind you while you work," Hearon writes. "But I see it as salutary and beneficent. I imagine a voice telling me to simply accomplish what I can ... Just to do what he himself probably did. Just do my best."