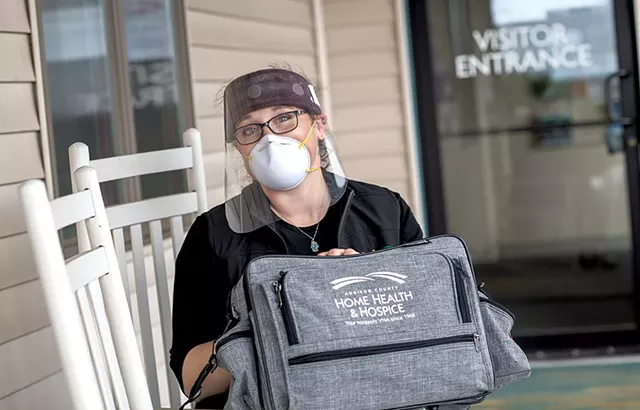 Caleb Kenna
Sarah Frisch
Each time she treated her patient, a man recovering from the new coronavirus, Addison County nurse Sarah Frisch suited up in full personal protective equipment. She donned a surgical head covering and gown, slipped on booties and gloves, and strapped on an N95 respirator and a homemade face shield.
Then she walked up his driveway and knocked on his front door.
Frisch, 37, is among hundreds of nurses and personal care aides in Vermont who have been working on an invisible front line against the COVID-19 pandemic. Six days a week, she drives around the county to visit patients in their homes. Some are dying from terminal illnesses, some need help to continue living on their own and, lately, some are fending off the virus.
Home health services are playing a crucial, if sometimes overlooked, role in a state health care system that is being put to the test. Home health workers provide care that frees up hospital beds, as well as short- and long-term support that keeps people out of outbreak-prone nursing homes.
Their work also carries special hazards. Nurses who hop between several homes a day, working in environments they can't control, risk becoming vectors for community spread of the disease.
"My two biggest fears are somehow bringing this into a patient's home myself or bringing it home to my kids," said Frisch, mother to a 6-year-old son and 1-year-old daughter. "Look at all the health care workers who are getting sick. You can do everything right, and we're still only human."
Frisch and her home health colleagues are caring for dozens of patients infected by the coronavirus, and thousands who aren't. According to the industry's trade organization, 40 COVID-19 patients were receiving services from one of Vermont's 10 home health agencies as of April 27 — compared to 11 patients who were at hospitals around the state.
While residential facilities may refuse to accept a patient with potential or known coronavirus exposure, Addison County Home Health & Hospice, where Frisch has worked for four years, takes all patients. The agency's nurses look after more than 1,400 patients, including six who were diagnosed with COVID-19. Frisch took over care for the first patient after he was discharged from the hospital, a responsibility she said she views as a "privilege."
That man was one of 20 or so patients whose care she manages at any given time. Most of Frisch's work can't be done remotely, but she has adapted as much as she can. She does an over-the-phone symptom screening with patients each day before driving to their homes. She keeps a spare set of personal protective equipment in her car, which she also sanitizes regularly. She washes her hands incessantly.
The steps haven't allayed all of her patients' fears. Some of those without COVID-19 have chosen to forgo the care they need rather than take a perceived risk. "We have a lot of patients who are totally, understandably, scared," Frisch said. "They are not wanting people to come into their homes. It's affected how well I can manage symptoms."
Agencies that perform in-home services, like all health care providers, have struggled to secure respirators and masks that reduce the risk of transmission, according to Jill Olson, executive director of the VNAs of Vermont. Her trade association represents nine agencies, all of which have required that workers wear face coverings during patient visits since early April. Those coverings have not necessarily been surgical-grade masks.
"Probably the biggest challenge has been making sure that we have the equipment we need," Olson said.
Addison County Home Health & Hospice has enough supplies that Frisch can wear an N95 to every visit, as well as a reusable plastic face shield that agency managers manufactured in the office basement. To treat COVID-19 patients, Frisch wears the full suite of equipment.
The Vermont Department of Health has not tracked how many health care workers have become infected with COVID-19, though Seven Days has tallied more than 90 cases disclosed by various organizations. Olson said she isn't collecting employee infection data from her member agencies, either.
Weeks ago, University of Vermont Home Health & Hospice revealed that four of its employees had tested positive at a time when the agency was caring for two COVID-19 patients. No nurses at Frisch's agency have been diagnosed, director of development Maureen Conrad said.
While some vulnerable patients have grown wary of receiving home care, others with physical and intellectual disabilities have struggled with what advocates say is reduced availability of support. "It really felt like, for those folks, the rug had been pulled out from underneath them," said Karen Topper, administrative director for Green Mountain Self-Advocates.
Kirsten Murphy, executive director of the Vermont Developmental Disabilities Council, said one of her council members had his service hours cut in half, leaving him without help to do laundry or dishes. The man, who lives alone and uses a wheelchair, later hurt himself in the shower and was forced to sleep in a chair nightly. He didn't have someone to transfer him to his bed, Murphy said.
Most of the community supports for people with intellectual disabilities and autism have moved online, but a small number of the 125 people receiving assistance through Champlain Community Services still require direct care from aides, executive director Beth Sightler said. Most are in the care of families or contracted "shared living providers," many of whom are now providing round-the-clock care during the state lockdown.
Securing protective equipment for the aides and living providers has been especially difficult, Sightler said, because the nonprofit agency is "not naturally seen as part of the health care system." Sightler broke her sewing machine making cloth masks for her providers and bought some protective equipment "off the back of trucks."
One person receiving services through a Champlain Community Services-contracted shared-living provider died from the coronavirus, though Sightler said the source of the client's exposure was unclear.
"The devastation to the staff and the additional fear that it brings out in them is incredibly acute," Sightler told a state Senate committee earlier this month. "There's a lot of worry for our staff. They've never really worked under these circumstances."
Frisch said that Addison County Home Health & Hospice has provided a bonus for her work during the pandemic. But the pay bump is more than offset by the cost of the nanny Frisch was forced to hire to watch over her kids during the day. There aren't enough slots in the childcare programs available to essential workers, she said.
Nonetheless, Frisch said she "wouldn't feel right" if she didn't continue working. During her first visit to her COVID-19 patient's home, Frisch said, they had a "good, long conversation." The illness was so bad, he told her, that he was sure it was going to kill him.
In the weeks since, Frisch cared for the man in his recliner, helping him wean his lungs off supplemental oxygen. Sometimes she simply listened as he described his physical and emotional journey. Frisch, a hospice specialist, isn't used to providing comfort through so many layers of personal protective equipment. But it paid off: She was able to discharge the man from her care last week.