This year, it's harder than ever before to eat everything we desire during the 10-day bacchanalia known as Vermont Restaurant Week. After all, a record 105 restos have rolled out special menus, and even the hungriest human could only hit a fraction of them before May 5. Still, we're doing our darnedest. For the first night last Friday, Seven Days staffers trekked south and north, or stayed close to home. No matter where we ended up, we were dazzled by the sun — which suggests that spring sweetens Restaurant Week as much as basil-laced gimlets and maple glaze.
From Burlington to Vergennes to Quechee, here are a few tales of gluttony and adventure.
Culinary Crush
"Are you wearing your stretchiest pants?" I asked my boyfriend, Dave, as we barreled south on Route 7 toward Ferrisburgh's Starry Night Café.
"They do have some elasticity, yeah," he answered. "You?"
"Oh, yeah," I said with a laugh.
This wasn't our first Vermont Restaurant Week — we've learned to steel ourselves for these sumptuous three-course meals. Our plan of attack? Skip lunch, so we're starving by dinnertime. Set aside at least two hours for the meal, because it will take that long. Eat slowly, and don't be afraid to have half of every dish wrapped up for later. And, yes, wear loose clothing.
This was our first visit to Starry Night, a romantic-looking spot we'd long eyed from afar. When we walked in last Friday evening, the restaurant was aglow with flickering candles in colorful chandeliers, which were strung with origami birds. Fresh orange and pink tulips brightened every table. Within seconds, the bartender was telling us about the night's special cocktail, something with lychee juice and Bar Hill Gin — my favorite spirit. Regina Spektor's "Samson" played in the back dining room.
When Dave joked that he'd called ahead with my playlist, I half believed him. I was seriously crushing on this place by the time our appetizers arrived — a warm Cabot clothbound cheddar and asparagus bread pudding for him and a roasted-beet and shaved-fennel salad with blue cheese and toasted hazelnuts for me.
The bread pudding was delicious, soft and light, savory but sweet with bright balsamic-onion marmalade. My salad — as well as the strawberry-rhubarb gin cocktail I'd ordered — both tasted like springtime.
There was a leisurely wait before our main course. Dave and I gazed at each other over candlelight, and eavesdropped on the couple at the next table, obvious regulars who were so enamored of the steak tartare that the chef came out to receive their compliments in person.
We weren't so effusive about our entrées, but they were good. Dave's saffron gnocchi — while not the most pillowy dumplings we've had — were incredibly flavorful eaten with long strips of shaved asparagus and a leek-tomato ragù. My grilled Misty Knoll chicken, served with a tomato-asparagus salsa, was perfectly tender. The sour-cream-and-chive mashed potatoes were creamy and tangy, and the accompanying carrots and green beans retained a lovely, firm bite. We stuck to our plan and asked our attentive server to wrap up a good part of each dish.
Onward we forged to dessert. The carrot cake was well spiced and dense; its cream-cheese frosting, drizzled with maple, was as silky as buttercream. Vanilla ice cream melted into the warm strawberry-rhubarb crisp, which was pleasantly tart.
But the taste in our mouths was decidedly sweet as we exited the restaurant into an appropriately dark, starry night.
CAROLYN FOX
Comfort en Cocotte
Year after year, Waterbury's Michael's on the Hill puts together a big, beautiful Restaurant Week menu — and year after year, I miss it. That wasn't going to happen this time. I made my reservation early for the very first day of the promotion.
After a crazy Friday that included working with Top Hat Entertainment on perfecting the Restaurant Week Culinary Pub Quiz, testing the first batch of Feldman's Bagels (that was tough) and appearing on WCAX's "The :30," I was in need of a culinary spa day. That was exactly what I found in the $35, five-course menu at Michael's.
At 7 p.m., the windows in the recently redone dining room let in rays that spotlighted our artfully presented meals. Bread, butter and loose salt gave way to an amuse-bouche of ramp vichyssoise. The shot of light-green soup was thickened with potatoes, but the broth was sweet with wild spring onions. A splash of ramp oil on top intensified its flavors.
It's hard to find the Swiss air-dried beef known as bündnerfleisch, so its presence on the menu was partly what drew me to Michael's. The meaty bed for cheese-filled fondue fritters made a combination that perfectly hit the smoky, salty flavor profiles that defined my favorite childhood meals in Switzerland. Pickled veggies added a welcome, grown-up hint of acid.
The main course arrived in a personal-size Le Creuset cocotte. The gooey bed of herbed polenta that filled the pot would have been meal enough, but the delicious cornmeal was covered in a stew of rabbit confit, sausage and spring vegetables, all in a creamy, whole-grain mustard sauce. I usually consider the fare at Michael's to be sophisticated haute cuisine, but this was comfort food at its finest.
The meal wound down with a smooth chocolate mousse topped with whipped cream that burned with boozy kirsch. I mellowed it with sips of Vermont Artisan Tea chamomile, sweetened with honey.
And indeed, it was a honeyed evening, one that left me relaxed and full but not stuffed. I had to save stomach space for the rest of the week.
ALICE LEVITT
Over the River
Almost all of the seats at Simon Pearce Restaurant have a dramatic view of the Ottauquechee River's rapids, but one particular window — right at the end of the main dining room — frames the famous Quechee covered bridge. After Tropical Storm Irene, the remains of that bridge dangled in midair for close to a year before it was replaced. By the time we took our seats near that window this past weekend, the early evening light had ignited that bridge's new beams to a fiery gold.
I've had many lunches here. Simon Pearce is the ultimate Upper Valley place to take visiting friends and family, and they always "ooh" and "aaah" as much over the views and the famous blown glass as they do over the food. Yet I'd never eaten dinner here, nor witnessed the romantic vibe that falls over the dining rooms as the sun goes down. Turns out, this was a first for Simon Pearce, too — the very first year that the staff has chosen to take part in Vermont Restaurant Week.
True to form, they've done it wisely. The prix-fixe meal cost 30 to 40 percent less than ordering the same dishes from the á la carte menu — so I felt justified in indulging in a Vermont Gimlet, a blend of Vermont Spirits vodka, lime and basil that is the week's signature libation. Simon Pearce's version had a delicious tension between tart and sweet, and a generous heap of basil added aromatics.
Simon Pearce may have a rep for traditional dining, but chef Jerod Rockwell definitely has an eclectic streak. He doused an appetizer of silky sweet-and-sour eggplant with punchy, slow-roasted tomatoes, spicy mizuna and crumbles of local chèvre. He tarted up lightly charred, smoky calamari with almonds, juicy orange wedges, pickled red onions, slivers of Grana Padano cheese and feather-light ginger-coconut vinaigrette. With layers of flavors, texture and color, this dish had it all going on.
My friend and I were lured by the evening's cod dish, a hefty fillet rolled in grated horseradish and panko, then sautéed, balanced atop herb-laced mashed potatoes, and showered with thin, crispy fried leeks. The preparation was heavier than we expected but was intensely sating — each fillet was akin to a steak, and our only complaint is that we would have appreciated a more horseradish-y bite.
Though we were almost desperately full, how could we ignore dessert? Especially when the choice was between a vanilla-laced crème brûlèe or moist, glazed apple cake served with warm caramel and vanilla ice cream. Both were as sumptuous, and we finished neither.
CORIN HIRSCH
Chocolate High
Living in Burlington, I can be put off by the 40-minute trip to Vergennes. But last Friday, bathed in the golden light of a sinking sun, we arrived at 3 Squares Café in seemingly no time.
This modest-size place, which serves breakfast, lunch and dinner under the helm of chef-owner Matt Birong, is instantly charming. Think high ceilings, pumpkin- and sunflower-hued walls, vintage art and mismatched tables and chairs, an open kitchen, and chalkboards announcing meal options. Totally unpretentious.
And then there's the food. For Vermont Restaurant Week, Birong created an ambitious menu of multiple choices for starter, entrée and dessert, each distinguished by the presence of cacao. As Seven Days reported last week, Birong traveled to the Dominican Republic to fetch his own cacao pods. But he didn't just go for the obvious sweet chocolate on his menu; he incorporated bitter cacao in his savory dishes, too.
After being seated, I ordered a Terra Noble Sauvignon Blanc, my companion got a Woodchuck Hard Cider, and we settled on our dinners.
My starter was a field-greens salad, which came as a small nest with slivers of tangy pickled jicama and a pair of goat-cheese fritters coated in cacao nibs. The fritters fell apart upon contact, but the contrast of bitter crunch and creamy cheese was inspired. The real revelation, though, was Birong's vanilla and Key lime vinaigrette. The vanilla gave the dressing a luscious, mellow quality that was just shy of sweet, while the acid of the Key lime provided balance.
My friend's ceviche of shrimp and snapper was served in a soup bowl with crispy cacao nib crackers on the side. He was pleased to discover the seafood heaped on a bed of "macro" greens and under a cluster of vibrant microgreens. The concoction tasted über-fresh and delicious.
For the entrée, I went for the Criollo-Crusted Snapper. Like the goat cheese, the tender fish was a pleasing contrast with the cacao crust, and it didn't fall apart. This sat atop a Caribbean-inspired "slaw" of papaya and mango and had a topknot of springy microgreens. The taste and texture profiles in this dish were exhilarating. But I didn't care for the accompanying plantain coins, which were nicely crisp but arid.
Meanwhile, my companion devoured his Salt-and-Pepper Prawns — two big guys served over aromatic coconut rice and a heat-packing chocolate-chili-almond sauce.
We were both too full for dessert but consumed them anyway. I had to try the sipping chocolate, which was creamy and complex, with a gentle chile burn. My companion chose the Trinitario Flan, which came with crisp plantain, macadamia nuts and a raspberry drizzle. Though tasty, it seemed misnamed; the airy, chocolaty dessert was closer to mousse than traditional flan.
Then again, there was nothing traditional about this meal — and kudos for that.
PAMELA POLSTON
French Connections
As a restaurant-industry veteran, I like to check out new-to-me places, and I have no problem driving an hour or more to get there. So, enticed by the idea of French-inspired cuisine, my dining companion and I headed south to New Haven to try out Tourterelle. The cruise down Route 7 was a mere 45 minutes from Burlington.
The sun was setting as we pulled into the parking lot, and the view beyond the restaurant was phenomenal. After taking a few photos, we went inside.
The interior is larger than I anticipated yet has an intimate feel. All of the tables were full and there was a wait at the door, but one of the owners greeted us warmly and escorted us past a comfortable-looking bar to our reserved table near a window.
Jenny and I ordered glasses of rosé wine from the Loire region, and my first course soon arrived: cured salmon delicately arranged around angel-hair pasta, dressed with olive oil and sea salt, and accented with pickled red onions, capers and microgreens. I feared the dish might be too salty, but I was wrong. Each flavor stood out, complemented beautifully by the rosé.
Jenny and I joked that we were like an old married couple when we both ordered the macadamia-crusted- cod entrée. It was a wise move; the fish was light and flaky, accompanied by grilled asparagus and tomatoes and served with a caper sauce. As wine flowed at the tables around us, the room gradually became more boisterous. We lamented not having a designated driver, as it was unlike us to not pop a bottle (or two).
By the time our desserts arrived, we could barely imagine eating more. Typically my preference for "dessert" is an amaro or bourbon, but not this night. Instead, I ordered the chocolate pavé, a surprisingly light, flourless chocolate cake. Jenny went for strawberry-and-rhubarb crisp. Both desserts were wonderfully executed, but we were too stuffed to make much of a dent in them. Satiated, we settled our tab and strolled out to a star-filled sky and brisk breeze.
TIFFANY SZYMASZEK
Pre-Flynn Feast
Even though Pistou is just two blocks from the Seven Days office, I hadn't paid a visit for more than a year. That was for an outstanding lunch. But Pistou went to a dinner-only format a few months after it opened. Now I'm sorry I haven't stopped in more often.
We chose Pistou to launch our Restaurant Week experience because of its simple menu, numerous accolades from our friends and proximity to the Flynn Center — my partner, Shawn, and I had tickets to see Lila Downs later that evening.
When we arrived for our early reservation, the setting sun streamed off Lake Champlain and into the cozy, bustling dining room. Our server told us that the Restaurant Week menu was the only fare on offer, and we noted that it was different from what Seven Days had printed. He apologized and said they planned to rotate the menu daily to showcase fresh ingredients. We weren't bothered, because the new menu was just as alluring as the one we had anticipated. Since there were two to three options for every course, Shawn and I were able to taste almost everything.
We began with corn velouté and grilled baby octopus. The cool, creamy velouté ringed a healthy-size lump of peekytoe crab and celery salad. It was a fresh start to a sunny spring evening. The octopus was earthy and served with a smoky, tangy tomato sauce and shaved, bright fennel — delicate, tender and delicious.
For his entrée, Shawn opted for pork tenderloin — a protein he loves to cook at home — with farro verde, brussels sprouts and gastrique. The pork was cooked perfectly and generously salted, while the farro (my first) was nutty and worked well with the smoky, charred sprouts.
I selected the tagliatelle with hen-of-the-woods mushrooms and housemade ricotta. The portion of noodles was smaller than I expected, but when combined with the rich ricotta and delicious mushrooms, its size made perfect sense — no need to feel stuffed to the gills. The ricotta was silky — almost like sour cream, but richer — and it melted into the dish, forming a light cream sauce. Though there was no mention of "local" or "homemade" on the menu, we guessed that the pasta was rolled in the kitchen and the mushrooms foraged not far from Burlington.
Shawn and I both finished with choices from the menu's third course: parsnips with chocolate-ricotta pudding and a wedge of Bayley Hazen Blue cheese and candied walnuts. The tender, sweet parsnip dish resembled a cinnamon-dusted Mexican churro that was roasted rather than deep fried. The pudding was perfect for dipping and left me wanting more. Meanwhile, the blue-cheese plate was enormous — but luckily, the portions were so perfect throughout the meal that I was able to finish the wedge. I do love my cheese.
DON EGGERT
Viva la Maple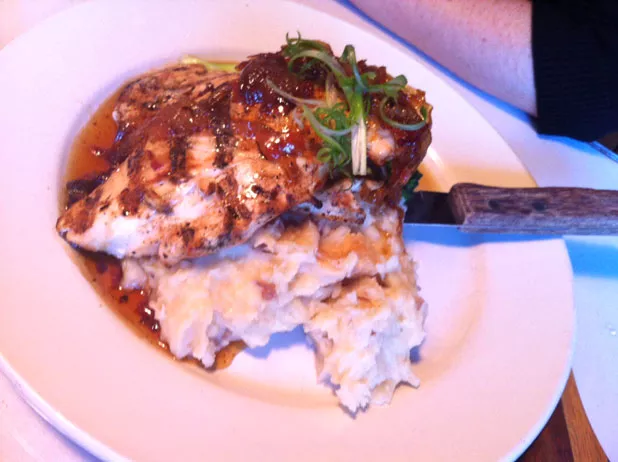 Vermont Restaurant Week always seems to come harmoniously with the onset of warm spring weather. But this time it was extra special, as the first day coincided with the end of a weeklong throat infection that had left me cough-prone and voiceless. Having regained my ability to swallow food without immense pain, I looked forward to a trip up to One Federal in St. Albans.
While enjoying a couple of pints of Valor amber ale from St. Albans' own 14th Star Brewing Co., my partner, Jackie, and I started with an order of prime-rib rolls — an unusual appetizer that I unexpectedly loved. The crisp, flaky breading was a nice counterpoint to the soft texture of the prime rib and cream-cheese-based filling, and a soy-sauce mixture was the perfect topping.
The annual Maple Fest celebration was taking place nearby, and One Federal's Restaurant Week menu seemed to celebrate Vermont's bounty, as well. Jackie's appetizer salad was drizzled in maple vinaigrette. Her entrée further upped the maple quotient. The maple-bacon-chicken's sweet glaze blended beautifully with the breast's grill-charred flavor. The bacon strips atop the dish made me think it would be pretty tasty for breakfast, too.
But I couldn't steal much of her entrée with my own in front of me: a heaping portion of meatloaf and equally enormous mound of cheddar smashed potatoes. I subbed out my second vegetable side for a plate of poutine, a decision my arteries frowned upon but my taste buds thoroughly enjoyed. The moist meatloaf was drenched in a deliciously spicy barbecue sauce and topped off with crunchy onion straws — a mix of nostalgic homemade flavors and foodie-friendly complexity.
Not surprisingly, all this heavy food proved impossible to finish in one sitting — but my doggie bag will make for a tasty lunch this week.
TYLER MACHADO