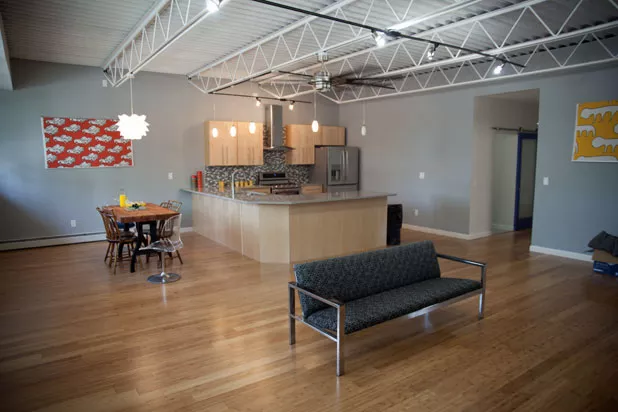 Confused visitors are still coming by looking for the library, reports Jen Mills. Hopefully not with overdue books: The Winooski Memorial Library moved some seven years ago to the Champlain Mill. But habits die hard, and the library had served generations of Winooski-ites since 1963 in the squat, cinder-block building at 19 East Spring Street. What exists there now is a completely renovated, private residence, dolled up inside and out and waiting for someone to call it home.
Mills and her business partner, Jake Jacobson, are behind the transformation of the nearly 3000-square-foot space. Seven Days first visited, and wrote about, the pair last November, when the reno was just beginning — as was Mills' blog about the project — and the place still reeked of mildew. This Wednesday evening at an invitation-only open house, they'll show off contemporary, urban living quarters with some state-of-the-art perks. Thanks to a listing on MLS and a post on Facebook, Jacobson says, the place has generated "lots of interest."
And for good reason: It's got a conversation-worthy legacy and is aesthetically unique. Step inside the front door, and you're in a large, open-floor-plan kitchen/dining/living area featuring a wall of shelving and a high, pitched ceiling with track lighting. The kitchen counters are quartz, the cabinets natural maple, the tiles on the back wall translucent gray and brown. The room is painted a sophisticated gray.
As welcoming as the front room is, whoever buys the place may want to spend all their time in the bathroom. That's because the two sinks have faucets illuminated by LEDs that turn blue, green or red to indicate the water temperature; the enormous and handsomely tiled walk-in shower has a thermostatic valve with six body jets; and an oval soaking tub looks inviting even without any water in it.
To save space, Jacobson installed sliding doors on this bathroom and two nearby bedrooms.
The lower level — it's too light filled to be called a basement — has a capacious central area wired for a home theater and surrounded by an office space, third bedroom, bathroom, laundry and mechanical room. It could, Jacobson points out, be used for a home business, such as a day-care center.
Without having viewed the start-to-finish progression of photos on Mills' blog, it would be hard to recall the downstairs mural featuring Donald Duck and Dr. Seuss characters, or to grasp the amount of back-breaking work, the frustrations and victories, and the sheer number of decisions involved in this seven-month process. While Mills and Jacobson are compatible partners, they admit there were days they wanted to kill each other. Anyone who has ever renovated a home will understand.
But Jacobson — a New England Culinary Institute-trained chef who also works part-time with a local caterer — is ready to do it again; he's looking at assuming the mortgage on a 1950s ranch house in foreclosure. That said, "the only job bigger than this one I'd want," he says, "is to turn a church into condos." Selling his renovated buildings, Jacobson says, helps fund new projects, not to mention support his family. He's settled on an official, albeit mysterious, name for his reno biz: Room 21. For her part, Mills is planning to focus on landscaping for a while.
But there's one more issue at 19 East Spring Street: the transformer that sits in the small front yard. Mills' original idea was to obscure the hulking metal box with a trellis and vines. Jacobson wanted to enclose it with easily removable wooden panels. So far, none of their plans has passed muster with Green Mountain Power. So Mills painted the box a discreet gray and flanked it with large concrete urns filled with plants. Perhaps it will simply remain part of the cityscape, along with the adjacent permeable-paver parking area, the neighboring apartment building and the occasional visitor looking for the library.
The library's transformation can be viewed at librarydwelling.blogspot.com.