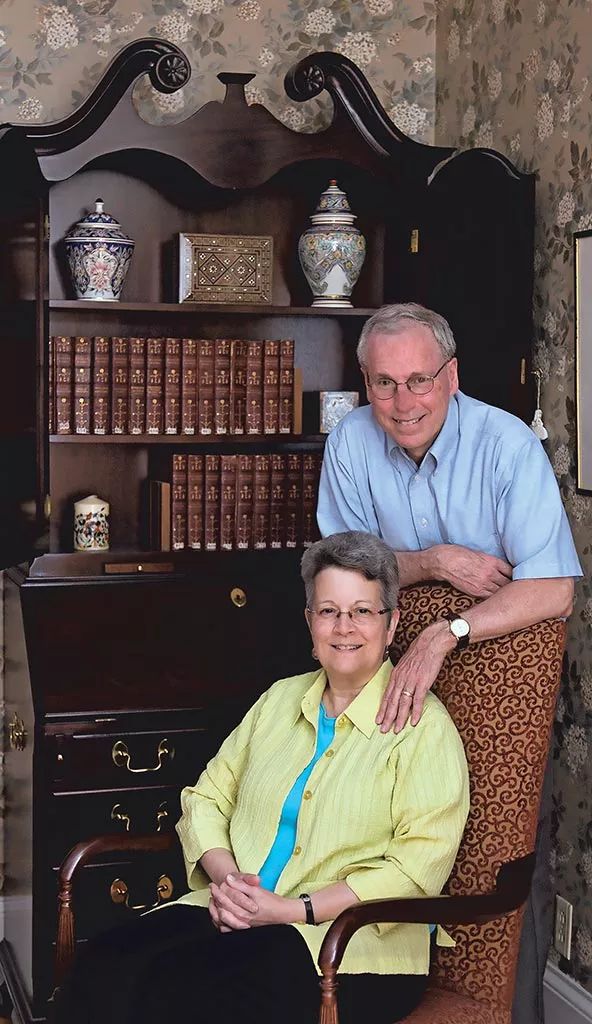 Nancy Piette
Robert Ford and Alison Barkley
The former U.S. ambassador to Syria strongly endorses a controversial plan to resettle in Rutland 100 refugees from that war-torn Middle Eastern country. Robert Ford, now retired and a resident of St. Johnsbury, says there's scant chance the resettled Syrians will prove dangerous.
A fluent Arabic speaker with deep knowledge of Mideast culture and Islamist terrorism, Ford describes Syrians as "industrious people" with entrepreneurial ambitions. After a period of acclimation and necessary assistance from government and private agencies, many of the refugees in Rutland will start small businesses such as car-repair garages and restaurants, Ford predicts.
It's important to note, he adds, that "tens of thousands" of Syrians have immigrated to the U.S. in recent decades. "They're unnoticed. They make great neighbors and are often quite successful," Ford says.
Ford is himself an émigré of sorts — from the glamorous, exotic, occasionally terrifying world of U.S. foreign service to sleepy St. J. Fittingly, the former envoy has a manner as graciously old-fashioned as the furnishings, fabrics and leather-bound books that fill the parlor of the 150-year-old home he shares with his wife, Alison Barkley, also retired from the U.S. Foreign Service.
And when he drops the occasional F-bomb, it's a reminder that his career has been as much about dodging explosions in Middle East war zones as sipping tea at lawn parties.
The 57-year-old transplant to Vermont was serving as a political officer in the U.S. embassy in Algeria in the mid-1990s when the country ranked as "the most dangerous in the world," Ford recalls. No one knows how many Algerians died as the government put down an Islamist uprising, but estimates run as high as 150,000. "It was bad," Ford says. "There was violence of all kinds."
He did two stints in the embassy in Iraq as that country convulsed in the years following the 2003 U.S. invasion. Ford was supplied with "tens of thousands of dollars in walking-around money" that he doled out to contractors hired on the spot to repair bombed-out buildings in Baghdad. Shiite militiamen once held him and his U.S. Marine bodyguard at gunpoint.
Ford's three-year tenure as ambassador to Syria started in 2011, the same year Arab Spring revolts against the region's ossified oligarchs spread to the country. The State Department temporarily pulled him out of Damascus due to what it described as "credible threats against his personal safety." Ford had made enemies among supporters of President Bashar al-Assad by condemning the regime's repression and by meeting with opposition activists. Several of them were shot in demonstrations against the country's hereditary dictatorship.
Hundreds of thousands of Syrians then rallied in defiance, with some taking up arms. By 2012 Syria was embroiled in a complex civil war involving radical Islamists, less religiously zealous opponents of the Assad regime, and militias and troops aligned with the minority Shia Alawite sect that has monopolized power for 45 years. More than a quarter-million Syrians have died in the still-raging conflict, according to the United Nations. Approximately 4.8 million Syrians are living in refugee camps in Jordan, Lebanon, Iraq and Turkey.
Fewer than 2,000 Syrians have so far gained entry to the U.S. — not nearly enough, in Ford's estimation. He and 19 other former high-ranking officials in the U.S. Department of State, National Security Council and Department of Defense last year urged President Obama and Congress to admit 100,000 Syrian refugees — 10 times the targeted total.
"If we were to make a bigger effort, it would be noticed in Syria and would help undermine ISIS' message," Ford says, referring to the Islamic State militants who recruit youth by depicting the U.S. as the instigator of an anti-Muslim crusade. "Recruitment is a political issue," he says. "It can't be adequately addressed by flying F-16s to drop bombs on ISIS."
With his unique perspective, Ford might have helped Mayor Chris Louras make the case for refugees in Rutland. The secret initiative would have benefited from prior discussions, Ford suggests. "I'm all in favor of consulting with a community," he says. "Something like this should be done as openly as possible."
Vermont's resident Syria expert could have offered assurance that the screening refugees undergo is "very thorough, very laborious." It takes a year or more of personal, on-the-scene investigations before refugees can be cleared for admission to the U.S., Ford notes.
Ford also points to the precedent of the 150,000 Iraqi refugees allowed to enter the United States during the past dozen years of civil war. Five of their number have been charged with terrorism-related offenses, he says — three for attempting to join the Islamist insurgency in Syria and two for alleged involvement in plots on U.S. soil.
Based on those percentages, Ford calculates that "there's not much risk of terrorism" in the case of Syrians who may take up residence in Rutland. "It's pretty close to zero," he said.
Vermont's relative security and tranquility appealed to Ford and Barkley. "There's nothing like working in a U.S. embassy," says Barkley, who managed internal operations at a number of U.S. diplomatic posts in the Middle East. But it's also "emotionally exhausting," she adds. "We knew it was time for a change."
They were so sure, in fact, that Ford rejected a proffered Asian ambassadorship two years ago. Now he is a senior fellow at the Washington, D.C.-based Middle East Institute think tank and also at Yale's Jackson Institute for Global Affairs.
Barkley faced special challenges as an American woman working in conservative Muslim societies. But she never experienced overt discrimination; instead, she says, host officials treated her as "an honorary man."
In Saudi Arabia, which has laws requiring women to cover their heads and drape their bodies, Barkley's refusal to conform to that norm did ruffle local sensitivities. But it wasn't as though she had a choice. State Department regulations mandate that American female officers in Mideast postings dress as Westerners.
"It sends a message that we don't accept discrimination," Barkley explains.
Ford likens this policy to the Reagan administration's appointment of a black ambassador to apartheid South Africa in the 1980s. He repeats his wife's comment: "It sends a message."
Now that they're free to express their political opinions, Barkley readily identifies herself as a supporter of presidential candidate Sen. Bernie Sanders (I-Vt.). "For me, the disappearance of the middle class is more important than any other issue" in the campaign, she says.
But what about Sanders' inexperience in foreign affairs? Barkley waves off that worry. "If he surrounded himself with good people, he'd be fine," she suggests.
Ford favors former secretary of state Hillary Clinton. "I like her very much," he says, describing his old boss as "whip-smart" and able to assess situations with a "360-degree view." She's "extremely competent," Ford adds, and "would make a very good president."
He's no Hillary groupie, though. Clinton, he says, was not as focused on managing the State Department's immense bureaucracy as was Colin Powell, whom Ford lists as his favorite secretary of state.
He also doesn't make excuses for Clinton on the topic of her damn emails. "A lower-level person at the State Department might have lost their job" for violating clear rules against using private servers, Ford says. "It's not what she should have done," he acknowledges. "But should she go to jail? I don't think so."
Barkley and Ford kept their politics private while working for the U.S. government overseas. But they say they came close to resigning in protest over the Bush administration's invasion of Iraq. "I saw a lot of intelligence on WMDs, and I wasn't convinced by it," Ford says, in regard to the Bush administration's claims that an invasion was necessary to eliminate Saddam Hussein's supposed stockpile of weapons of mass destruction.
The couple jointly agreed, however, that their commitment to diplomatic service had to take precedence over an expression of opposition to policy. In addition, Ford says, "I saw my role in Iraq as working to get American soldiers out of there."
Why pivot from the pulse-pounding Middle East to the flatlining Northeast Kingdom, several years short of traditional retirement age?
Because, they say, it's beautiful, peaceful and livelier than a Burlingtonian might presume.
Barkley had spent time in Vermont as a child and urged her husband to visit during vacations in the '90s. Ford came to appreciate the charms of the Green Mountain State, and the couple, who have no children, purchased a home on one of St. J's many quiet streets in 2007.
There's plenty to do in Caledonia County's shire town of 7,600 residents, Ford affirms. He cites the Catamount Arts center, the Athenaeum library and gallery, and "a great Italian restaurant." Barkley and Ford, both practicing Christians, also keep busy by volunteering at a local warming shelter for the homeless.
Northern Vermont's winters don't faze Ford, who grew up in Denver. It's better than Baghdad, he says, clarifying: "I can't handle 140 degrees."