Luke Awtry
Clockwise from top: Jon Kraus, Henry Finch, Lydia Kern, Derek Proulx, Ethan Tapper, Ian Hartman, Ben Chussid and Mitch Manacek. Not pictured: Addie Herbert, Navah Stein and Joe O'Brien.
Burlington's the Fobs kind of look like a cult. Clad in gleaming white jumpsuits, the 11-piece punk group emanates a manic energy not unlike certain fanatical 1970s religious groups often seen jubilating at airports. In concert, the band's members ecstatically move their bodies in beautiful, messy fits as if filled with a divine spirit. But the Queen City group has no religious agenda. The band is far too busy having as much fun as humanly possible.
Founded by Ethan Tapper in 2015, the Fobs have grown from an oddball computer-based electro-rock solo project to the frenzied mob heard on their new album, Golden Thread. Tapper, 29, serves as the group's songwriter, rhythm guitarist and front person. (He's also the Chittenden County forester.)
Tapper was a member of the Burlington Bread Boys, a now-defunct old-time outfit with a punk edge. After the project ended in 2014, Tapper began making off-kilter music with the home-recording software GarageBand under the name the Fobs.
"I would post [the songs] on Facebook, and they would get no likes, no comments," he recalls. "You're like, Is this thing working? Did I screw up the posting process?"
Though some of the problem could have been Facebook's strangling algorithm, Tapper felt moved to take action IRL instead of working harder to create an online audience.
"I realized that in order for people to connect with the music, they needed to see it performed," says Tapper.
The Saxtons River native reenvisioned his scrappy garage-rock- and post-punk-flavored tracks as full-fledged punk tunes. And as he shared his new concept with more and more friends, the size of the group snowballed, often employing bizarre ways to incorporate new members into the teetering tower of power it is now. The group performs on Saturday, April 6, at the Hive on Pine in Burlington.
Tapper's willingness to accept new players is emblematic of the band's essence. The energy and exuberance of those members outweigh what they bring musically.
That's not a slight against their musical skills. Far from it. The band is full of talented players, many of whom perform solo or with other noteworthy local projects, such as Bleach Day, Adam Wolf, Apartment 3, and Henry Finch & the Capacity Ensemble.
In alphabetical order, the Fobs (currently) are Ben Chussid, Finch, Ian Hartman, Addie Herbert, Lydia Kern, Jon Kraus, Mitch Manacek, Joe O'Brien, Derek Proulx, Navah Stein and Tapper. They affectionately call themselves "trash kittens," a term that Tapper defines as "beautiful, brilliant, wonderful and amazing" people who also come off "a little punk, a little strange, with a wild streak, nonconformist and a little chaotic." Such a slovenly yet lovable feline pokes its head from a garbage bin on the digital cover of Golden Thread.
When the Fobs perform, there's a lot going on. Beyond the typical ways that musicians communicate and interact on stage, the bandmates seem enraptured by each other's presence. They visibly egg each other on in performative displays.
"We just love each other so much," says Tapper. "We're all so into each other."
Much of the visual chaos comes from the periphery. Kern, a sculptor, serves as the group's official hype woman. Aside from singing backup and outlandishly skanking up a storm during the band's more energetic tunes, the artist plays a rather unconventional instrument: a gold, glitter-painted cow jawbone. She strikes it with a drumstick while dancing atop a similarly adorned paint bucket, which she also plays like a drum.
On the other side of the group's sprawling stage setup, Hartman, Finch and Proulx serve as background vocalists and tambourine players. Ignoring decades of negative connotations about band members whose sole contribution is shaking a tambourine, the three feed off each other's antics — Proulx's especially. The wildest of the trio, he surrenders himself as if possessed, whirling and contorting his body in euphoric spasms.
"If you get in a big enough band, it's like a party every time," Proulx says.
Though Tapper is the group's songwriter, the bandmates work out arrangements collectively and democratically.
"Not everything has to go through me or come from me," says Tapper.
"We try everything that everyone comes up with," adds Kraus, the group's drummer and first official recruit.
Nearly all of the songs on Golden Thread originally appear on the Fobs' first two records, Creepin on You and The Fobs. But the full band arrangements, outfitted with screamed choruses and meaty guitar riffs, are considerably bigger in scope and much more furious. "Ima Do Me" was a bouncy tune built on goofy organ and static beats on Creepin on You. It becomes a white-hot riot-rock anthem on Golden Thread. One of the group's running jokes is that it frequently ends up playing the songs twice as fast as Tapper originally intended.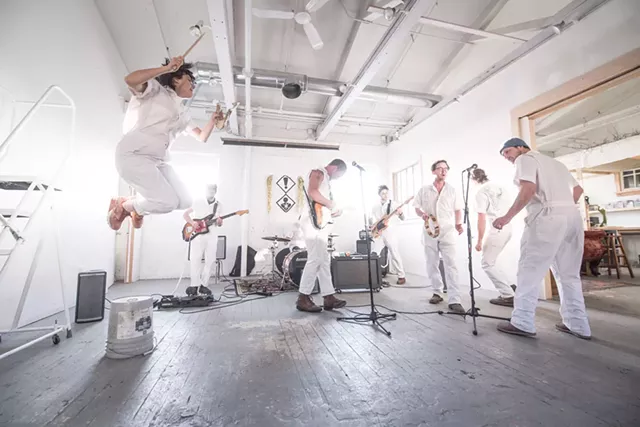 Luke Awtry
The Fobs
The Fobs are unrestricted in ways that Tapper felt weren't possible with the Burlington Bread Boys. Given that his former group primarily played old-time music, he felt that the genre only allowed space for certain kinds of songs. The Burlington Bread Boys' musical range was finite, he says, and their lyrics somewhat prescriptive.
But the Fobs leave more to the imagination, lyrically, and often hint at an underlying darkness. On "Pest," a saucy number that mixes glam and punk, Tapper sings, "Feeling like a pest / I'm a fucking mess / Just trying to do my best / I woke up like that." But the rabbling call-and-response chorus obfuscates the song's meaning — especially when performed live, since the band is so visually captivating. The group's attitude swallows the gloom whole.
Prolific Burlington singer-songwriter Eric George, known for leading Radio Bean's Honky Tonk Tuesdays house band Ponyhustle, calls the Fobs "profoundly subversive" and "authentically punk-rock." As the Fobs were gearing up to release Golden Thread, George booked them to headline his own most recent album-release event in February, for a specific reason.
"They have an ability to completely dismantle the difference between audience and performers," he says. "They make everybody in the room feel like they are part of something. To dismantle the culture of the separation between performer and audience is really important."
For the Fobs, communion is the watchword. Even though some members of the band may have traditionally more integral roles to play — such as keeping time or providing melodic foundation — no one is considered less important.
"A lot of performers maybe egotistically thrive on [a] pedestal," says George. "[But] the Fobs are people whose aspirations are to [dissolve] that separation. Those who are successful at that have no desire to be the center of attention. They desire to create community."