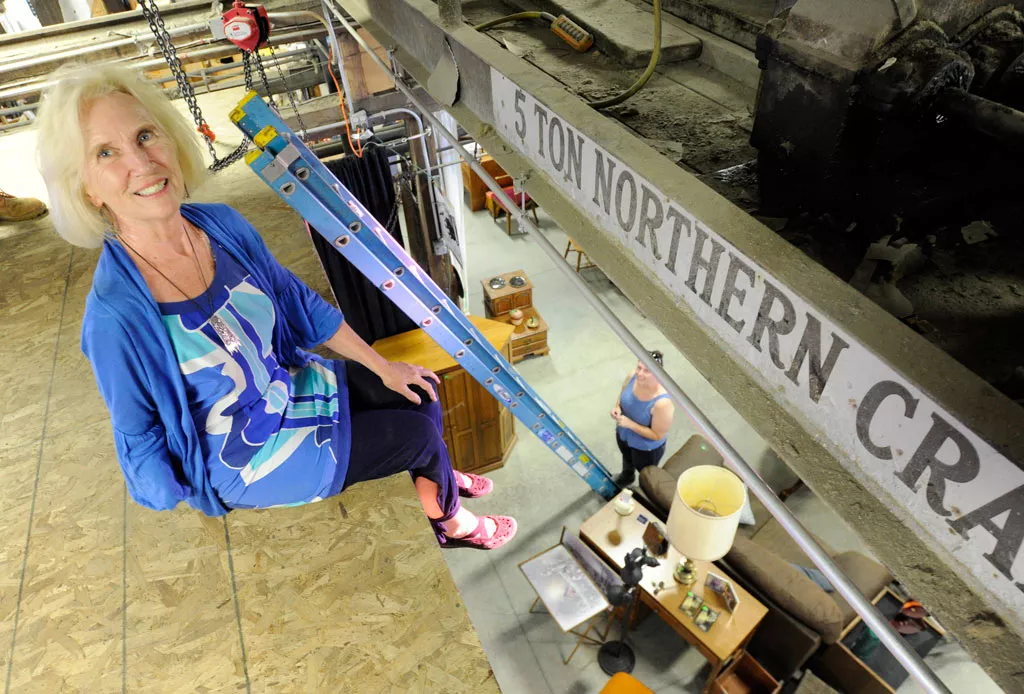 Jeb Wallace-brodeur
Diana Levine
Visit ReSOURCE on Granite Street in Barre, and you'll see contemporary environmentalism in action. The nonprofit, which also has branches in Burlington and Morrisville, operates a retail store where you can buy everything from used furniture and appliances to building supplies. A resident training program, YouthBuild, teaches local young people green building skills. A gift shop features upcycled goods like cutting boards and picture frames fashioned from salvaged building materials. And now you can get your live performance fix at ReSOURCE, courtesy of its latest addition, the Flying Stage.
Jeb Wallace-brodeur
Diana Levine
The principle behind the Flying Stage is simple: Chains and pulleys lower the stage from the ceiling to transform the ReSOURCE from a retail store into a music venue called the Re-Bop ReSpace. The story of how the Flying Stage came to be is a bit more complex, and includes elements of tragedy, perseverance, creativity and hope.
The stage got its start in the mind of Cabot resident Diana Levine. A guitar, bass and piano player who forged a career as a performer and music producer, Levine is best known as the cofounder of kids' record label Re-Bop Records. Created in 1989 with Levine's late husband, David "Crow" Levine, Re-Bop made a name for itself by putting out records for kids that were energetic, funky and fun. At the center of Re-Bop recordings were the kids themselves, who sang and told witty stories between tracks.
Tragically, Levine's career as a musician came to an end after an incident of medical malpractice. In spring of 2000, she visited the Plainfield Health Center to get treatment for a migraine. A physician's assistant improperly injected the drugs Demerol and Phenergan into Levine's arm. Subsequently, gangrene developed and doctors amputated Levine's right hand and forearm. She sued, winning $700,000 from the Health Center and $7 million from Wyeth, the maker of Phenergan. Wyeth appealed, taking the battle all the way to the Supreme Court. Levine won.
Although Levine emerged from the courtroom a winner, her creative life had been devastated; the loss of her arm meant she could no longer play music. The desire to keep music a part of her life sent Levine on a search for a new creative outlet, one that would hopefully include both music and the kind of community-friendly focus that had been the hallmark of Re-Bop. The financial settlement gave Levine the time as well as the means. All she needed was the right partner. She found it with ReSOURCE, which already had plans to open a store and training programs in Barre. That provided some security, Levine says.
"My goal was to create another branch of ReSOURCE that had to do with creativity and expression," she explains. "But if what I envisioned didn't happen, that would be OK, because they were doing so many other good things."
In 2011, Levine entered a 10-year partnership in which she would provide creative energy and financial support as she helped ReSOURCE strengthen and extend its mission. When asked to elaborate on the financial aspect of that relationship, Levine gracefully demurs.
Instead, she tells how an early tour of the ReSOURCE gave her the inspiration for the Flying Stage. ReSOURCE is housed in the former Beck and Beck granite shed. Its long, narrowish structure provides a great space to display recycled goods. But in that first tour, Levine saw that the building had more potential.
"When I walked in there, I saw the length of it first of all. And I thought, This would be a great performance space," she says. "But I realized that wasn't going to happen. Then I looked up and I saw this big orange crane [used to carry the granite from one end of the shed to another], and I thought, Why couldn't a stage live up there in the rafters and go up and down? Let's face it. It was an outlandish idea. But they went for it."
To turn her vision into reality, Levine gave a call to Russ Bennett, whom she'd met through her work at Re-Bop with Trey Anastasio of Phish. Bennett's Northland Design & Construction has built huge stages for major concert presentations, including the Bonnaroo Music and Arts Festival and Phish shows. Bennett was glad to lend his expertise and created a design for a stage that could be stored in the rafters during ReSOURCE's regular business hours and lowered for performances.
Next came construction. Fortunately, Levine says, ReSOURCE already had a team of willing workers in its YouthBuild program. Under the supervision of program manager Jesse Grieg, the kids of YouthBuild made the Flying Stage a reality.
The Flying Stage and the ReSpace were officially opened in June 2014, with a private show by Kat Wright & the Indomitable Soul Band. Sen. Patrick Leahy, who comes from a family of granite workers and wrote an amicus brief for Levine's court case, was among the dignitaries on hand.
The public debut of the Flying Stage came last Friday evening, with a performance by folk musicians Willa Mamet and Paul Miller, who did a show to celebrate the release of their new record, Let Somebody Love You. That inaugural show put one of the coolest aspects of the Re-Bop ReSpace front and center: its ambience.
Levine and her crew had completely transformed the space. Most of the retail stock of the ReSOURCE had been moved to the side, where it was hidden behind beautiful handmade curtains, stenciled and painted with nature scenes. The stock that remained — chairs, tables and overstuffed couches — served as seating for the show. Up front, the stage radiated with light, and the sound of Mamet's voice and Miller's guitar drifted out into the crowd, pure and clear.
The venue felt as comfortable as if it had been there for years. And Levine hopes it will. She's planning eclectic bookings ranging from folk, rock and world music to theater and literary events. With the help of Levine and the ReSOURCE, Barre's newest venue has achieved liftoff.