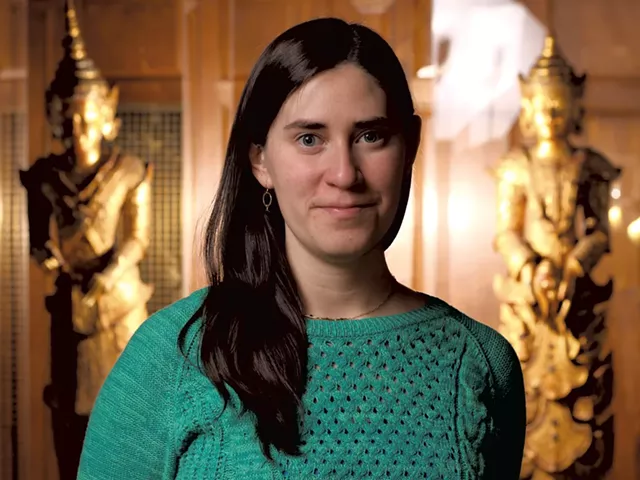 Matthew Thorsen
Andrea Rosen
For the University of Vermont's Fleming Museum of Art, the permanent Gallery of Asian Art has been years in the making. This month, it finally opens to the public. Previously host to rotating exhibitions, the museum's Wilbur Room has been renovated and re-installed to feature selections from the institution's collection of more than 2,000 Asian objects.
Fleming curator Andrea Rosen, who led this renovation, said she sought to "include [the] essentials without overcrowding" the space. That was no small task, not least because the museum's holdings of Asian objects had grown considerably in recent decades — more than any other category.
Aside from the challenge of paring down thousands of objects to fit into a medium-size room, Rosen faced the struggle of cohesively and sensitively encompassing multiple territories, cultures and historical eras in one exhibit. That meant working against "a false sense of Asia as one uniform place," she said. It also required acknowledging the role of western Orientalism in the production and consumption of art objects and artifacts.
To those ends, Rosen chose to configure the installation around the idea of exchange. Introductory exhibition text states that "the relationships between Asian cultures are often characterized by transmission, exchange and adoption," processes that operate both within and beyond the continent. The text also notes that 18th- and 19th-century European and American "aggressive incursion into Asian markets ... was the basis of the Fleming's collections." Furthermore, Rosen notes, "The ways that Western collectors and museums have displayed Asian art [have] had a profound effect on Euro-American perceptions of the continent."
The gallery, divided loosely into eastern and western Asia, features works from what are now modern China, Korea, Japan, India, Pakistan, Sri Lanka, Thailand, Myanmar, Cambodia and Indonesia. A broad range of materials and functions is represented, from religious and funerary statues to decorative lacquer ware and furniture. Objects date from as far back as 200 BC and as recently as the 2000s — such as the bulbous "Purple Top" vase by Japanese American ceramicist Toshiko Takaezu.
Matthew Thorsen
Gallery of Asian Art, Fleming Museum
Exhibition designer Jeff Falsgraf built custom pedestals and vitrines, and many objects are presented without protective barriers. This allows for more intimate viewing, heightening the visceral experience of the objects and the materials of which they are made. Light-sensitive textiles and works on paper will be routinely rotated, Rosen said.
One striking example of early (100-200s) cultural overlap is a fragment of a schist relief from Ghandara — now northwest Pakistan. The sculpted stone depicts the Buddhist figure Vajrapani in a style obviously influenced by the Greco-Roman tradition. This and other schist carvings sit near large-scale 18th-century Thai Buddhist altar figures, donated by the Doris Duke Southeast Asian Art Collection.
Along the gallery's back wall, Rosen pointed out three different representations of the mythical Garuda, a benevolent bird deity of Hinduism. The first appears in a circa 1000 AD sandstone architectural element from Cambodia; the second is the colorful painted Sri Lankan mask "Raja Garulu (King of the Garudas)," made in the late 1800s. The third is a 19th-century mask of Karura — a Japanese Buddhist derivation of Garuda. Together, the distinct yet interconnected objects speak to shared histories rendered through multiple cultural filters.
Though the installation was "pretty much my show," Rosen admitted, she did reach out to area students and scholars for research and expertise. Among these were UVM professor Abigail McGowan and students in her class "Visualizing History: India," as well as Fleming student interns. In addition to UVM affiliates, Rosen consulted with Sarah Laursen, curator of Asian art at the Middlebury College Museum of Art.
To expand on the new gallery's debut, the Fleming is mounting "Catherine Jansen: 1008," images documenting contemporary India by the American photographer. A reception celebrates both new exhibitions on Wednesday, February 8.