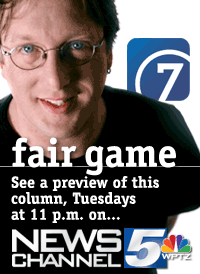 Gov. Peter Shumlin's ambitious health care reform bill came out on Tuesday, and the big document will likely keep lawmakers busy reading all week.
Leading the reform effort is Steve Kimbell, one of the state's most successful lobbyists. He's now commissioner of the Department of Banking, Insurance, Securities and Health Care Administration, which oversees some of the same insurance companies Kimbell once represented.
Does Kimbell have a conflict of interest, or is he the government guy best equipped to play hardball with his former employers?
"I ask people to judge me on my current actions," said Kimbell.
State ethics rules require Kimbell to have his name removed from any lobbying or law firm. On January 1, 2011, Kimbell's former firm — Kimbell Sherman and Ellis — renamed itself KSE Partners, LLP.
But a law firm connected to the lobbying firm — Kimbell Storrow Buckley Hughes LLP — still sported Kimbell's name on its masthead as of Monday. It was removed immediately after "Fair Game" inquired about it; by Tuesday, the firm had been rechristened Storrow Buckley Hughes LLP.
Emails obtained by "Fair Game" show that Kimbell's name — along with the name of his newly appointed general counsel Cliff Peterson — has shown up in communication between Jackie Hughes, a member of Kimbell's former law firm, and BISHCA staff over the past two months. Probably just an oversight, but BISHCA staff felt uncomfortable getting emails from a firm with their new boss' name on it. Peterson had worked at Kimbell's law firm. Hughes herself used to work at BISHCA during Gov. Howard Dean's tenure as gov.
Kimbell has no remaining stock in either firm, said KSE Partners principal Kevin Ellis.
But there's more. Back in 2010, when Shumlin hired Kimbell, the appointment precipitated the eventual firing of six — of 10 — BISHCA laywers. At least five of them happened to be state regulators who led the charge to fine and sanction some of Kimbell's former clients — including two out-of-state, Blue Cross-related companies: Anthem Blue Cross in New Hampshire and New York-based Excellus. The out-of-state Blues were fined for selling insurance in Vermont without a license and not providing some of Vermont's statutorily mandated coverage, including mental health services.
Anthem was fined $100,000; Excellus, $400,000.
Kimbell's firm tried to get Excellus' fine reduced to $75,000. But BISHCA attorney Robert LaRose wouldn't negotiate. He's now gone from BISHCA.
Peter Young, BISHCA's former deputy general counsel, led regulatory action against Blue Cross Blue Shield of Vermont in two cases: its rate hike request, and the $6.25 million retirement package handed over to former CEO William Milnes Jr. The retirement payout angered consumers and lawmakers, along with BISHCA regulators. Commissioner Paulette Thabault ruled that BCBSVT overpaid Milnes by $1.4 million. As a result, the state ordered BCBSVT to return $3 million to subscribers in the form of lower, or lower-than-expected, premiums.
Thabault said Shumlin and Kimbell may have hindered their efforts to reform the state's health care system by firing this select group of regulatory attorneys who have extensive knowledge of past reform efforts as well as the new federal health care law.
"These are very strong people who had nothing but the best interests of Vermonters," Thabault told "Fair Game." "We always operated with very little, if any, interference from the governor's office in protecting its citizens, and that's the way it should be."
Kimbell dismisses the theory that firing these particular attorneys will hurt reform efforts or the ability of BISHCA to be a strong regulator.
"This had nothing to do with individual competency," said Kimbell. "This was all about looking forward."
Kimbell said Shumlin's administration wanted a different team on board to ensure they could carry out the governor's ambitious health care agenda. He also said attorneys aren't always retained during shifts in administration.
"I think that is a false notion," Kimbell said. "We are a government of laws, and lawyers are very much part of the political process. In many cases, a new team of lawyers is more important than bringing in new commissioners."
More With More
Former Gov. Jim Douglas often said Vermonters should get used to a government doing "less with less." Gov. Peter Shumlin's motto seems to be closer to "Do more with more."
A report provided to "Fair Game" by the Department of Human Resources shows that Shumlin's got his own stimulus program going for some top appointees.
Ag Secretary Chuck Ross is earning $115,000, compared to predecessor Roger Allbee's salary of $109,000. Commerce Secretary Lawrence Miller is taking home $115,000; previous secretary Kevin Dorn pulled down $104,000. Natural Resources Secretary Deb Markowitz is earning $115,000 annually, up from the $104,000 earned by Jonathan Wood.
Administration Secretary Jeb Spaulding and Transportation Secretary Brian Searles are earning $115,000, the same as their predecessors — Neale Lunderville and David Dill, respectively.
Human Services Secretary Doug Racine is earning $115,000 — less than outgoing Secretary Rob Hofmann, who was earning $121,000. Meanwhile, Susan Wehry, the new commissioner of the Department of Disabilities, Aging and Independent Living, is getting $115,000 a year; her predecessor Joan Senecal earned $80,000.
A few other select commissioners are earning more than those before them: Fish and Wildlife Commissioner Patrick Berry and Forest, Parks and Recreation Commissioner Michael Snyder are both making $88,000, up from the $79,000 earned by Wayne Laroche and Sarah Clark. Environmental Conservation Commissioner David Mears is earning $92,000, up from Justin Johnson's $82,000. Johnson is staying on as Mears' deputy at his old salary.
The biggest jump? BISHCA Commissioner Steve Kimbell is bringing home $127,000. His predecessor, Mike Bertrand, earned $92,000. Paulette Thabault, who had the job before Bertrand, got about $96,000.
In all, Shumlin is spending $400,000 more than Douglas on top execs, and he's not done hiring yet.
Meanwhile, he's asking state employees to give up $12 million that once went to their retirement and health care plans. That's on top of pay cuts that union employees accepted more than a year ago.
Abenaki Angst
A group of Abenaki that opposes the recognition of several Vermont-based tribes won't be allowed to testify before a key Senate committee.
The Abenaki First Nation initially got the OK to testify before the Senate Economic Development, Housing and General Affairs Committee, but that offer was partially rescinded by Sen. Vince Illuzzi (R-Essex/Orleans), the committee's chair and a proponent of Abenaki recognition.
Illuzzi said the group's in-state members can testify, but the out-of-state members can only provide written testimony. "We only meet for three hours a day and only have so much time to take direct testimony," he said. "We've done the same for other out-of-state witnesses on bills."
That's not good enough for Denise Watso of the Abenaki First Nation, which has tribal members in Vermont, New York and Québec. Watso questions the authenticity of at least two tribes seeking state recognition.
"Why are lawmakers like Sen. Illuzzi afraid to hear what we have to say? Why are they scared to look us in the eye?" she asked. "These are not rhetorical questions. They are willing to take the time to hear testimony, they just refuse to hear from us. It's just a lot easier to ignore emails and letters than it is to hear real-life Abenaki people speaking out for truth and justice in the halls of the Statehouse."
The House General, Housing and Military Affairs Committee has not established such restrictions this year, but it has yet to receive a request from out-of-state groups.
To date, two tribes that claim Abenaki heritage are seeking recognition: the Nulhegan and the Elnu. A third, the Koasek, has been approved for recognition, but no formal bill has been introduced.
It's unclear if other tribes or family bands will follow suit this session under a new state recognition law passed last year.
The Missisquoi Tribe was in the process of gathering up the necessary documents, but its leader — Chief April St. Francis-merrill — was arrested last week for allegedly stealing money from a vulnerable adult.
Sanders in Stone
Six years ago, Rolling Stone's Matt Taibbi wrote a glowing profile of Sen. Bernie Sanders (I-VT) entitled "Four Amendments and a Funeral." It was glowing for Taibbi, anyway, who is hardly enamored with politicians. More recently, in late 2010, Taibbi blogged about Bernie's eight-hour filibuster, of which he also apparently approved.
In response to Taibbi's January 20 story about House Speaker John Boehner (R-OH), a reader asked in a letter to the editor if Taibbi could write about a D.C. pol who wasn't a "total shit bird."
Taibbi responds in the February 17 issue: "I did just such a piece, about Senator Bernie Sanders from Vermont. But beyond that, you really want me writing about people I like?"
Counsel Costs
The city of Burlington has denied "Fair Game"'s request to provide copies of attorney bills associated with defending the city and Burlington Telecom in a civil lawsuit brought by Fred Osier and Gene Shaver.
The attorney's fees are being paid by the city's insurance company, Traveler's, and cover the costs to defend BT, the city and Chief Administrative Officer Jonathan Leopold.
To date, the city has spent more than $625,000 on consultants as it sorts through BT's fiscal and operational challenges.
"With respect to your request for insurance counsel costs in the Osier case, the city will not disclose this information at this time because it falls under attorney-client privilege and, as a separate basis, it relates to pending litigation," Joe Reinert, assistant to Mayor Bob Kiss, wrote in an email.
Once the litigation has ended, the city may revisit the request, Reinert noted.
I don't recall seeing an exemption in state law that keeps such expenditures secret. These lawyers are working, albeit indirectly, for Burlington taxpayers.