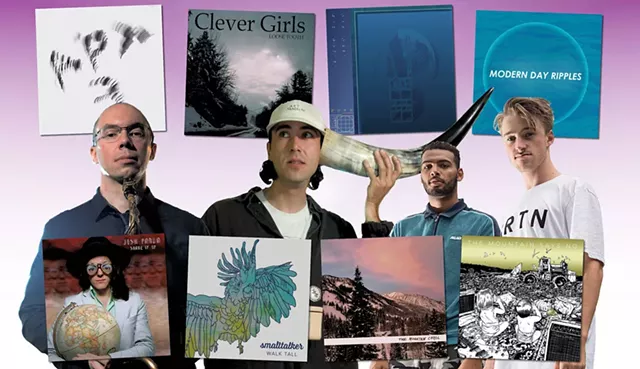 File: Matthew Thorsen,; Courtesy Photos
Pictured left to right: Brian McCarthy, Wren Kitz, and Sam & Somba
One of the best things about year-end lists is the inevitable criticisms they receive, especially when they pertain to the arts. "Why wasn't X included? I can't believe they put Y above Z!" It's a perfectly natural reaction, and the most passionate and opinionated fans will surely voice their incredulity in comment sections and message boards across the media landscape.
But that's when things start to get interesting. Endless discussion threads are likely to expose you to the year's best music, movies or TV shows — including some you probably missed. And then there's the delicious irony of criticism directed at criticism. The more people who chime in, the more it reinforces the fact that arts criticism is mostly opinion based and isn't backed up with hard science or complex theorems. It's about feelings. And now I'd like to share mine regarding the finest music produced in Vermont this year.
Traditionally, critics pick a nice round number for their year-enders — historically, past music editors of this very paper have chosen 10. But I'm not traditional. Instead of choosing a top 10, I've landed on 12 albums that I feel were the most outstanding of 2017. They exemplify the creativity, ingenuity and overall excellence that Vermont — and Plattsburgh, N.Y. — have to offer.
Of course, dozens of other records were just as deserving of recognition. You could list-ify them in innumerable ways: best rock albums, best debuts, best albums to play at the end of a third date, etc. Before the final countdown, let's take a stroll through some other outstanding records from the last 12 months.
Seven Days reviewed more rock and pop albums in 2017 than those in any other genres. With no shortage of righteous riffs and formidable fills, there was a lot to love. To wit...
The Snaz showed us their sensitive side. 1881 were ready for action. The Pilgrims found focus. Another Sexless Weekend apparently struck out in bed, but their name was a home run. Despite feeling like shit, Joey Agresta was hopeful. Emma Cook & Questionable Company celebrated homecoming. Marco Polio reminisced about home. The Bonnets learned the ugly truth about adulthood. Near North sent a love letter sealed with a kiss. Coquette showed us that the third time's the charm. Ryan Ober + the Romans were savage. Bison invited us to join their club.
We also reviewed nearly as many folk and Americana records. As per usual, it was a strong showing of homespun charm.
Kelly Ravin revved his engine. Clare Byrne planted seeds of change. Mark LeGrand triumphed after a wrong turn. Erin Cassels-Brown went stargazing — and implied that more constellations lie ahead. Eastern Mountain Time weren't sad — it was just altitude sickness. My Mother's Moustache found a new sound. A quiet storm raged around Henry Jamison. Last Train to Zinkov examined their ancestry. Stuart Ross and the Temp Agency stood out in the shadows. After the smoke cleared, Eric George felt satisfied. The Bluegrass Gospel Project delivered unto us a majestic final record. Pete's Posse let us eavesdrop on their fascinating conversation. Molly Millwood confirmed that it's never too late to start something new.
Over in the land of funk, jazz and R&B, some of the coolest cats in town gave us so many toe-tappin' grooves that we just about wore through the soles of our penny loafers.
The Mangroves brought their scheme to fruition. Japhy Ryder had amazing "Will" power. Brian McCarthy introduced us to Brian McCarthy. Robinson Morse's Sound of Mind suggested that plenty is never enough. Soule Monde was twice as nice. Gang of Thieves stood tall in the face of a shrinking lineup.
Various shades of electronica helped us reach our target heart rates and weekly step-counts.
Orange Julians weighed his options and decided to go west. Robin Sunquiet's dance moves made the mercury rise. Jon Dice made us sweat. Nechromancer examined the intersection between pain and pleasure. Clam opened up.
Regional hip-hop went far beyond the requisite two turntables and a microphone.
Jarv & Thief got steamy in the basement. Loupo kept company with dope collaborators. S.I.N.siZZle told fear to fuck off. Boomslang devised a calculated plan of attack. Wool See left chilly Portland, Ore., for frigid Vermont. GOOD WTHR kept a promise to a departed friend.
Local punk, metal and all things hard-edged were an unstoppable wall of sound. Despite the absence of 242 Main, we head-banged until our necks were sore.
KiefCatcher and Hellascope forged a magical partnership. Belly Up proved that a loss can be a win. Sleeping In was a force awakened. NODON stuck it to the man — the orangest man in the land, that is. Blowtorch made demands. Swillbillie sinned and grinned.
Then there were the rogue records, some declaring a genre of one — at least locally speaking.
Ben Cosgrove considered the elements. Tom Pearo cleared his head. Root 7 cruised past all expectations. Ben Carr appreciated the little things.
The Best Local Recordings of 2017
More Local Picks
Justin Boland
Seven Days contributor
Loupo, Good Company
Sam & Somba, The South Cove EP
Jarv & Thief, The Boiler Room
Es-K & Loupo, Symbiosis
S.I.N.siZZle, Winters in Vermont
Eyedos, Guerrilla Bars
Humble, Premonition
Amelia Devoid
Seven Days contributor
Joey Agresta, Let's Not Talk About Music
Bella, Wild Rose
Chance McNiff, Seasons ¢hange
Henry Jamison, The Wilds
Kevin Reilly, Help Meat
Ebn Ezra, Pax Romana
Jacqui Alpine, Difficult Body
Chris Farnsworth
Seven Days contributor
Ryan Power, They Sell Doomsday
KiefCatcher/Hellascope, Split EP
Ryan Ober + the Romans, Caveman Blues
Bison, Get In
The Snaz, Sensitive Man
Apartment 3, Apt.3
Comrade Nixon, Feels Like a Thousand Years
Dan Bolles
Seven Days assistant arts editor
The Mountain Says No, Golden Landfill
Swale, There's No One Here
Ryan Ober + the Romans, Caveman Blues
smalltalker, Walk Tall EP
Jarv & Thief, The Boiler Room
Apartment 3, Apt.3
Kelly Ravin, Engine