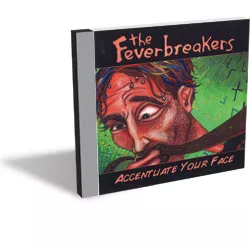 (Self-released, CD, digital download)
On their debut album, Accentuate Your Face, The Feverbreakers demonstrate that weirdness, if you've really, really got it, always counts for something. At their best, the Burlington-based quartet unites quirk with swagger, recalling early Kings of Leon. Spare, skeletal riffs provide the bone structure for a nimble rhythm section composed of bassist Elliot Siegel and drummer Julian Douglas. Meanwhile, vocalist Ryan Headley vexes and howls quasi-sensible lyrics. It's the kind of unhinged sound you associate with dank basement parties gone awry: where slinky bass lines and stinging slide guitar licks — courtesy of lead guitarist Erik Fosse — spackle your eardrums like the condensation on the walls. Where something like the aroma of BO and keg beer that emerges when you open the cellar door permeates your senses. Good rock 'n' roll should sound, and smell, this way.
The Feverbreakers shine when they're at their weirdest. This is immediately evident on opener "Rodney Funhouse," an album standout. The song's circus (or fun-house) groove sounds as though the band decided to open up Les Claypool's brain and have a look inside, as Fosse lays down some creepy slide licks. Next is the equally great "Waiting in Line," in which Headley makes like Tom Waits and raps lines such as, "I'm a bad wolf blowin' dollhouse today." Behind him, the band puts down a smooth groove against which Headley's voice grates like sandpaper on cheddar cheese. His indelible rasp would leave most front men pleading for some Robitussin.
The band displays impressive songwriting range. "Bootlegger's Drum" successfully melds psychedelia to a Celtic drinking anthem. "When I Go Walking," a slow waltz featuring mandolin, psychotic guitar licks and great, three-part harmonies, weaves an enrapturing sonic quilt. "Dog Gawn Train" is a jerky funk jam in which Headley brings back the rasp and Fosse again freaks out on the bottleneck.
On album closer "Whippoorwill," The Feverbreakers prove that a badass riff will always prevail, no matter what. And here it does just that, aided by Headley, who simply screams his fucking balls off. It's rather effective.
The album is a bit long, at 15 songs and a 50-minute run time. Tunes such as "In Vermont" and "WFUV" sound linear and poppy when stacked up against the best stuff here. Trimming some of the fat would have resulted in a taut, rollicking first outing, filled to the brim with delectable weirdness. Still, Accentuate Your Face demonstrates that The Feverbreakers have an ace of strangeness up their sleeves. Here's hoping they continue to flaunt it.
Accentuate Your Face is available at thefeverbreakers.bandcamp.com.