Matthew Thorsen
Farmhouse Tap & Grill
Before it became the quintessence of Vermont farm-to-table dining, Burlington's Farmhouse Tap & Grill was, of all things, a McDonald's. In 2010, the new owners transformed one of the city's few fast-food chain restaurants into a cavernous, earthy temple to local fare, and tapped plenty of craft beers to wash it down.
Let's just say the burgers aren't what they were... Chef Phillip Clayton crafts grass-fed Jericho Settlers beef into a tender, oozing tower of flesh atop a crisp homemade bun, or melts crumbles of Bayley Hazen Blue cheese into the golden maple glaze on Misty Knoll chicken wings. He bathes peppery meat loaf in a mushroom gravy that tastes like October woods, and renders creamy terrines, earthy mushroom-walnut pâtés and smoky summer sausage in house. Some nights, he'll make a menu featuring all wild edibles or game dishes — just as the bar staff occasionally turns over every one of its 24 taps to a visiting brewer.
160 Bank St.
Burlington, VT
802-859-0888
Gastropub and American (Traditional)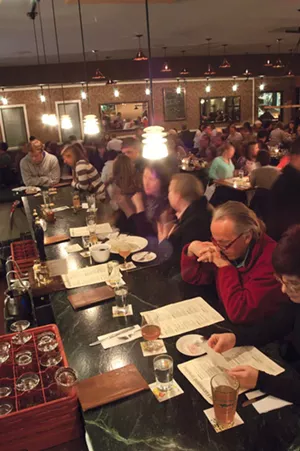 Matthew Thorsen
Farmhouse Tap & Grill
The "everyday" beer menu, too, teems with rare, local and exotic brews. There might be a toasty black lager from Stowe's Trapp Family Lodge, a dark saison from Hill Farmstead Brewery, an imperial stout from Lawson's Finest Liquids or a Québécois witbier flavored with hibiscus flowers. Drinkers with gentler palates can still imbibe local quaffs, from a hard cider made in Essex Junction to a glass of white wine grown and vinified in Middlebury.
It's little wonder that the place is always packed, from lunch straight through to last call. If the main dining room gets too crowded, diners can seek refuge in the fire-lit speakeasy downstairs or, in summer, decamp to the sidewalk café or the beer garden out back. Wherever it is, a table here is worth waiting for.