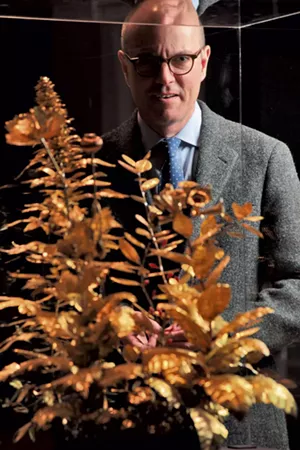 Matthew thorsen
Shelburne Museum director Thomas Denenberg
Months before her death in 1960, Electra Havemeyer Webb began drafting a list she titled simply "Moderns I Like." The wealthy founder of the Shelburne Museum had devoted much of her life as an art collector to acquiring American folk art. The daughter of a sugar refinery baron, she'd stockpiled porcelain and pewter, antique quilts and rustic paintings — all before the genre was widely appreciated or recognized. By one account, her mother, upon visiting Webb's home in Shelburne, took in the furnishings and exclaimed, "How can you, Electra, you, who have been brought up with Rembrandts and Manets, live with such American trash?"
Webb didn't just live with that "trash": She built a sprawling museum for it. Founded in 1947, when Webb was in her late fifties, Shelburne Museum grew to house one of the world's largest and best collections of American folk art. It's home to some 2,000 antique trivets. There are blown-glass canes and handmade dolls, hooked rugs and carefully carved duck decoys, butter molds and woven coverlets. Altogether, the museum includes 39 buildings on some 45 acres and has more than 150,000 objects in its permanent collection.
But toward the end of Webb's life, as that list of "Moderns" indicates, her tastes began to shift. Invoices from 1960 show that the then-72-year-old collector had turned her eye to a new crop of American artists. She acquired, or began the process of acquiring, paintings by Georgia O'Keeffe, Charles Sheeler, Walt Kuhn and Andrew Wyeth, among others. It looked to be the beginning of a world-class collection of American modern painting.
When Webb died in November of that year, her children held on to the Wyeth. The painting, titled "Soaring," would become the centerpiece of a 2013 exhibit featuring three generations of Wyeth painters. But the Webb kids sent all of the other paintings back to the galleries from which they'd come. After all, what did modern painting have to do with a museum of Americana?
The "Moderns I Like" story comes up time and time again when one talks with the staff and trustees of today's Shelburne Museum. It's understandable: The leadership of the museum — which is unique in the nation in concept, collection and design — is once again rethinking how it does business.
Rather than describe this as a divergence, though, current museum leaders insist that the changes are very much in keeping with Webb's eclectic, evolving tastes. That eclecticism has been reflected in the museum's embrace of contemporary art exhibits in recent years — some of which have involved pairing items from the historical collection with new works to show the lineage of the craft.
An even more prominent indication of the museum's evolution is the not-so-simple act of throwing open its doors year-round — the doors, that is, of the new Pizzagalli Center for Art and Education, completed in the fall of 2013.
That shift has presented new challenges — including controversial personnel layoffs — for the Shelburne Museum and its full-time staff of 77 employees. (During warmer months, the museum adds another 120 full- and part-time employees to its ranks, including 80 guides.)
Matthew thorsen
Academic programs coordinator Maggie Lisman
"The first year was our beta year," said director Thomas Denenberg, referring to the shift to year-round operation. In early 2014, the staff focused on launching the Pizzagalli, testing shows likely to draw audiences — and, not least, getting the word out to Vermonters that the museum was open during the depths of winter.
"The second year, we make adjustments," Denenberg continued. "And if we don't have it right by year three or four, we have to think about what we're doing."
Denenberg added that museums aren't, by nature, nimble organizations. Transforming the Shelburne from a warm-weather, seasonal, passive museum experience into a 12-month community arts center isn't "something that I think you can plan to flip a switch and have happen."
But the lights are up, and both art exhibits and education have been taking place at the Pizzagalli Center. The gleaming, 18,000-square-foot building is all modern lines and towering glass windows, perched prominently above Route 7 with the iconic Round Barn just beyond. Gone is the wooden fence that once ran the length of the museum's grounds on Route 7, blocking much of it from public view. In its place is a much more inviting, subtle iron fence, through which the museum is clearly visible to passersby.
The message: Shelburne Museum is open for business. Come and visit.
"This isn't your grandmother's Shelburne Museum anymore," said board of trustees chair Peter Martin, "and Mrs. Webb wouldn't have wanted it to be."
Old Art, Young Souls
Last week, as schools in Chittenden County let out for a midwinter break, the education staff at Shelburne Museum was gearing up for its first-ever winter-vacation camp. On a brutally cold Tuesday morning, kids ranging in age from 5 to 10 years old bustled in, stowed their backpacks and lunches in little cubbies, and settled into the classroom on the lower level of the Pizzagalli Center.
Revamping the educational programs at the museum has been a major piece of the Shelburne's shift to year-round operation. It capitalizes on an early mission articulated by Webb at the museum's first board meeting in 1948. The founder expressed the wish one day to have a building or space for education programs and loaned exhibits to "be devoted to the interests of Vermonters."
More than six decades later, that wish was granted in the form of the Pizzagalli Center for Art and Education.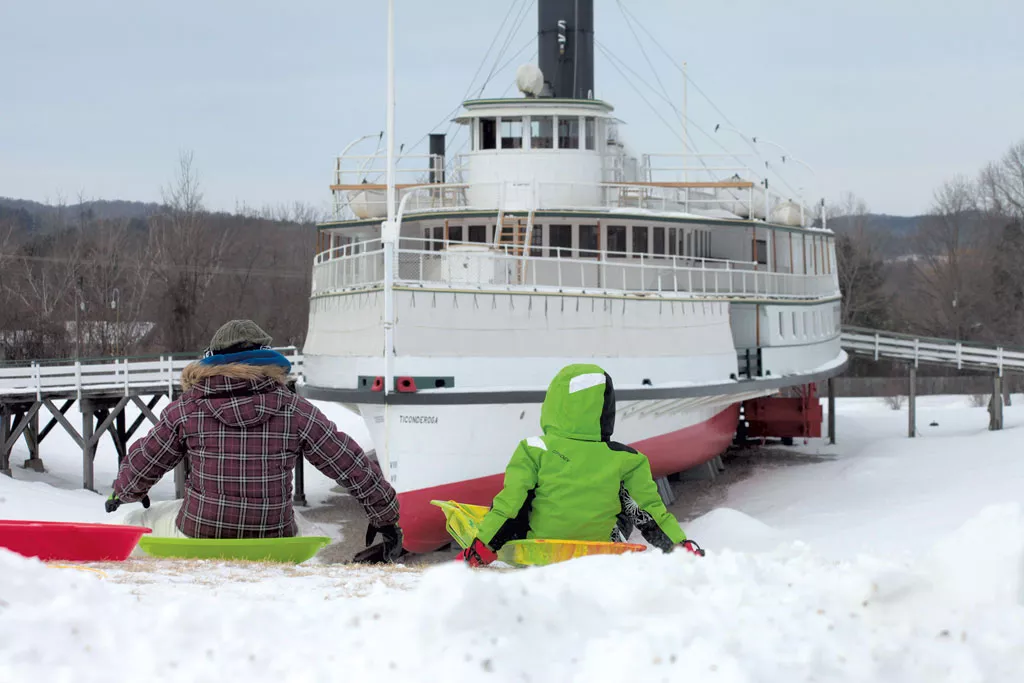 Matthew thorsen
Children sledding on the hill near the Ticonderoga
Before that facility was built, running the educational programs at Shelburne "was almost like raising the curtain on a six-month Broadway show," said Karen Petersen, director of education and public programs. Art activities ran seven days a week during summer months, and school groups piled into the museum in the few weeks of overlap between the Shelburne's May-to-October season and the school year.
As for adult programming — there simply wasn't much room for large events. In 2008, some 200 guests showed up for a lecture in a space that could only seat 60. Many of the Shelburne's biggest events had to take place off-site.
"For six months of the year, [Shelburne Museum] really was a hidden treasure," Martin said. "The gates were locked."
And that schedule ran counter to one of the main tenets of a world-class museum, said former director Stephan Jost, who now directs the Honolulu Museum of Art. "Bottom line is, you can't serve your public at a world-class level if you're closed half the year," he said in a phone call from Hawaii.
As the kids entered the Pizzagalli classroom, academic programs coordinator Maggie Lisman — in a bright-blue Shelburne Museum staff T-shirt and sensible flat shoes — rounded them up for a morning gathering. The museum has capped the camp's enrollment this year at 12 students, and every spot was taken.
Every workshop was booked last fall, too, when the museum held educational programs geared toward school kids; nearly 500 students, teachers and chaperones tromped through the building from October through December.
In the Pizzagalli classroom, Lisman and teacher Mollie Trow pulled out a large bin of old cameras, some dating back more than a century.
"Have any of you taken a photograph before?" Lisman asked the kids. They rattled off the devices they'd used: an iPod Touch, an iPad, a Polaroid camera in the case of one retro-loving kiddo.
"What do you think we used before digital cameras?" asked Trow. "What about before film?"
"SD cards?" one little girl tentatively posited.
"Is that a camera?" one of the younger boys asked incredulously, picking up an old Polaroid.
Shortly thereafter, the kids trekked upstairs to take in Nathan Benn's photography exhibit "Kodachrome Memory: American Pictures 1972-1990," which includes several dozen photographs Benn snapped while on assignment for National Geographic in Vermont, the Mississippi Delta region and Florida. The teachers handed out iPads to pairs of children, who took turns snapping their own portraits, mugging, posing and reenacting in front of Benn's photos.
"Digital natives," said Petersen, looking on with a smile.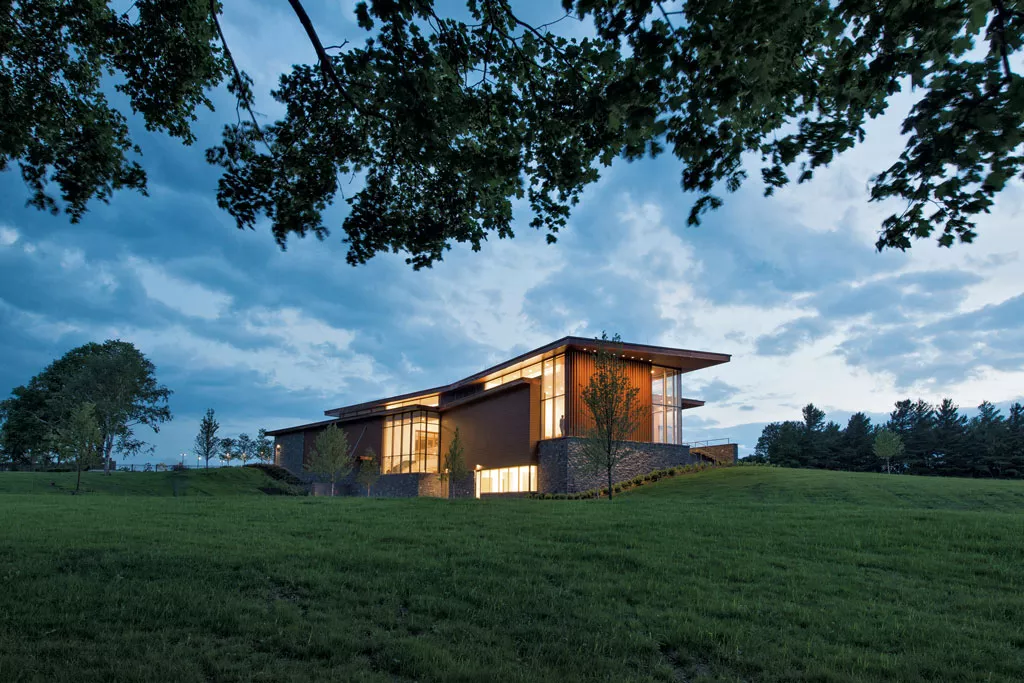 Courtesy of Shelburne Museum
Pizzagalli Center for Art and Education
The camp was just one of many recent opportunities to get kids in the building, now that the Pizzagalli Center is hitting its stride. The education and programming department has ratcheted up from 70 days of "family art making" last winter to 126 this year. Twice a week, families visiting the center can come in, look at the exhibits, and then pop downstairs to the classroom to build puppets, paint canvases or make collages that relate to the artwork on display.
The new programming is winning over families that used to make the trek to Shelburne Museum once every few years. Now they see it as a destination and reason to get outside the house on cold winter days.
Kerrin Connors of Colchester has been taking her 11-year-old daughter to some of the events. "We'll go see whatever the exhibit is and do an activity," she said. Her daughter typically brings along a friend, and Connors noted that the kids get excited about viewing the exhibits, even if they've visited before.
"I think a lot of people think [the museum] is sort of a folksy place," said Connors. "But there's something for everyone in there. There are priceless works of art, and there is folk art. It's constantly changing. It's not static."
Back at camp, the kids were bundling up in their winter gear. They'd spent a few hours using the photographs they'd snapped in the Benn exhibit to make multimedia collages, painting enthusiastically on canvases and affixing their self-portraits onto them. Now the canvases were drying, and the kids were heading for the basin by the old steamship Ticonderoga. The 45-acre museum grounds have no shortage of excellent sledding hills.
"It's an exciting time," said Lisman, talking up the new educational programs as Trow guided the kids outside. "There are so many new opportunities, and so far the response has just been great."
Growing Pains
If Shelburne Museum's classes and camps are going gangbusters, the institution's evolution has not come without difficult decisions in other areas. Earlier this winter, the museum laid off two full-time carpenters and a groundskeeper, and let go two part-time workers. Director Denenberg explained that the reorganization coincided with the museum's shifting more resources to educational and other programs. Around the same time, two longtime employees — director of conservation Rick Kerschner and senior curator Jean Burks — agreed to early retirements.
"Frankly, it did come as a shock," said Kerschner, who started the museum's conservation lab in 1982 and has since become a national leader in preventive conservation. "Why leave a job that you love? I would have stayed there as long as I could."
Both he and Burks remain in emeritus positions, and Kerschner is currently working for the museum on a contract basis to finish some projects. The two are just the latest in a string of retirements in recent years. Denenberg attributed most of those to the museum's aging staff, but said he's aware that the "optics" of a mass exodus are unfortunate.
Courtesy of Shelburne Museum
Quilts in the Hat and Fragrance Textile Gallery
The museum's leadership intends to hire mid-level professionals to replace Kerschner and Burks. But in the meantime, it has only one full-time conservator on staff. The curatorial department now includes director Denenberg, who focuses on paintings; Kory Rogers, the curator of design arts; and an assistant curator.
Kerschner met a Seven Days reporter to poke around the museum, and his conservation lab, on a February afternoon. He's still intimately involved with the business of the museum, even logging in from home to the computer system that monitors humidity and temperature in the Shelburne's many buildings.
Kerschner was part of a major wave of "professionalization" at Shelburne Museum. When he was hired, he was the first employee to come from a trained museum background. After setting up the conservation lab, he pioneered research in conserving collections, particularly in old buildings.
Preserving the art entails keeping some of the buildings that are closed during the winter at about 55 degrees Fahrenheit, such as the collection of European impressionist paintings that Webb inherited from her parents. Other buildings are left unheated; when Kerschner and a reporter strolled through the Hat and Fragrance Textile Gallery, which houses hooked rugs and antique quilts, the converted barn was a brisk 24 degrees.
Kerschner made the rounds. After checking the temperature in the Hat and Fragrance gallery, he paused to point out the conservation work that has gone into the extensive doll collection in the Variety Unit — so named for its oddball collections, including automatons and glass canes. He pointed out the lights that were converted to LED technology during his tenure.
The sheer size and variety of the physical plant at Shelburne Museum makes it unlike any other museum in the country. "Every year, we do a roof," Denenberg said. "Every year, we do a boiler."
Next, Kerschner popped into the Webb Gallery, the only building besides the Pizzagalli and the gift shop that's open to visitors during the winter. The Webb underwent major renovations last year and reopened in May 2014 as the permanent home of the museum's American paintings. (Before the Pizzagalli Center opened, the gallery hosted most of the museum's traveling exhibits, relegating many of the American paintings to storage.)
Longtime employees like Kerschner and Burks have seen plenty of changes in their time at the museum, including a few rounds of downsizing. But the shift to year-round operation, and its accompanying alterations, is arguably the most radical.
"I think the museum is going in new directions," said Burks, who told Seven Days that she was grateful to be allowed to stay on in an emeritus position and round out her work on a major upcoming exhibit. (Leaving that unfinished "would have killed me," she said.)
"It's going to take a number of years to figure out how that building is best used," Burks added. "Who's coming in January or February in Vermont? What will attract them? I think they're feeling their way."
Burks came to the museum in 1995, on the eve of a major, controversial setback at the museum. Strapped for cash, the Shelburne deaccessioned — that is, sold off — a few noteworthy impressionist paintings.
While a wealthy collector founded the Shelburne Museum, it is by no means a wealthy institution. Today the endowment, which hovers around $31 million, is smaller than Denenberg and the trustees would like it to be.
That said, the museum is showing gains in fundraising. The annual fund drive in 2014 raked in more than $820,000, up 20 percent from the previous year. Membership revenue has increased, too: from nearly $178,000 in 2010 to more than $285,000 last year. But that covers only a fraction of the roughly $6 million annual operating budget required to keep the lights on and the museum running.
Shelburne Museum is stable, said board chair Martin. But, he conceded, "We're stretched, and always will be."
If You Build It, Will They Come?
Shelburne Museum's leaders know that if they're going to succeed moving forward, they need to attract local visitors and not just tourists. Is that happening?
A good indication might be the audience of 110 who turned out for a lecture last Sunday by Simon Teakle, the former head of jewelry at Christie's art auction house in New York. He was instrumental in securing many of the gems on display in the museum's exhibit "Natural Beauties: Jewelry From Art Nouveau to Now."
Ten minutes before Teakle's lecture was due to start, Denenberg and other senior museum staff scrambled to set up more chairs in the auditorium at the Pizzagalli Center — a good problem to have, he noted later. The crowd was fairly homogeneous — mostly older, mostly female. Many of them seemed pleased at the turnout. "I wasn't sure I was going to find you when I saw so many people in the room," one woman murmured to her companion, settling into one of the wooden chairs in the lecture hall.
Teakle, too, seemed happy with the attendance at his talk.
"I'm not sure if it's an intense interest in jewelry or a bit of cabin fever," he said with a chuckle as he opened his remarks.
"A bit of both," whispered one audience member, a beat before Teakle said the same thing.
Kory Rogers had snagged a seat near the back of the room. He's the young, hip Oklahoma-native curator whose sensibility will likely play a major role in shaping Shelburne Museum's future. Already Rogers has left his imprint on the place. From his curator's perspective, he talked after the lecture about the challenge of making the museum's historical collections relevant to the lives of people today.
Exhibiting items from the historical collection alongside contemporary artwork has been one approach. What else does he have in mind?
"I think that we're going to get to a point — and it may not be this year, or next year, or three years from now — where we can use the museum as a launching pad, but do exhibitions that have subject matters that don't specifically relate to the collection," Rogers said. "I think at that point we'll have built up a clientele, and have a reputation with people, so that they can get beyond 'Why does this belong at Shelburne Museum?'"
The expansion to new territory has ruffled at least a few feathers. When the Burlington Free Press reported on the museum's layoffs in January, a handful of online commenters weighed in with dismay.
"As a longtime member of the Shelburne Museum, I am saddened to see the direction it is taking," wrote Christina Brown. "The museum is not and has never been a fine arts museum, as [Denenberg] would like it to be. It is a folk museum ... Sorry, Electra. They're blowing it."
Rogers doesn't see it that way.
"We have our collections. We'll always work with our collections," he said. "But I see this as an opportunity to expand people's visual culture."
And Mrs. Webb, as Shelburne Museum staffers still call her? Would she be on board with the new developments?
"God bless her, she was an interesting lady," said Rogers. "She had this very broad view of what art and design was, and why it was important to collect it. That was the best gift that Electra Havemeyer Webb gave this institution. It gives us this really broad spectrum within which to work. It really allows us to do basically anything."
So far, that approach seems to be resonating with most museum members and visitors.
Slowly but surely, the museum is coaxing more visitors out in the winter. The cost of winter admission — $8 for an adult — is a fraction of the $24 nonmember summertime fee ($14 for Vermont residents). This year, just more than 2,100 people visited in January — up nearly 50 percent from the same time last year. It's still a drop in the bucket compared with summertime highs; between May and October of last year, the museum hosted just shy of 95,000 visitors.
Gift-shop sales in January doubled over those of 2014. Email promotions from the museum gift shop have increased markedly — as has the museum's social media and digital push across the board. The museum's number of fans on Facebook jumped 92 percent in the past year. The email database grew an astonishing 190 percent in 2014. The number of memberships purchased — a benchmark of visitors' enthusiasm for returning to the museum — more than tripled in that time.
Overall, the numbers provide encouraging evidence that the museum is succeeding at its redoubled efforts to connect with Vermonters.
"It's got to be about local people owning it, literally investing in it," said Jost, who called Shelburne Museum one of the few truly "world-class" institutions in Vermont. "It's difficult to make it work. But I know it can, because the bones are good. Great art, education, access — that's what makes it a great place."
Traditionally, said Martin, philanthropic support from Vermonters has been limited; the Shelburne has leaned heavily on its New York connections. But he sees that changing.
"My sense is that, historically, until a decade or so ago, they really were an island within Vermont," said Michael Metz, a Charlotte business consultant who serves on the boards of several Burlington-area nonprofits, including Burlington City Arts. Seeing the Shelburne reach out to the local community — by partnering with other arts organizations and mounting more lectures and series aimed at locals — encouraged Metz to start donating to the museum.
"It's probably tripled my frequency of visits to the museum," he said. "I think they've turned the corner in terms of being relevant to Vermont. In my view, they've really made a massive change in trying to be more inclusive — and to me, as a Vermonter and a neighbor, I love it."