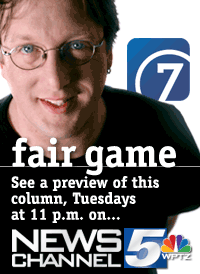 The swine flu outbreak, Bea Arthur's death, another $50 million drop in revenue for Vermont, and Progressive Anthony Pollina considering another run for governor. Signs of the End Times, or just the endgame in Montpelier?
Either way, the Rapture, er, adjournment, is fast approaching. On May 8, lawmakers will call it quits in Montpelier.
The legislative finale is not likely to be as spectacular as the Rapture, but it's got some apocalyptic elements. First, there's the sizeable $250 million, two-year budget gap, exacerbated by Friday's news that Vermont coffers contain $50 million less than originally thought. Second, there's the already crowded field for the 2010 governor's race, including incumbent Republican Gov. Jim Douglas, the Democratic Secretary of State Deb Markowitz and three Democratic state senators — Sens. Doug Racine, Susan Bartlett and Peter Shumlin. Oh, and now, possibly, Pollina.
While the three senators have been busy ironing out a state budget, Markowitz has been penning op-eds and raising campaign cash. Lots of cash. I expect she'll have six figures in the bank by July 31.
Then there's Pollina. The Progressive-turned-Independent-turned-Progressive is putting his name on virtually every Progressive Party press release blasting the legislature and Douglas for making bad budget decisions (not enough taxes, too many job cuts). Prog Party director Morgan Daybell said people are urging Pollina to run for guv. Maybe the third time's the charm?
Politics aside, Democratic lawmakers and the governor will have to go outside their comfort zone in the way of tax increases and spending cuts to ink a deal by May 8. It'll happen, but plenty of political hay will be tossed around in the process.
State employees are also likely to be tossed around, and could see additional layoffs or deeper cuts in pay and benefits. Nearly 400 jobs have been trimmed from the state payroll. Another 320 are on the chopping block, with more to come if the guv has his way.
The burden to come up with a balance of cuts and revenue will fall largely on the shoulders of 12 men and women — six reps and six senators — who sit on "conference committees" that work out the differences between the two chambers on tax and budget bills.
The tax bill conference committee is composed of the chairs of the two tax-writing committees (Senate Finance and House Ways & Means), Sen. Ann Cummings (D-Washington) and Rep. Michael Obuchowski (D-Rockingham), along with Sens. Robert Hartwell (D-Bennington) and Bill Carris (D-Rutland) and Reps. Janet Ancel (D-Calais) and Jim Condon (D-Colchester). The group began meeting Monday.
The budget bill conference committee is composed of the chairs of the appropriation committees, Sen. Bartlett (D-Lamoille) and Rep. Martha Heath (D-Westford). They will be joined by Sens. Diane Snelling (R-Chittenden) and Dick Sears (D-Bennington) and Reps. Mark Larson (D-Burlington) and John Morley (R-Orleans).
House Speaker Shap Smith hopes a deal can be struck that allows lawmakers to adjourn May 8.
"We're really trying to get to a place where everyone is willing to pass and sign a budget," said Smith. "I don't think the governor wants to veto the budget."
Smith also knows Democrats don't have the support to override a budget veto.
Did you think raising taxes would be as easy as approving same-sex marriage?
******
Outside the Box — Raise taxes, cut spending, lay off workers. That's the mantra in today's Montpelier.
But a few other good ideas have cropped up in recent weeks that haven't been reported by the media.
One is a so-called public-assets fund which would charge companies for using public air, water, land and minerals — resources they currently take for free. It could generate as much as $1.229 billion, the equivalent of $1972 for every man, woman and child in Vermont.
The fund could allow Vermont to end its reliance on the property tax (on buildings) and other regressive taxes, said Gary Flomenhoft, a professor at the University of Vermont's Gund Institute. He led the research team that produced the report, titled "Valuing Common Assets for Public Finance in Vermont." Catchy title. The research came out of a bill sponsored last year by Sen. Hinda Miller (D-Chittenden).
Flomenhoft gave two examples of how public assets are used to create private profit without any financial benefit for taxpayers.
First, private water companies extract 34 million gallons of groundwater annually free of charge, earning millions in profits. Most of the water is trucked out-of-state to be bottled. Capturing a nominal fee for this extraction would put $107 million in the state's coffers.
Second, Vermont Yankee draws 153 billion gallons of water a year into the plant from the Connecticut River to cool its nuclear reactor. A tax of 5 cents per 1000 gallons — a fraction of the wholesale cost charged by municipal systems — would raise $7.6 million.
Miller says she'll make it an issue in 2010.
Another outside-the-box idea that sprouted this year in Montpelier was putting an end to Prohibition. Wait, you thought Prohibition ended with the last Great Depression, right? Sure, but marijuana is still illegal.
On Saturday, Massachusetts attorney Michael Cutler visited UVM to urge folks to follow his states' lead by decriminalizing small amounts of marijuana. Cutler is part of a national group of attorneys working to end prohibition on marijuana.
"The people are ahead of the politicians," he noted. Massachusetts voters approved the measure by a 65-35 margin despite opposition from top state pols. Only two out of 351 cities and towns in Massachusetts voted it down. Twelve other states have similarly decriminalized marijuana.
A poll earlier this year found that 63 percent of Vermonters favor a $100 fine — rather than jail time — for possession of small amounts of marijuana.
Why? It saves money, and valuable police and prosecutorial time.
We spend $60 billion a year on the "drug war" and jail 400,000 people for possessing marijuana, not distribution or sale. That's more people than are jailed in the entire European Union, Cutler said. And, guess what? Marijuana use in the U.S. is twice what it is in the E.U. Go figure.
It also costs 10 times more to incarcerate someone than it does to treat them for addiction, argued Cutler.
Listening to Cutler was Windsor County State's Attorney Bobby Sand and Nancy Lynch of Vermont Alliance for Intelligent Drug Laws. Sand got a lot of attention a couple years ago when he called for decriminalizing small amounts of marijuana. He said too much money is being spent to arrest, prosecute and jail pot possessors.
A decriminalization bill introduced this year by Rep. David Zuckerman (P-Burlington) and 20 other lawmakers failed to catch fire. The House and Senate Judiciary Committees spent most of their time rewriting Vermont's sex offender and marriage laws.
Let's hope other issues don't bogart their time next session.
******
Leahy Faces Facts — Vermont Democratic Sen. Patrick Leahy's call to create a "Commission of Inquiry" is continuing to gain traction across the country.
Even Pres. Barack Obama said such a nonpartisan review — similar to the probe into 9/11 — may be in order to learn why the Bush administration decided it was OK to torture some suspected terrorists.
"I want to know who was it who made the decision to violate our own laws, our own treaties, and even our own Constitution — we don't know that chain of command," said Leahy, chairman of the Senate Judiciary Committee, on the Sunday morning CBS show John McCain (R-AZ) opposes Leahy's idea. On the same show, McCain fretted that such an inquiry could "criminalize bad advice."
Bad advice? Really? How is telling someone it's OK to violate U.S. laws and the Geneva Convention akin to saying it's a good idea to post old college photos on Facebook?
******
Got Ethics? — Vermont Attorney General Bill Sorrell declined last week to investigate Department of Public Service Commissioner David O'Brien's "off-duty" friendship with Vermont Yankee's former vice president and top lobbyist Jay Thayer.
Sorrell told the antinuke New England Coalition, which raised the concern, that the governor, and not the attorney general, is the arbiter of the state's executive code of ethics.
At issue was Thayer's attendance at O'Brien's annual holiday party, which the group claimed created an "appearance of a conflict of interest," as O'Brien regulates VY. "Fair Game" first revealed the soirée in January.
NEC spokesman Ray Shadis said it is unlikely the group will ask Douglas to weigh in, given the guv's defense of O'Brien's actions in the media and Thayer's campaign donations. Thayer personally gave Douglas $2000 in 2008, and Entergy gave $5000 for Douglas' gubernatorial ball.
Is that what they call hush money?
******
Under the Microscope — Blue Cross Blue Shield of Vermont's $6.3 million golden parachute to its outgoing CEO William Milnes Jr. raised plenty of eyebrows in Montpelier when "Fair Game" revealed the sum in a March 18 column.
Last week, state regulators launched a formal investigation into the events that led to the payout, said Paulette Thabault, commissioner of the Department of Banking, Insurance, Securities and Health Care Administration. The probe comes after a weeks-long review of key BCBS financial records.
Thabault wouldn't comment further, noting the investigation is ongoing. The insurer is said to be cooperating fully.
Disc Golf Redux — Heard from plenty of readers about last week's disc-golf column.
Supporters and opponents alike enjoyed the comparison between opponents of disc golf and same-sex marriage. But some opponents felt I had trivialized their concerns and made them out to be Neanderthals.
Let me be clear: After reporting on the historic vote in the legislature to approve same-sex marriage, it struck me as funny that people seemed to be more emotional and riled up about something as innocuous as disc golf.
That said, opponents raise legitimate concerns about the potential impact of the game on Leddy Park's walking trails, flora and fauna. Neighbors are also peeved that the parks department mishandled the process by allowing some underbrush and small trees to be cut without public warning, and not informing neighbors and park users about the disc-golf plans.
Parks Director Wayne Gross said he never thought disc golf would create such a stir and has apologized for moving ahead on the idea without extensive public input. He just didn't think it was a big deal.
A lot of people feel that way, to be honest. Leddy Park is already home to softball fields, tennis courts, soccer fields, an ice rink, a public beach, two big parking lots and more. Pristine and isolated it's not. For that, schlep across North Avenue to Ethan Allen Park — a limited-use park with no rec fields but plenty of trails and woods.
The city Parks & Rec Commission may rule in May on whether to go ahead with a course at Leddy. The city council is also expected to weigh in.
Something tells me it's going to be a long summer.
For more on the debate, check out Eva Sollberger's "Stuck in Vermont" video this week on our website. Eva interviewed some disc golfers in Johnson, and brought her camera to the public hearing in Burlington Tuesday night. Dan Bolles also has a disc-golf primer on page 25A in this week's Health & Fitness issue.
******
It Was a Very Good Year — This column marks the one-year anniversary of "Fair Game." Thanks to all the readers who have urged and egged me on, but a special thanks to Pamela Polston, Paula Routly, Cathy Resmer and the entire staff at Seven Days for welcoming me aboard.
Shay Totten gives a sneak peek of his latest "Fair Game" each week on WPTZ, Newschannel 5. See Shay on the Tuesday night newscast at 11 p.m.
Got a news tip? Email Shay at shay@sevendaysvt.com
Click here to follow Shay on Twitter.