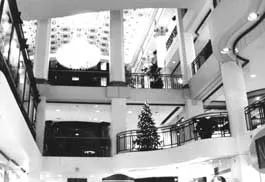 In Montréal, springtime strolls along St-Denis are at least two months away, and only a sadist would recommend a walking tour of the city's heritage sites — especially considering this week's arctic blasts. But it may not occur to the casual visitor that some of North America's important architecture of the recent past can be seen without going outside.
Indoor space is something Montréal does very well indeed. Born of necessity, certainly, but these spaces are also designed with the pride and flair befitting the unique culture and cosmopolitan ambiance the city cultivates in everyday life.
Consider the Métro, for example. Tom Visser, an associate professor of history at the University of Vermont who leads field trips to study Montréal architecture, points out that this utilitarian public transportation system is also a case study in architectural design from the '60s and '70s. Individual design teams planned most of the stations. "Just traveling around the city, one is greeted by wonderful examples of the period," Visser notes. From the cool blue-tiled walls of the Blue Line station at de Castelnau to the urban, rowdy orange McGill, each station has a feel of its own.
The so-called Underground City of shopping and entertainment venues provides yet another architectural experience, over and above the utilitarian. Visser describes these spaces almost poetically. "The experience of being able to walk from soaring space to soaring space while still underground is quite amazing," he says. "To walk in and look up five or six stories to balconies, crossing bridges and escalators, it's just a wonderful experience."
In swapping stories of intrepid adventures in the Underground, it turns out Visser and I had both attempted to find the longest subterranean route in the city. We agree it runs from the Windsor Station, west of Molson Center, to the farthest corner of the Hudson Bay, on Boul. de Maisonneuve. That walk can take upward of 45 minutes, without stopping to shop. "What's successful about the Underground City," Visser notes, "is that you don't feel like you are in a tunnel. There's a very creative use of shops, storefronts, dramatic lighting, high-quality materials. But it can feel like a maze, sometimes, especially around Place Ville Marie."
There are also gloriously renovated aboveground spaces to explore. Foremost in my opinion is the Cours de Mont-Royal, between Metcalf and Peel, north of Ste-Catherine. Two facing apartment buildings went condo, and in the course of renovation the space between them was captured in an atrium, creating a multi-story indoor commercial space of great beauty and stunning, swooping interior views. Gorgeous coffered ceilings, the contrast of mahogany and brass against pristine white walls, a mix of natural light and chandeliers — it's quite breathtaking for a public space. Upscale enough, in fact, to be the location of DKNY and Club Monaco boutiques.
At the Métro level of this remarkable building is yet another extraordinary indoor space — the Egyptien. This movie palace takes full advantage of its cellar situation: Buy a ticket, ride the escalator down and travel into a pharaoh's tomb. In the main hall the entire building's dozen supporting columns are exposed, but intricately decorated with turquoise, red and gold King Tut-tomb motifs. Replicas of ancient Egyptian friezes outline the theater entrances.
Another "created space" is at the Maison Alcan, at Peel and Sherbrooke. A light-filled atrium ties a row of Sherbrooke townhouses with the all-aluminum headquarters. Colorful tapestries, two stories long, adorn the textured cement walls inside this award-winning space.
Close by at Ste-Catherine and Peel is another lovely renovation: the Dominion Building. Originally built in the '20s, the Dominion "truly captures the feeling of that age before World War II when things were done with great style," says Visser. The magnificent ceilings have been richly restored with plenty of gold leaf; brass railings set off the beautifully polished stone walls and marble floor; and dramatic lighting fixtures give the space a stately feel.
There are also some colossal indoor spaces in Montréal, notably the two great Olympic stadiums — albeit the baseball stadium is collapsing. But still possessing architectural significance, is the St. Joseph's Oratory, off Côte des Neiges near Queen Mary. Visitors will recognize the great dome from the outside; it's one of the most prominent elements on the left side of the Montréal skyline as you approach the city over the St. Lawrence Bridge. Inside, on the main floor of the basilica underneath that dome, your puny insignificance in the grand scheme of things is certainly apparent. Architecture can send that kind of message.
Visser's favorite grand interior space is the Canadian Center for Architecture on Boul. René Lévesque, near Atwater. This exceptional museum was built in 1989 and contains more than 100,000 square feet of gallery space, a theater and a bookstore. The new building is integrated with the Shaughnessy House, a beaux-arts style mansion built in 1874 with elegant reception rooms and a classic conservatory. I originally visited the museum for an excellent exhibit, but, like Visser, I am now drawn to the space itself. The center is distinguished by contemporary, clean lines, stylish use of architectural metals, blond wood veneers and concrete. It's a pleasing combination, and this very modern addition, with its high quality and simplicity, still "respects the heritage of the Shaughnessy mansion," Visser notes.
Stop by the bookstore at the museum if you want to plan some outdoor tours for warmer weather. But until then, enjoy the great cold-climate architectural heritage of Montréal — with or without your coat.