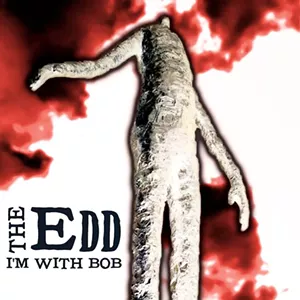 (Self-released, CD, digital download)
I don't smoke weed anymore. And I haven't touched hallucinogens for the better part of a decade. I'm by no means a teetotaler; it's just that at some point the mind-bending effects of those particular substances simply lost their appeal. But as I delved into the disorienting grooves of the Edd's debut full-length, I'm With Bob, I was struck by a long-dormant compulsion to get twistedly high. Actually, even listening stone-cold sober left me feeling dazed and confused — though not in a bad way.
Before the "Just Say No" crowd gets its pleated khakis in a bunch, no, I'm not advocating drug use. And before the prickly jam crowd doth protest too much that one need not be fucked up to enjoy multigenre hybrid bands, I'm not saying that, either. (But also: Bahahahahaha!) Rather, it's that the Burlington quartet specializes in a deeply heady brand of largely instrumental rock that induces a sort of psychological delirium, whether you're straight or not. It's a neat trick.
The Edd's compositions rely heavily on repetition. Often, as on the fittingly titled opener "Spastic Tactics," this involves bassist Greg Domina and drummer Dominic Metcalfe forging an insistent, hypnotic groove. But the shit really kicks in when the synths and guitar show up. Here, guitarist Win Haas doubles Domina's ominous bass line, which allows John Nummy to get cosmic with cascading blooms of dizzying keyboard sounds.
The effect is something like the sonic equivalent of a lava lamp — alluring and weirdly soothing. It's a feint. Midway through the song, the band explodes with those aforementioned tactics, shattering the calm with a battalion of aggressively angular lines.
Tangible melodies, while present, are often woven into the Edd's kaleidoscopic arrangements. The band's atmospheric soundscapes affect the listener more in mood and scope than with memorable lines. Think Ennio Morricone spaghetti-Western soundtracks for sci-fi video games. "Stapler in the Sky," for example, sounds like it was conceived following a late-night Mega Man marathon on Nintendo.
Illusory shenanigans aside, the Edd do showcase a strong range and diversity of styles, as well as admirable chops. The 12-minute "Alien Cats" vacillates fluidly between Zappa-inspired riffs and a woozy Tejano vibe. "Notebook," one of the few tunes with vocals, veers into polymetric math-rock territory. "Jungle Rot" is a gleefully dark and schizophrenic prog-rock romp.
I'm With Bob is a psychedelic musical rabbit hole. Fortunately, the Edd's mind-altering charms should work on fans both temperate and otherwise.
I'm With Bob by the Edd is available at theedd.bandcamp.com. The band plays on Friday, August 18, at Nectar's in Burlington, with Swimmer.