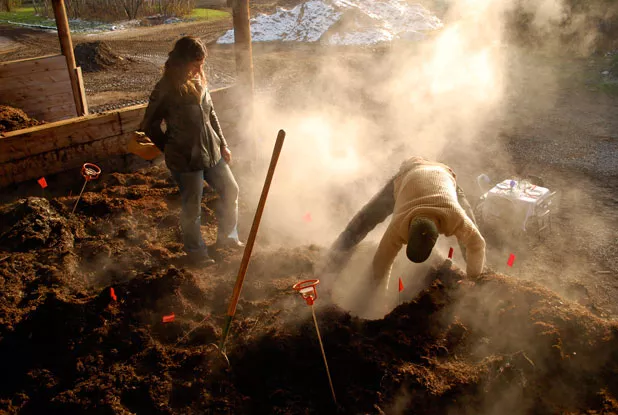 Suzanne Podhaizer and Tom Gilbert
"It's this odd mix of ammonia and deliciousness," Suzanne Podhaizer observes as she uncoils a foil-wrapped filet of branzino and sniffs. Once its foil is discarded, however, all that remains is an unmistakable briny fragrance.
It's a welcome aroma on this sharp, breezy November day, when fresh snow veils the ground. We're not in Podhaizer's kitchen at Salt, her Montpelier restaurant, but inside the "worm parlor" at Hardwick's Highfields Center for Composting. Outside, wisps of steam curl up from towering compost piles as if the piles were exhaling into the chilly air. It's inside one of these piles — where the internal temperature is scorching — that this fish just underwent a long, slow roast.
Far from static piles of dirt, the bumpy mounds at Highfields obscure a frenzy of microbial activity. Twice a week, as truckloads of food scraps arrive here, the staff doses the piles with bark, manure and other compounds. Armies of microscopic bacteria get to work breaking down the food: cold noodles, banana peels, all kinds of biodegradable castoffs from restaurants, hospitals and schools. In the process, the bacteria generate heat — so much that the depths of the largest, freshest compost heaps regularly reach 140, 150 or 160 degrees.
For Tom Gilbert, Highfields' executive director, it's a bummer to watch that heat wisp into the air. After all, Highfields' motto is "close the loop," and its staff travels the state helping communities set up their own composting programs to minimize waste. Capturing the heat from decomposition seems imperative.
For years, the company has experimented with designs to recover this energy, which can equal 1.5 million BTUs per day at Highfields. Other composting companies already use the methods of Frenchman Jean Pain, who pioneered a mound system in the 1970s that can heat small spaces such as greenhouses. At the Cellars at Jasper Hill, a system called "the green machine" uses heat generated by manure to warm the cheese-production facility. But at Highfields, the staff wants to create systems that would make it easier and cheaper to capture heat, possibly on a larger scale.
The company has begun a $40,000 Kickstarter campaign to fund its Compost Heat Recovery System. By late November, Gilbert hopes to have raised enough cash to fund recovery prototypes that will heat Highfields' offices and outbuildings. After that, he would like to provide the most successful plans as open-source designs.
To illustrate just how much heat compost generates, as well as to connect Highfields' work to the food system, Gilbert invited a Seven Days food writer to eat a gourmet meal cooked in the pile by Podhaizer, the paper's former food editor.
Podhaizer's practices in her restaurant and at home exemplify how composting should work: She sends Salt's food scraps to Vermont Compost Company, then uses the compost that she helped create to fertilize the plants she grows for Salt's menu. "Sometimes we see hints of mussel shells in the compost and wonders if it's the mussels we served," she says.
For years, Gilbert and others at Highfields have tinkered with "compost cooking," successfully heating cans of soup or leftovers in the pile. He wondered how it might work for a chef. "Cooking in compost is a great way to communicate the heating potential of the technology, to help people make these direct connections," Gilbert says. Podhaizer's interest was piqued.
So, a few weeks ago, she traveled to Hardwick for a test run, and the pair buried a variety of foods. Podhaizer says she was impressed that the pile proved to be its own kind of oven. "What's interesting to me is its similarity to sous-vide," she observes, referring to the slow-cook method of submerging food packets in hot water. "This is using a different medium to get the same effect."
Reading through Highfields' Kickstarter pitch — which includes a video of environmental activist Bill McKibben extolling its virtues — one might be convinced compost could save the world. "There is so much more that compost does than return nutrients to the soil," says Gilbert, who can wax philosophical about every aspect of the system.
It's true. Over nine months, the tons of food scraps that arrive here are alchemized into a potent cocktail of nutrients. By controlling what is added to the piles, the company can engineer the compost to do serious work, such as bolster soil and fight plant diseases. "Around here, growers really struggle with Rhizoctonia," says Gilbert, referring to a fungus that can kill crops. Feeding hardwood bark to the piles creates compounds that counter the fungus, at least in containers.
Many of the food scraps that arrive at Highfields are initially blended with bark, manure and other nutrients, then arranged in 20-foot-high, chocolate-colored, aerated piles that "cook" for a month or so. This is when they generate the most heat. Next door to the piles, inside the "worm parlor," hundreds of thousands of wriggling earthworms in a compost-filled trough munch on scraps and create from them nutrient-dense vermicompost. We'll be munching alongside them.
Heat is one of compost's sexier byproducts, and we aren't wasting it on a throwaway meal. On the morning of our lunch date, Podhaizer arrived at around 10 a.m. with a floppy filet of branzino, a few scallops, a sliced head of radicchio, garlic, minced red peppers and boil-in-the-bag rice.
She wrapped most of the food tightly in foil and buried it near the top of one of the piles, about 14 inches deep. Gilbert then set up metal gauges so they could monitor the temperature, which was about 170 degrees when they began.
After my arrival at about 2 p.m., Gilbert and Podhaizer trek back up the warm, squishy pile to recover the food. Steam swirls as Gilbert digs into the pile with a shovel, pulling out foil packets one by one like long-lost treasure.
A handful of compost is hot to the touch. Hot enough, apparently, to slow cook a fish filet. "This is done," declares Podhaizer before spiriting the food inside.
There she unwraps each parcel slowly, revealing well-roasted radicchio, faintly roasted garlic and — though Podhaizer had her doubts — totally cooked rice.
The ribbons of radicchio are "hot enough to make my fingers uncomfortable," Podhaizer notes. Once they cool slightly, she tosses them with walnuts and crumbles of Bayley Hazen Blue, and then drizzles them with extra-virgin olive oil and aged balsamic vinegar.
After she spoons the roasted red pepper and garlic atop the rice, Podhaizer adds a generous block of butter and a sprinkle of Okinawan salt. She dots an olive-and-parsley compound butter on the fish.
We take our places at a fully set table on the gravel of the worm parlor. Gilbert lights candles and opens a bottle of Lincoln Peak Vineyard La Crescent, and we tuck into the meal along with Alex Utevsky, Highfields' compost site manager; and Julian Post, an AmeriCorps worker.
The meal is thoroughly cooked, earthy and satisfying. The fish's oils are as concentrated and aromatic as they would be after a long roast; the radicchio has an almost smoky character, as if it took on some of the personality of the "terroir" where it cooked. And the Arborio rice, though mushy, is a garlicky, buttery treat.
No doubt our scraps will go back into the system. As Gilbert sees it, soil nutrition is finite, and "closing the loop" isn't just a feel-good measure. "In Vermont, we really have this soft, middle-class idea of things working out. We really need to think through inputs to that system. We need to get serious, resource-wise, about the inputs needed now," he says.
Earlier this year, Vermont passed Act 148, which will require Vermonters to compost all their food scraps by 2020. Gilbert hopes that, even before then, more people will recognize the tremendous impact even the smallest decision — such as throwing away coffee grounds — can have on the landscape.
"When you stand between the garbage bin and the compost bin, you're faced with a decision," he says. "Will your scraps go into a landfill, becoming greenhouse gases, or to an industrial agriculture system? Compost is a tool, one that has a lot of leverage."
Clearly. The worms are pooping out nutrients a few feet away, and we diners are sated from food cooked with nothing more than the heat of decomposing matter. Compost is messy, yes, but it seems almost magical.