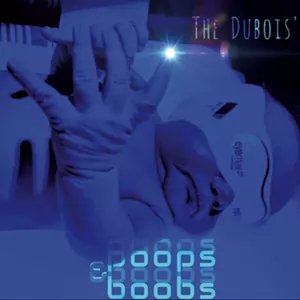 The Dubois, Poops and Boobs
(Self-released, digital download)
There are those who believe art can and should thrive under constraints. In that spirit, the RPM Challenge is a musical gauntlet first conceived in 2006 by the Portsmouth, N.H., alternative paper the Wire. The idea is that a musician or band spends the month of February recording at least 10 tracks or 35 minutes of original music. The album must be out for the world at large by March 1 — that's the ironclad rule.
Vermont oddball rockers the Dubois have participated in the RPM Challenge for a few years now. This year's iteration finds main songwriter Ryan Dubois welcoming a new son into his house. So naturally, under the constraints of the challenge, the record is an account of the child's first month and a half of life. While that is a beautiful concept for an album and fertile subject matter for creativity and metaphor, this record mostly deals with tits and shit. What? Don't look at me like that — it's right in the title.
Poops and Boobs kicks off with "Don't Cry Little Baby," a sort of ode to being truly worn the fuck out by the screaming blob that is an infant. Father and mother Nina croon to entreat baby Oscar to please stop crying over a sort of lo-fi nursery rhyme tune. It sets the tone for the album, as following songs such as "Give Me the Tit," "Mommy Daddy," and "Poop and Shit and Eat and Sleep and Pee" reveal the monotony of the early days of child-rearing. Some sample lyrics: "Please hurry up cause my butt is shitty / and I just want to get back to that titty."
Yes, the poop stuff gets old pretty quick. There's just no getting around it. I get that the dude is probably inundated with disgusting baby shit, and I have plenty of sympathy for that; I do. But one begins to suspect that all February was for Dubois was watching his wife breastfeed their baby, then dealing with all the accompanying waste little Oscar would leave. While it's hardly surprising those concepts would dominate the writing process, it doesn't make for the best concept record — unless you really love a scatological-themed odyssey.
Between all the titular poops and boobs, the album contains a lot of ambient and experimental bits of music. Much of the record's good work, like the washed-out folk-rock on "Say Hello to the Sunshine" gets rather undone by long and drawn-out drones. They appear as a metaphor for the drudgery of it all but succeed far too powerfully. The record is not the easiest to stay awake to.
There are enough moments of potential to make me hope the Dubois' next record is not created under the RPM Challenge rules. Poops and Boobs is more sketch than completed piece, with moments of insight and musical nuance, but also has large stretches of rather pointless filler.
Download Poops and Boobs at thedubois.bandcamp.com.