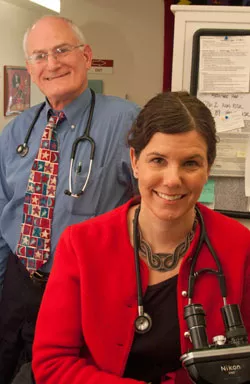 Matthew Thorsen
Richard Bernstein and Andrea Regan
When John Hammer moved north to Charlotte 21 years ago, the retired Navy man was leaving behind one of the finest medical facilities in the country: the National Naval Medical Center in Bethesda, Md., now called Walter Reed — "where all the presidents go," Hammer says.
In Maryland, he'd lived just four miles from the massive hospital, a sprawling complex with some 4500 professionals on staff. Now he found himself living instead just a stone's throw from the Charlotte Family Health Center — which looks more like a house than a hospital, because in fact it was a residential home before it was repurposed as a neighborhood clinic.
"I never had a personal physician until I came up here," Hammer says. "I stepped right into it."
In Vermont he'd stumbled upon an "old-fashioned doctor" — though he backpedals a bit there. "I don't want to point Bunky out as old fashioned," Hammer says. "It's just the old way of doing it."
The "old way," in this case, is a time-tested approach to family practice medicine, where one physician takes care of a patient for a long time. And "Bunky," as his friends call him, is Richard Bernstein, 65, the white-haired doctor who since 1975 has ministered to patients at the Charlotte clinic. He's been seeing some patients (and their children and grandchildren) for more than 30 years.
"I've always felt, and I still do, that a lot of illness is either caused by or made a lot worse by fear," Bernstein says. "So I wanted the kind of clinic where people would feel at home."
That meant demystifying medicine. Explaining things in a way that his patients could understand. Eliminating the fear factor.
And it meant bucking trends: In the decades since the health center opened, fewer and fewer doctors are choosing to practice primary care medicine, which, on the spectrum of medical specialties, does not pay well. Plus, it's getting harder to run independent private practices, which means many small clinics are selling out to hospital groups. And Bernstein thinks that many of the changes in health care that are coming down the pike — such as electronic medical records, which the federal government is incentivizing for doctors and hospitals — are pushing toward a further centralization of care.
"It's hard for independent clinics to compete," Bernstein. "We've always been a small, community-minded clinic … and I think that basic medical care is best provided in small, personal units."
Bernstein is on his lunch break when he ushers a visitor into a small examination room. The health center is tucked into a white house on Ferry Road in Charlotte. Bernstein hops up onto the tissue-paper-covered examination table, his legs dangling over the edge.
"People like coming here," he says. "They look out and see fields and not a lot of Formica."
The clinic isn't fancy. It's been renovated several times, but the hardwood floors are scuffed up, and the waiting room is a bare-bones affair. It's homey, and the doctors here handle most of their own business — greeting patients, making phone calls and pitching in if the receptionist seems busy.
Bernstein moved to Vermont in 1972 to complete his medical residency at Fletcher Allen Health Care, then called the Medical Center Hospital of Vermont. He came by way of Cleveland, where he attended medical school, and the suburbs of Washington, DC, where he grew up. Though Bernstein flirted with the idea of specializing in surgery, general medicine won out.
"I like dealing with people over long periods of time, and directly," he says.
When he learned that a physician in Charlotte was looking to retire, Bernstein stepped in to fill the gap. In 1975, with the help of a few physician's assistants, he started the Charlotte Family Health Center. He's also affiliated with Fletcher Allen, where he teaches in the family medicine department.
Bernstein is a pillar in the local community, interested in everything from Golden Gloves boxing (he's the on-call doctor) to Lake Champlain water quality to school board politics.
"[Bunky's] not just the doctor who comes in from afar," says Hammer. "He's part of us."
These days, the center has three doctors on staff: Bernstein, longtime physician Lee Weisman and Andrea Regan, who at 35 is the youngest addition to the practice. She's bucking the trend that sees younger doctors avoiding both private practice and primary care medicine.
"I'm a hands-on person," Regan says. "I like to make my own decisions, and that was a big draw here."
Nationally and locally, medical centers are centralizing. Hospitals are purchasing former private practices, consolidating billing and other administrative functions, and putting doctors on the payroll. When it comes time to recruit new physicians — a tough prospect for all family practices — these hospital-owned practices typically can offer higher salaries.
And many doctors aren't interested in hanging out their own shingle. Ron Hallman is the vice president for public relations at Porter Medical Center in Middlebury, which owns 11 practices in Addison County. In almost every case, Hallman says, the practices approached the hospital about purchase, not the other way around.
"It's just getting too complicated, too difficult and too stressful" to run a practice, Hallman says. Young providers coming out of medical school are saddled with hundreds of thousands of dollars in debt and aren't interested in buying a building or taking out a line of credit — let alone in hiring and firing staff or calling a plumber when the toilet springs a leak.
"If you're gong to be an independent physician and own a practice, you have to do a lot more than practice medicine," Hallman says. "You really are running a business."
Of course, hospitals aren't acting out of altruism when they purchase practices: They're also shoring up their base, because primary care facilities will funnel in patients for more profitable procedures.
By and large, Hallman says, very little changes for the doctor or the patient when a hospital takes over a smaller practice. But he can see how some physicians might worry about ceding their independence.
"Change is change," he says. "But it's a pretty small price to pay for having the certainty of a large organization behind you."
Some physicians say it's not so simple.
"There's a [philosophical] difference often between private practice and hospital-owned practices," Regan says. "There are a lot of benefits of a major hospital … and, on the other side of it, you have autonomy."
The family practice business has undergone significant changes since Bunky Bernstein set out in the '70s. An avid cyclist, he used to head out on his lunch break every day for an hour-and-a-half ride. Now, says Regan, "those days are so gone."
For one thing, there's been an explosion in the amount of paperwork doctors are expected to produce. Asked what they'd like to see in health care reform, Regan and Bernstein go immediately to something called "prior authorizations." What they mean is that insurance companies are often changing their policies about which drugs they'll cover, and the doctors have to scramble to keep up.
"There's no rhyme or reason to it," Regan says.
Meanwhile, more patients are trying to handle questions by phone so they don't incur a co-pay by visiting the clinic. Others show up for their annual exams, which should be preventative in nature, with a laundry list of ailments they've stockpiled over several months.
But Bernstein still thinks that the kind of medicine he practices is the way to keep patients healthy in the long run. The clinic's emergency-room rates are lower than the state average. Specialists and major medical facilities are important, Bernstein says, but a primary care doctor should be the first defense.
Bernstein's patient Hammer agrees. When he visits larger clinics, Hammer says the system "runs you through like you're a subway passenger": through the gate, onto the train and then just as quickly out the door. For patients who want to be in and out in a hurry, he says, that approach might be a good fit. It's efficient, if not especially intimate.
It's not like that at Bernstein's clinic, where doctors only book two patients in an hour. It gives the physicians extra time with their patients, if they need it, to discuss a thorny medical problem or to catch up on day-to-day life.
"You can always expect to have a human relationship with him when you go in," Hammer says.
As for that push for digital medical records, the idea is for doctors to have access to a huge body of information about their patients, available at the click of a mouse. Doctors can quickly scan for trends, patterns and past medical issues.
"But in the case of a family doctor, somebody like Bunky … he built all that up in his mind," Hammer says. "Over time, he knew what I did, what's affecting me, how busy I am, how stressed I am … I met him as a doctor, and that made him into a friend."