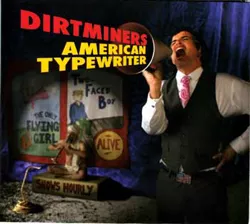 (Animalville, CD)
Preconceptions infect nearly every aspect of American culture, informing our opinions on everything from literature and movies to politics and celebrity with what we think we know, often erroneously. It's an unfortunate yet inherently human phenomenon that rears its deceitful head far too frequently, especially in music criticism. Case in point: When I got my hands on American Typewriter, the new album from The Dirtminers, I thought I had a pretty good idea of what I was in for. The album's cover features a carnival sideshow barker, which immediately brought to mind the devilishly vaudevillian old-time sounds of The Squirrel Nut Zippers. But, as the saying goes, you can't judge a book by its cover, and the adage is just as true for CDs.
As it turns out, The Dirtminers are a rock band. And a pretty darned good one at that. Led by self-described Vermontario carnie Ralph Worrick, the quartet trades in quirky, riff-laden pop, centered around his catchy guitar hooks and subtly charming lyrics.
"Sweet Loneliness" opens the record, with a swirl of cymbal rolls giving way to a Middle Eastern groove that serves as a jaunty backdrop for Worrick's heartfelt ruminations on love lost. It's a touching tune that showcases the songwriter's unique approach by contrasting dour lyrics with unconventional rhythmic patterns and modal twists. Though not especially groundbreaking, it's effective and whets the listener's appetite for what follows.
Which is mostly topnotch pop songcraft, ably played by Worrick's crack backing band. Organist Ron Rost lays down tasteful, sparkling, atmospheric keyboard work, while multi-instrumentalist Matt Rogalsky offers understated but savvy turns on bass, steel guitar and backing vocals.
If you're looking for a genuine ringer behind the skins, look no further than esteemed drummer Russ Lawton. The part-time Vermonter's work throughout the disc is a telling reminder of just why the dude seems to show up on half of the better local releases year in and year out.
There are certainly a few duds here and there — such as "My Lovely Assistant." But more often than not, The Dirtminers serve up intelligent, crafty tunes that channel some the era's finer rock and Americana acts. In fact, several tracks could reasonably pass as B-sides by the rock-infused alt-country supergroup Golden Smog — think Down By the Old Mainstream's "Empty Boys and Girls," "Coffee All Morning" and the title track.
American Typewriter challenged my preconceived ideas, and I'm glad it did. Shed your own prejudices and head down to the Lake Champlain Maritime festival this Saturday when The Dirtminers play ringmaster with local singer-songwriters Mia Adams, Amelia White and — I'm not making this up — some genuine carnies.