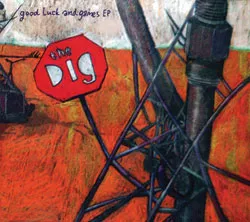 (Self-released, CD)
It's no secret that Brooklyn is a haven for trendy fads. From the dance-punk explosion by bands such as The Rapture and Radio 4 to the recent inexplicable popularity of mesh trucker hats, neighborhoods like Williamsburg and Greenpoint have been epicenters of pretentious retro-chic for much of the current decade. It's refreshing, then, to stumble across a band like The Dig, who wear their somewhat dated influences as a badge of honor rather than manufactured indie cred. Like fellow Brooklynites The Hold Steady, the quartet trades in infectious guitar pop, rooted in classic, but perhaps underappreciated, rock 'n' roll. With their recently released EP, Good Luck and Games, a follow-up to their 2006 full-length debut Quiet Games, the band proves that there's more to being from Brooklyn than contrived artifice.
The EP kicks off with the title track, a deliciously pop-tastic little cut reminiscent of underrated 1980s pop masterminds Squeeze. The tune features nifty call-and-response falsetto vocals but contains enough grit and urgency to satisfy those who prefer their rock crunchy side up.
The following tune, "Lovesick Woman," is a grinding garage-blues number. Here guitarist David Baldwin's vocal delivery vacillates between soothing, airy strains and venomously sinister, lovelorn angst.
"New Love" maintains the previous track's bluesy roadhouse feel with driving guitar and pulsing drums and bass, courtesy of Nick Brown and Emile Mosseri, respectively.
Following a brief string interlude, "Marianne" reflects a strong Spoon influence with precisely played staccato guitar and bass strokes buoyed by cavernous piano hits and moodily atmospheric string swells.
The Brit-pop invasion of "Any Day Now" features Baldwin's most effective and ambitious wordplay. It's a raucous cut with a spectacularly dynamic outro that seamlessly blends into the disc's final song. Appropri-ately titled "The Last Thing," it nods to The Beatles in both melody and structure. The Fab Four's influence is evident throughout the disc, but this track has Lennon/McCartney written all over it.
At just under 18 minutes, Good Luck and Games is short, sweet and eminently satisfying, just like the six pop confections it presents. When your Valentine's Day sugar high wears off, you could do worse than sate your sonic sweet tooth with The Dig.
Dig 'em this Friday in person at Winooski's Monkey House, and again on Saturday at Burlington's Radio Bean.