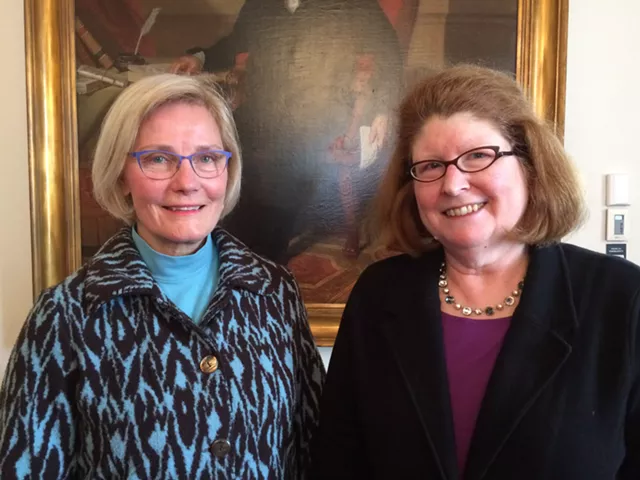 Nancy Remsen
Helen Riehle (left) will replace Sen. Diane Snelling (right), who was appointed Tuesday as chair of the state Natural Resources Board.
Soon after she moved to Hinesburg in 1983, Diane Snelling caught wind of a proposal to build 30 new houses in slapdash fashion on the property next door. She chose to fight it under the state's restrictive Act 250 land-use law and took her case to the local district environmental commission.
"The directness of speaking to the person that's doing the project and trying to work it out was, I thought, good," she recalls. "You put your cards on the table and say, 'How do we work through this together?'"
The developer eventually scaled back his project, and Snelling was inspired to join Hinesburg's planning commission and then its selectboard. When her mother, former lieutenant governor Barbara Snelling, fell ill in 2002, then-governor Howard Dean appointed Diane to fill out her term in the Senate.
She's been there ever since — at least, until Tuesday morning, when Gov. Peter Shumlin called an unexpected press conference in his ceremonial Statehouse office to announce that he'd appointed Snelling to chair the Natural Resources Board. In that position, she will oversee the state's nine district environmental commissions, including the one she once petitioned.
"I think 15 years is a good long time," she says. "I think it's just sort of human nature to say, well, 'What else might I do that would interest me and perhaps might not include campaigning?'"
Snelling's resignation from the Vermont Senate marks the end of an era.
For most of the past 40 years, since her father, Richard Snelling, began the first of two stints in the governor's office, a Snelling of one sort or another has served in state government. Now, a Republican Party that was once synonymous with the Snelling family may lose its last Senate seat in Chittenden County's liberal, six-member district.
"Diane is irreplaceable — and I mean that in two ways," says Sen. Phil Baruth (D-Chittenden), the majority leader. "She's a very special woman in her own right, and I've loved working with her. But she's also irreplaceable, I think, for Republicans in Chittenden County. I don't think, honestly, they will find another Republican who can manage to wind up in the top six."
Complicating matters for the GOP, the Democratic governor declined to give the county party a chance to nominate up to three potential replacements, as is customary but not required. Instead, he immediately appointed South Burlington City Council chair Helen Riehle — who served a decade in the House and eight years in the Senate — to fill out Snelling's term.
"With the session winding to a close, it is important for Chittenden County to have a senator right away who is ready to hit the ground running," Shumlin explained.
A self-described "very moderate Republican," Riehle will likely vote as Snelling would have during the final six weeks of the session. But because Riehle has vowed not seek election this November, Republicans won't be able to run an incumbent.
"It's clearly a crafty political maneuver by Gov. Shumlin, who's shown with great consistency that he puts politics ahead of giving people a say," says Vermont Republican Party chair David Sunderland.
"The Vermont GOP has become so insignificant that Gov. Shumlin feels no need to go through the nominating process," says conservative political operative Darcie Johnston. "And that's a sad day for Vermonters, who in the largest county in the state will likely not have any Republican representation in 2017."
The party already holds just nine of 30 Senate seats ­— and that's including suspended Sen. Norm McAllister (R-Franklin).
Even before Snelling's resignation, Democratic and Progressive candidates were lining up to replace another member of the delegation who's relinquishing his seat next winter, in order to run for lieutenant governor: Sen. David Zuckerman (P/D-Chittenden).
Declared candidates include Winooski attorney Faisal Gill, Vermont Interfaith Action executive director Debbie Ingram and Burlington attorney David Scherr — all Democrats. Rep. Chris Pearson (P-Burlington) is giving it close consideration, as is Burlington consultant Dawn Ellis.
The other four incumbents — Baruth, Democrat/Progressive Tim Ashe and Democrats Ginny Lyons and Michael Sirotkin — all plan to seek reelection.
Baruth, who's charged with Democratic candidate recruitment, thinks the rare double-opening in the state's most powerful delegation — two months before the filing deadline — could lure many more to the race.
"I think it will be catnip for people who've been kicking around this option for years and years," he says.
Bernie, Bro!
After clobbering former secretary of state Hillary Clinton Saturday in Washington, Hawaii and Alaska, Sen. Bernie Sanders (I-Vt.) sounded like a presidential candidate ascendant.
"We've won six out of seven contests in the last 11 days," he told ABC News' Jonathan Karl on Sunday morning. "Clearly we have the momentum."
The next day, Sanders campaign manager Jeff Weaver summoned his inner Samuel Clemens.
"Reports of our death are greatly exaggerated," he declared to reporters on a Monday afternoon conference call. "We are certainly in this to win — and there is a path to do so."
Perhaps. But it is as narrow and winding as can be. Though Sanders has trimmed Clinton's pledged-delegate advantage from 326 to 240 in the past two weeks, he still must win roughly 57 percent of those left to be allocated — just to tie things up. And that's ignoring her superdelegate lead of 440.
"Nearly insurmountable" is how Clinton chief strategist Joel Benenson described his boss' lead Monday afternoon in his own conference call with reporters.
"I haven't seen anything you folks have reported that says that they've been able to make a credible case for how they have a path to winning this thing," he said. "'Cause they don't."
Indeed, Team Sanders' theories of how they might prevail have grown ever more elaborate with every passing week. On the Sunday morning talk shows, Sanders himself suggested he'd be comfortable winning the nomination by converting superdelegates, even if he lost to Clinton among pledged delegates — you know, the ones chosen by voters.
Can you imagine what Sanders would say if Clinton suggested such a tactic? Party honchos stealing the race from the rightful winner? Perish the thought!
Of course, to question the viability of Sanders' strategy is to concede to the Bernie Bros — those legions of true believers who pollute your Facebook feed and will soon dwell in the comments section of this column — that you are nothing more than a pawn of the corporations, in the tank for Queen $Hillary.
"Every success by Bernie is met with a story or column or talking head whose message is 'but he can't possibly win,'" former labor secretary and top-ranking Bernie Bro Robert Reich wrote Monday on Facebook. "That's the media refrain because the Democratic establishment can't conceive of the possibility Bernie will win."
Actually, it's because reporters believe in arithmetic — and the numbers simply don't add up.
Yes, Sanders should do well next Tuesday in Wisconsin and in the final state caucuses in Wyoming and North Dakota. That bird that landed on his podium last Friday in Portland is surely a harbinger of successes to come in Oregon. And, yeah, a progressive champion like Sanders ought to do well in New York and California.
But because Democrats award delegates proportionally and host no winner-take-all contests, Sanders will have to perform, consistently, at a level he has rarely reached. He'll have to do so in primaries — not the caucuses in which he's racked up most of his wins — and in states that are more diverse than those in which he's excelled. And he'll have to absolutely kill it — not just barely win — in New York and California.
Of the 22 contests remaining, former Barack Obama campaign manager David Plouffe thinks Sanders might win as many as 12 or 13. But, the unpaid Clinton adviser wrote Monday, "I believe Hillary Clinton has zero chance of not being the Democratic nominee."
Senior Sanders strategist Tad Devine chooses to live in a different reality.
On Monday's conference call with reporters, he noted, "Almost all of Secretary Clinton's delegate lead comes from [eight] states where she faced little or no competition." Those contests, many of which fell on Super Tuesday, account for "essentially 97 percent of her delegate lead today," he said.
"If you look at the states where Bernie won — those 14 states where he won more delegates — we have an advantage of about 149 delegates," Devine continued.
His point? "Where this competition is real — we have a very good chance of beating her in every single place that we compete with her," he said.
Um, yeah. But, Tad, that's not how it works. When you're running for president, you don't get to pick and choose which states count and which don't.
And let's not forget the fact that those states in which Sanders chose not to venture — Alabama, Georgia, Louisiana and Mississippi among them — are those with the highest share of African American Democratic voters.
To be sure, Sanders has made inroads with blacks and Hispanics — particularly those under 30 — but his campaign can be a little tone-deaf. Explaining why his boss tends to outperform Clinton in hypothetical matchups against Donald Trump and other Republicans, pollster Ben Tulchin said Monday that Sanders holds onto independent and young voters while picking up "base voters, including African Americans and Latinos."
"I can tell you: African Americans are very loyal Democratic voters," Tulchin said. "When it comes to a general election matchup between Bernie and any Republican, they'll be there for us."
Really? They'll be there for Sanders — even though his electoral strategy has amounted to running up the numbers in white America?
Devine quickly walked back Tulchin's comment, saying, "Bernie recognizes — we all recognize — that the African American vote is critically important to the success of the Democratic Party in the general election." But when a reporter asked a few minutes later whether, if Devine could do it all again, he would devote more resources to those southern states, Devine laughed.
"With 20-20 hindsight, I can tell you, honestly, no," he said.
Got it.
The Sanders press call reached Peak Bernie Bro when Weaver suggested that the campaign might yet pull some mystery votes out of its hat.
"We have a number of superdelegates who are not prepared to go public at this point who have indicated to us they are supportive," he said. "So we believe our superdelegate number is higher than the one that's publicly available."
Responding to Weaver's remark later that day, Benenson scoffed, comparing it to "Richard Nixon's secret peace plan on the eve of the election in 1968 for the Vietnam War."
To be fair, the Clinton campaign is not above its own selective reading of results.
"She has won in 17 of the 21 states where more than 7 percent of the eligible voters have turned out," Benenson argued. "So where voters are coming out to the polls, she's been dominating."
Cool, man. And in states featuring a high consumption of kale, an abundance of Subarus and a dearth of billboards, Sanders tends to win 86 percent of the vote.
Feel the Bern, brah!
Let's get a couple things straight: You win elections by earning votes. You win party nominations by picking up delegates.
And while — in a hypothetical universe in which party leaders defect to the losing candidate they've never really liked — Sanders could win with the help of superdelegates, doing so wouldn't match his message. As Sanders himself would surely admit, the very existence of superdelegates is inherently and intentionally undemocratic. They are there to thwart the will of the people — just in case.
If Sanders wants to win this thing, he needs to win a majority of pledged delegates. He'd better get on it.
Tim Ashe is the domestic partner of Seven Days publisher and coeditor Paula Routly.