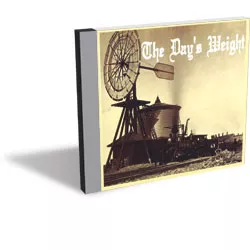 (Self-released, EP)
Alt-country is a bastard offspring of early American folk and late '60s outlaw country/country-rock. As alt-country has developed, birthing subgenres of its own, so, too, have the genres that feed it evolved and changed. As contemporary country and rock have veered off dusty back roads and onto fancy superhighways, some alt-country peers have reflected that shift. For example, The Day's Weight.
On their self-titled debut EP, the Boston-based outfit presents a new genetic strain that owes as much to modern-rock radio as it does AM country. It is a curious mix of pop and twang, exemplified by EP opener "Runaround." Over a downcast acoustic progression, Vermont native Patrick McDermott guides his full-bodied baritone through radio-ready lyrics with just a hint of stylized drawl. The song builds slowly, propelled by Dennis Kenmore's plodding drum work. At the chorus, the band explodes in a wash of bright keyboard as McDermott lets loose a pleading melody tailor-made for a fist-pumping sing-along. This is alt-country by way of alt-rock.
Swooning pedal steel floats like driftwood over rippling acoustic guitar on "Drowned." Just as the previous number shared more in common with radio rock than back-porch jams, this acoustic ballad owes as much to Nickelback as to Nickel Creek. In this rootsier setting, McDermott adopts a more noticeable, and perhaps dubious, twang. But, manufactured or not, his delivery remains earnest without ever devolving into overwrought cliché.
"Fortunate Ones" unfortunately casts the singer as some suspicious mix of Toby Keith and Hootie and the Blowfish's Darius Rucker. Teetering on the brink of commercial cheese on the two previous numbers, here McDermott succumbs. It's the EP's low point.
"Lordsburg" represents a stylistic departure, more resembling an Irish funeral march than the preceding Americana-tinged fare. But the song retains the same alt-rock sensibilities of the EP's earlier material. The combination is surprisingly effective, suggesting a deeper artistic wellspring than previously displayed.
Following the straight-ahead rocker "The Day After," the EP closes with "The Game Is Over." Guitarist Kyle Toomey penned this simple, tender ballad, and the sideman's breathy delivery is subdued and natural, a refreshing contrast. One hopes The Day's Weight's follow-up will feature a more even split between the two songwriters, as Toomey balances his partner's stylized bombast.