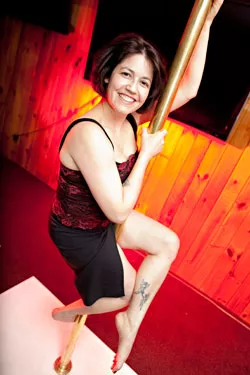 Green, yellow and red strobe lights flit over the floor. A DJ spins thumping hip-hop tunes, while the tracks' videos play on the flat screen behind the turntables. Beside the DJ, two women twirl around two poles on a small stage.
We're not in ballet class anymore, Toto. But we're not at a strip club, either.
We're at the Bayside Pavilion, a popular restaurant and bar in St. Albans. Every Friday and Saturday night, customers can try their hands — and legs — at pole dancing. The nightspot's employees decided to introduce poles when they noticed customers swinging around columns on the dance floor. When the Pavilion premiered two poles last November, the response was overwhelming.
"A couple of hundred people showed up that night — it was amazing, really," says proprietor Chuck Lowe. "And it wasn't just young people. People from 24 to 50 were giving it a try."
Most of those people are still women — but they aren't doing it for money. The Bayside Pavilion's poles reflect a larger trend: From Seattle to Houston to New York to London, more and more women take classes in pole dancing, burlesque, striptease and lap dancing. Most don't aspire to become professional exotic dancers; they just want a novel way to get fit — and have fun. Performers such as Dita Von Teese, the ballerina-turned-burlesque star who gave striptease its retro glamour, have helped remove the old taboo from the exotic arts. And Vermonters are beginning to catch up to their urban neighbors.
Since owner Lowe first introduced the poles at the Bayside, he has replaced the originals with two professional-quality models and learned a bit about pole dancing. "The perception is it's only for exotic dancers, but it's open to people of all ages, and it's great exercise," he says. "You have to be athletic to hang upside down from a pole and swing around."
No one is hanging upside down from the poles on this particular night. The dancers, women in their twenties and thirties, swing sinuously around them for a few minutes before returning to the dance floor. They're dressed for clubbing in camis, heels and skinny jeans, and they don't attempt any athletic feats. Although there's some grinding going on, no one pulls any stripper moves, either. There's a certain playfulness to their pole antics; you sense that they're venturing onstage not to seduce or impress, but for kicks.
"I'd never even been in a club with a pole before, so I thought I'd make my friends laugh by running over to it and jumping on it and swinging around," says Cara, 30, of St. Albans of her twirl on the Pavilion's poles. "My friends and other people whooped and laughed and applauded. I felt like a kid on a playground; I wasn't 'Oh, how sexy can I be.' And I don't normally see myself as the adventurous one of my friends, so it was nice to feel confident for a change."
While the Pavilion's customers enjoy watching the dancers, employees and patrons haven't noticed any inappropriate behavior. "There's always a group of bystanders looking on, but the only time guys ever get on stage is when their wives or girlfriends are dancing," says a bouncer named Ray. The men don't tend to get twirly, he adds; most hover near their partners until the women return to the dance floor.
"It's not sleazy," says Sarah, 27, who is here with her husband. She doesn't want to dance herself, but she's enjoying the atmosphere. "I didn't think I'd be comfortable with a place that had pole dancing, but I am. It's a chance for people to escape from their mundane lives and cut loose for a few hours."
For Jennifer Michelle, 40, it's also a way to build some killer thigh muscles. The Fairfax resident, who works at Burlington's Vermont Oxford Network, discovered pole dancing through her interest in belly dancing and burlesque. She describes it as an "amazing workout" that allows dancers to burn calories and tone core muscles simultaneously.
But you have to have a community — and the right gear. Michelle has the latter covered: She designs pole-dancing apparel and has launched a website called PoleSkivvies.com to market her creations to "pole studios" all over the country. "I live out in northern Vermont where there are no pole-dance teachers," she writes on her site, "so I'm learning at home with the help of online classes, DVDs and all the great people on the pole forums."
Internet pole forums? "It's a big social network with lots of women and even men getting into the sport. We all keep in touch, post videos and keep each other posted on the latest trends," explains Michelle, who uses Skype webcams to take dancing lessons with Calgary, Ontario-based teacher Elena Downs. She quickly dispels any misconceptions about pole dancing and her apparel: "It's not stripper wear. It's athletic wear for people whose sport is pole."
Indeed, a glance at the PoleSkivvies site — which has attracted substantial interest on the pole-dance forums — reveals that the "Tail Spin Short" and the "Fireman Tank" are no more revealing than most gym and aerobic wear. Michelle's description of the former reads, "It's designed to give you plenty of skin contact with the pole, without putting your entire ass on display!" Learning to swing upside down from the pole certainly sounds like an athletic feat: "You work up to that level, strengthening your abs through spins," Michelle explains. "Then you finally can hold on upside down without panic."
For some women, exotic dance moves add challenge and spice to the traditional aerobic workout. Others use them to explore their sensuality — without a male audience. In 2006, Studio Bliss, a yoga and world- dance studio in Rutland, hosted a special Valentine's Day workshop where participants sipped champagne, nibbled chocolates, and learned a simple striptease and pole routine. "We had a great turnout," says Studio Bliss owner Cathy Salmons. "It was cathartic — an opportunity to explore the explicitly erotic aspects of movement and dance in a safe setting without any men or pressure."
Women in the workshop opened up to each other: "They laughed and shared stories about their lives," says Salmons. "One woman described how she thought her husband would react if she tried to perform the routine for him: 'Move out of the way, honey — I can't see the TV.'"
When pole dancing becomes "burlesque," it gains an element of theater — and, like all make-believe, can be an avenue to self-discovery. Ilene Blackman of Ira has led burlesque classes in the Rutland area, most recently in 2006, and plans to begin a new burlesque program this winter. Also a teacher of ballet, ballroom dancing and theater, she first encountered burlesque in the early 1960s, when she was a dance student in New York City and saw the legendary Gypsy Rose Lee perform on Broadway. In her classes, Blackman says, she's emphasized the subtly suggestive aspects of burlesque: "There was nothing down and dirty about it at all; that wasn't the purpose of it. Really, I approached it as a mini Upward Bound: women getting to know themselves through dance."
And, as Blackman's pupils discovered, there's more to burlesque than seductively removing gloves and stockings. They created characters for themselves, designed their own costumes, chose stage names and spun tales about their alter egos.
"Not everyone was comfortable with it," says Blackman. "Some people found walking across the floor alone in character surprisingly difficult. Others enjoyed taking off a glove. They're not necessarily exhibitionist; they just have more show-biz personalities. They're zany and fun loving, and they like to move and dance."
The same could certainly be said of the members of Spielpalast, the 6-year-old Burlington-based cabaret troupe cofounded by Lois Trombley, 34, who's proud to call herself a pro-burlesque feminist. When Trombley and cofounder Terry McCants formed the group, which employs musical theater and dark comedy to entertain and enlighten audiences, they wanted to create erotic acts that would include women of all ages and body types. Past Spielpalast shows have included such burlesque staples as a chair dance, which traditionally involves one woman performing with a chair. Trombley and McCants choreographed a complex act in which 10 women danced, representing the entire spectrum of female beauty. "After every performance," Trombley says, "I have women of all ages and sizes coming up to me and telling me how beautiful they feel."
Not everyone embraces the notion of exotic dance as female empowerment. Laurie Essig, assistant professor of sociology and gender and women's studies at Middlebury College, is less enthusiastic. "I rather doubt liberation can ever come from grinding on a pole, but perhaps the pleasures of subversion come from not being a 'lady,'" she suggests.
"Pleasures of subversion" aside, Essig believes recreational exotic dance trivializes the hardships endured by working strippers. Women who study pole dancing and burlesque are typically white, straight and middle class — in short, not the sort of women who usually become professional exotic dancers, she maintains. "It's only 'play' because these women don't need to dance for money. They're not growing up in highly impoverished conditions with no chance of working outside the sex industry."
While she acknowledges pole dancing is excellent exercise, Essig also thinks it exacerbates women's paranoia about their bodies and encourages them to buy more products, such as "plastic surgery along with those thongs and stilettos. So we can look good while we're working out to look good. It requires us to work harder and harder on our bodies and simultaneously reveal more and more of them," she says.
Once upon a time, Spielpalast cofounder Trombley had her own reservations about burlesque. "As a feminist, I found it offensive," she says. "But then I learned about burlesque's subversive history, and I realized it could help women feel good about their bodies and sexuality." Now Trombley, who teaches hip-hop and jazz dance through the Flynn Center, would like to lead a class in what she calls "adult" dance, blending burlesque moves with other forms such as hip-hop. "I think Burlington is ready for an adult class," she says.
Is it? Controversy will probably attend any art form that celebrates female sexuality. Pole twirlers and glove droppers admit their art isn't for everyone. But sometimes, girls just want to have fun.