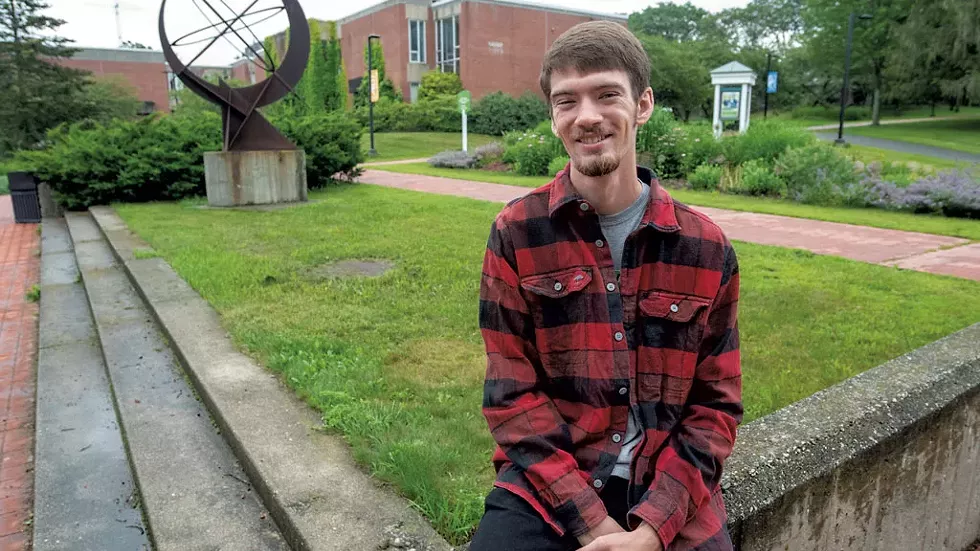 Jeb Wallace-Brodeur
Ian Barker at Vermont Technical College in Randolph
When Ian Barker graduated from high school in 2018, he set his sights on a two-year associate's degree in mechanical engineering from Vermont Technical College. "I thought I just wanted to be a guy in a machine shop running a lathe or mill the rest of my life," the 20-year-old Strafford resident says. "I was going to get the skills I needed to get a job and get outta there."
But his college classes engaged him and ended up putting him on a different path.
A hands-on learner, Barker enjoys making things. Setbacks don't faze him. Barker has cerebral palsy, which affects the muscles on his right side. It means he can't operate some machinery the way others do — a lathe, for example. "I had to do some problem solving to figure out how to make it work," he says.
His professors at VTC noticed Barker's smarts and drive. In 2020, they named him the school's student engineering technician of the year — and convinced him to keep taking classes. Barker is now on track to get his bachelor's degree in manufacturing engineering in the spring of 2022.
Through VTC's bachelor's program, Barker gets to practice taking projects all the way through the design phase, from idea to prototype. His first project: a stainless steel foregrip for his rifle. When finished, it'll enable him to go target shooting freehand. He hopes to bring the concept to a company with the capacity to mass-produce it.
Barker's end goal now: "I want to be self-employed and design assistive devices for people like me with cerebral palsy and other physical limitations."
Barker prides himself on being self-sufficient. He's been able to finance his own education, which costs roughly $28,000 a year, through a combination of money he's earned himself and scholarships.
At the end of his second year at VTC, when a big scholarship fell through, Barker's adviser at the Vermont Student Assistance Corporation suggested that he apply to The Curtis Fund. The trust helps low-income and first-generation Vermont students pay for postsecondary education. Barker is now one of them.
His $3,100 award "eased the burden" for him, he says. And, unlike most scholarships, it renewed automatically the following year.
Vicky Mills, a Curtis Fund scholar from Randolph who recently went back to school to earn her bachelor's degree, says she couldn't believe it when she found out her scholarship renewed annually. "I thought, Holy cow. These things exist?" she says. "It's such a beautiful, amazing thing."
Mills, 51, is a first-generation college student. She worked in insurance for 30 years before losing her job in 2017. Right now her family relies on her husband's income driving trucks for FedEx. Mills spent the last couple of years partially homeschooling their son; now she's ready to start over in a new career, and is working toward completing her bachelor's degree through Northern Vermont University.
Barker and Mills are among the 11,000 Vermont students who've benefited from The Curtis Fund since Emma Eliza Curtis established it in 1910. After years of careful stewardship, this little-known entity plays an important role in training Vermont's 21st-century workforce.
And that role is growing: The Fund's new Curtis training scholarships now support "credentials of value" in 30 different fields. Students can get one certification and use it to propel them to the next one, which will also be supported by Curtis Fund dollars. It's similar to what Barker's doing at VTC, but outside of a traditional four-year college.
It's an exciting new step for an 111-year-old organization, says Curtis Fund Executive Director Shana Trombley. "Our board and many leaders in postsecondary education believe that credentials of value — given their stackable nature — are the future of postsecondary education."
'Aiding Young Men and Women'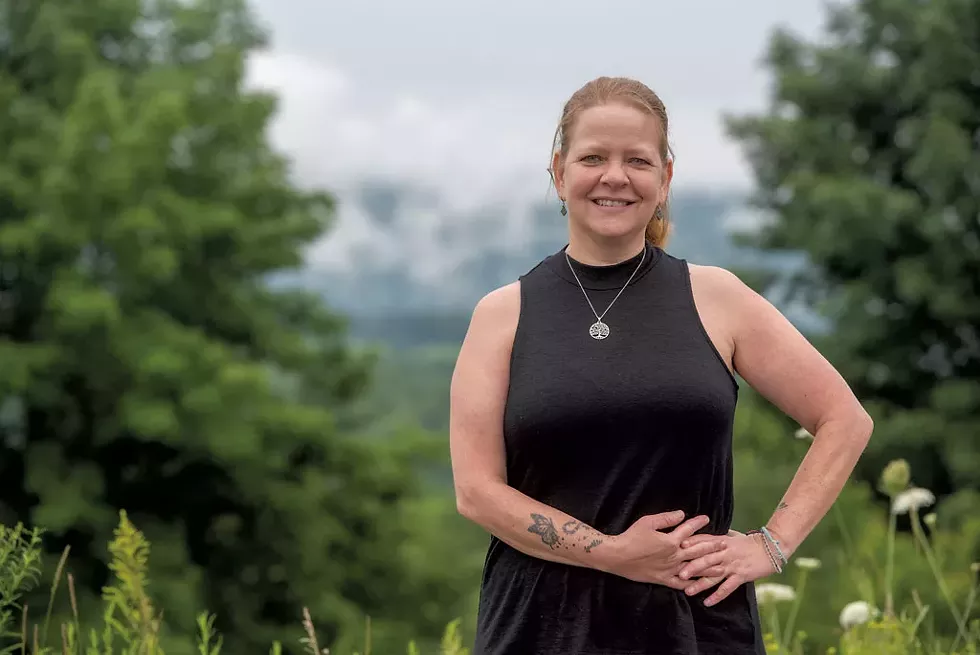 Jeb Wallace-Brodeur
Vicky Mills
Not much is known about fund founder Emma Curtis. She was born in Connecticut. Her husband, who predeceased her, was a medical doctor at Mary Fletcher Hospital. They had no children. Joseph Boutin, The Curtis Fund's longtime president and board chair, hasn't been able to unearth anything else about her. "We have no history of her," he says. "Nothing at all."
What's certain: When Curtis died in 1910, she bequeathed $120,000 to be used for "Aiding young men and women to obtain a common school or university education, or both, or to learn a trade, handicraft, business or profession, or to obtain instruction in domestic science, or other useful knowledge," according to the language of the bequest.
It was unusual, back then, to specifically support postsecondary education for women, Boutin notes: "It was a different vision that a lot of people did not have at that time."
For the first 80 years or so, Merchants Bank managed The Curtis Fund. That changed after Boutin took over as bank president in 1994. As a board member for VSAC, he was very familiar with the student aid organization and thought it would be a better administrator; VSAC agreed to take it on.
At the time of the transition, in 1995, The Curtis Fund was giving out 120 scholarships a year. The Fund has grown substantially since. Today it manages $30 million and awards 650 scholarships annually — for a total of between $1.4 million and $1.75 million — to students of all ages seeking postsecondary education.
Boutin, now retired, proudly notes that 85 percent of Curtis Fund scholars finish their courses of study. "We get 'em through," he says.
'A Game Changer in Higher Education'
Courtesy Of The Curtis Fund
Emma Eliza Curtis
Boutin says he sees Emma Curtis' bequest as "a living document" open to reinterpretation over time. Certainly no one in 1910 imagined that The Curtis Fund would pay for a certification in coding. But that's one of the 30 different credentials of value The Curtis Fund now supports through its Curtis training scholarships. Others include nursing, cosmetology, bookkeeping and auto collision repair.
The course selection resulted from a partnership with the McClure Foundation, the Department of Labor and the Vermont Talent Pipeline/Vermont Business Roundtable. All the programs will prepare students for jobs that are in high demand locally and will lead to a livable wage. Funding for these scholarships came from an instrumental three-year Hoehl Family Foundation grant; a donation from the Pomerleau Family Foundation will help fund them beginning in 2022.
Curtis Fund Executive Director Trombley believes these certifications have the potential to disrupt postsecondary education in a good way. "The breadth of programs students can be trained in — and the flexibility of when and how these programs are structured — enables lifelong learning, which our economy demands," she says.
Logan Bailey received one of these awards. The 18-year-old graduated from Barre's Spaulding High School in May. In September, he'll start a seven-month training program at Advanced Welding Institute in Burlington. He's always wanted to be a welder, he says. He even bought his own welding equipment and uses it to do exhaust work on friends' cars.
Depending on the path Bailey chooses, the program will cost between $21,000 and $26,000. VSAC helped him put together roughly $6,000 of aid, including $1,000 from The Curtis Fund.
"I don't know if I would have done this without it," he says. "Those scholarships have definitely helped."
'Meeting Less Than Half the Need'
Boutin and the board would like to grow The Curtis Fund. There's definitely a need.
Just last week, Gov. Phil Scott introduced the Upskill Vermont Scholarship Program, set up to help up to 500 Vermont residents take two free classes at the University of Vermont. Applications opened on Tuesday; the program stopped accepting applications a day and a half later. "So many Vermonters have signed up for two free professional development courses that we are now pausing all further free course registration," reads the Upskill Vermont website.
Demand for The Curtis Fund scholarships is "huge," notes Trombley. "We're meeting less than half the need that's out there."
Boutin would like to see The Fund grow. At a time when businesses all across the state are desperate to hire more skilled workers, Boutin says, investing in The Curtis Fund, with its proven track record of success, is a smart move.
He'd like to see Vermont businesses help grow The Curtis Fund to $60 million, so that it could help every local student who qualifies, as well as those students' family members who qualify. That investment would ensure that students can access postsecondary education and vital job training skills regardless of age, income or family background.
"We have the capacity and the resources to make that happen," he says, "if we really want to do it." For Emma Curtis, that would be quite a legacy.
This article was commissioned and paid for by Pomerleau Real Estate.