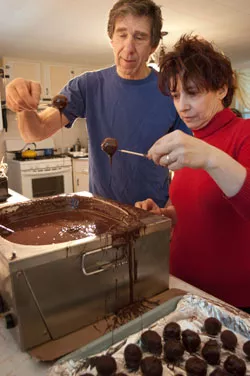 Matthew Thorsen
David and Vivie Glass
If you lived in the New York area in the past 30 years, chances are you tasted a cake from Desserts by David Glass. Beginning in the 1980s, many a shopper discovered the rich, creamy marvels of the chocolate-truffle cake in elegant black boxes sold at stores such as Zabar's, Stew Leonard's and even Trader Joe's, Whole Foods and Canadian supermarket chain Loblaws.
But how many know the secret that David Glass, who now lives in Colchester, shares about his namesake desserts? "It's Vivie who actually knows how to bake," the former caterer says of his wife. "I can't bake for shit."
David Glass admits he is responsible for the celebrated chocolate cake recipe, which he learned in the 1970s while working as a nouvelle cuisine chef at Michelin-starred restaurants in France. But it was Vivie Glass who created most of their brand's most popular delicacies, from the Ultimate New York Cheesecake to the uncommonly veggie-heavy Rum Raisin Carrot Cake.
The Glasses moved from Simsbury, Conn., into their Colchester farmhouse last November. In Vermont, David Glass has been winning new fans with his Drunken Love Bites, a line of truffles infused with alcohol that he markets locally through the Desserts by Vivie and David Glass Facebook page. He and Vivie have both been working on books, too; she just self-published her first e-book, Vivie and David Glass' Delicious Desserts: A Recipe Book Filled With Sweetness, Love and Loss.
But one thing the couple will not be producing in Vermont is their famous cake. That chapter of their lives ended last July, four months to the day before they left for the Green Mountains, when their 21-year-old son, Adam, died suddenly of papillary fibroelastoma, a tumor in the heart.
In her book, Vivie Glass explains, "David and I could no longer continue our business. Every dessert was tied into memories of Adam, and every cake I made in the ensuing weeks was seasoned with tears."
A talented cook from a young age, Adam worked on the family's cake production line in their Connecticut factory whenever he could take the time away from high school or college. Vivie says that some of her fondest memories of her son are of working 14-hour days together pressing cheesecake crusts.
Adam always encouraged his mother to write a cookbook, Vivie recalls. She began testing recipes on July 6, the day after his passing.
The emotionally evocative book, composed of cake recipes and the family stories that inspired them, is both a tribute to Adam's idea that the cakes belonged to the customers who loved them, and a stirring eulogy for the young man himself. "I wanted people to remember Adam for the really amazing, amazing person he was," Vivie says. "He was hard to confine to pages. If you saw him, you would feel like his presence was so physically powerful, how could he even confine himself to his body? He managed somehow."
Adam also figures in the sequel. When not at her day job assisting disabled adults at Champlain Community Services, Vivie is working on a new recipe book, focused on the stories of the mostly Latin American workers who helped make the Desserts by David Glass bakery a family. The final book in Vivie's planned trilogy will feature stories of customers who were touched by their cakes. One woman said the sweets got her through her cancer battle, Vivie recalls; another reported that the Glass' white-chocolate cream was the last thing her father was able to eat.
While Vivie chronicles their famous business — which went bankrupt in 2009 — David makes his Drunken Love Bites. In its own way, he says, the process has helped him heal: "They're very therapeutic, especially when the batter turns out just perfect and you have the perfect truffle."
Like David's cake, these near-liquid truffles are based on a beloved French delicacy. Bite into the thin jacket of dark chocolate, and they burst with an alcoholic burn of Calvados or raisin-infused rum. Every other week, David notifies subscribers to his email list of his latest flavors. Truffle fillings have ranged from mixed drinks such as White Russians and salty Margaritas to straight-up gin or Maker's Mark.
Vivie insists that her husband include some virgin options. She prefers to enjoy her Love Bites plain, perhaps with a bit of booze on the side. David Glass has flavored his Love Bites with peanut butter and smoky bacon from North Country Smokehouse. A new convert to the banh mi sandwiches at 99 Asian Market in Burlington, he says he hopes soon to experiment with a truffle flavored with durian, the notoriously fetid Asian fruit. "If I can sneak it in the house past Vivie," he jokes.
With a height difference of more than a foot between them, sassy, curly-haired Vivie and wry, placid David don't look like a natural set. But throughout their interview at Dobrá Tea, the two hold hands and lovingly gaze into each other's eyes. Vivie says that when their children were small, they called each other on the phone every 15 minutes while she tested recipes at home. The calls aren't much less frequent now.
Though the Glasses' marriage has always thrived, this is a third act for their dessert business. In 2009, the economic downturn forced the couple to file for bankruptcy and close their Connecticut factory after 28 years. That story will be told in David Glass' upcoming e-book, The Rise and Fall of Desserts by David Glass, or How Not to Run a Small Business.
Later, the Glasses started a smaller, weekend-only business in an office park where they shared equipment with another baker. That ended a few weeks after Adam's death, when the couple resolved to move to Vermont to be closer to the elder of their two remaining sons, Burlington musician Joshua Glass, and his daughter, Zoe. It was something of a homecoming for David, whose paternal grandparents once owned a dress shop in St. Albans.
Another fortuitous aspect of the move is that it frees them to work from their home kitchen. When the Glasses met in 1981, they made cakes for commercial sale illegally on the bottom floor of their run-down, historic home in Hartford, Conn. In Vermont, David can make his Bites legally. The couple still marvels that Vermont bakers are spared the overhead cost of hourly fees for production space. "To do this out of our home is really a blessing," Vivie says. "Vermont is doing a really smart thing to stimulate the economy."
The ease of working at home has called her back into the kitchen, too. The Glasses hope to earn a spot at this summer's Burlington Farmers Market, where David plans to sell his Drunken Love Bites and maple caramels, made from grade C syrup provided by neighbor Poor Farm Sugar Works.
Vivie is holding to her promise that she'll no longer make her famous cakes. She'll focus instead on bar cookies, including lemon bars with lemon curd and almond bars with raspberries and marzipan, using local ingredients when possible. The couple has been especially impressed with cream from Strafford Organic Creamery.
And, though nothing will ever replace their youngest child, the Glasses will soon begin to nurture new life — in the garden of their 10-acre property. Surely Adam would be proud.
Write to David Glass at david@davidglass.com to join his Drunken Love Bites email list.