Ben Deflorio
From left: Ben, Caleb, Sally and Ella Roberts
Sally Roberts is no stranger to being afraid for her children. Along with her daughter, Ella, 15, and son, Caleb, 14, Roberts has been on a journey toward the proper diagnosis of their health issues for years. Ella is what her mom calls "a walking jellyfish," with joints that dislocate easily and cause daily pain. Caleb has pain in his legs caused by excess fluid in his spine and misfiring nerves. Roberts has near-constant migraines. "I'm an eight out of 10 in pain on my best day, all day long," she said.
Roberts and her kids are united by a diagnosis of Ehlers-Danlos Syndrome, a rare connective tissue disorder that affects primarily skin, joints and blood vessel walls. EDS often comes with a host of associated conditions, and Roberts and her kids all have unique symptoms, some of which doctors don't fully understand. The Bethel-based family has spent a lot of time in doctors' offices and seen many specialists. They drive to Boston and Providence regularly for appointments.
Through it all, Roberts and her husband, Ben, have fought to protect their children, to advocate for them and to be honest with them about their lives. They've built routines — regular exercise, physical therapy and homeschooling — that keep them relatively healthy. Ella, an animal lover, raises chickens and works at a therapeutic horseback riding facility. Caleb is an avid video gamer with a YouTube channel.
"I've never sugarcoated their situation [when talking] to them," Roberts said. "We taught them to be resilient in their own reality, and it helps them process things. I think there's a lot of kids out there that don't know how to process grief."
But the onset of the coronavirus pandemic has upset the daily balancing act of living with chronic illness — for the Roberts family and many others.
Seven Days spoke with eight Vermonters with chronic conditions, most of whom participate in a support group for people with EDS. They said that the coronavirus has impacted their lives in ways far beyond fear of contracting it. Restrictions related to the pandemic — including canceled medical appointments, the inability to see friends and loved ones, and increased dependence on caregivers — have resulted in emotional distress and physical pain. In many cases, their conditions aren't visible to the public, so folks around them don't even realize they're vulnerable.
People who are considered high risk are often included in statements about coronavirus as a caveat, a small subset of the population to which the standard rules don't apply. In reality, the conditions that put a person at risk vary widely: heart, lung or liver disease; diabetes; asthma; cancer; and, in some cases, simply being older than 65.
Even as Vermont and the rest of the U.S. begin to reopen, high-risk people's lives will remain affected by the pandemic for months, if not years.
"For us, I don't know if we'll ever go back to normal," Roberts said. "Normal will find a new course."
Though in some ways her family was well prepared to adapt to this new reality and process it emotionally, the experience has still been scary, Roberts said. She has an immune condition that doctors believe would put her at high risk of a severe infection if she caught the coronavirus. And Ella's previous bouts with pneumonia and the damage her lungs sustained would make fighting off an infection difficult.
People with certain types of EDS can easily dislocate joints, including by coughing — a common symptom of the coronavirus. They also tend to heal more slowly, so a person with EDS who doesn't have a compromised immune system could still have a long, painful experience with the coronavirus.
When COVID-19 became widespread, Roberts said Ella "went from high risk to 'I never want her to leave the house again.'" As Ella's friends have begun to gather in small groups, she has to stay home or see them outside her house from yards away.
"I am a very social person, so it was a big change for me having to stay at home," Ella wrote in response to a Seven Days query. "Before the pandemic, I would be out of the house almost every day, sometimes even for 7-8 hours."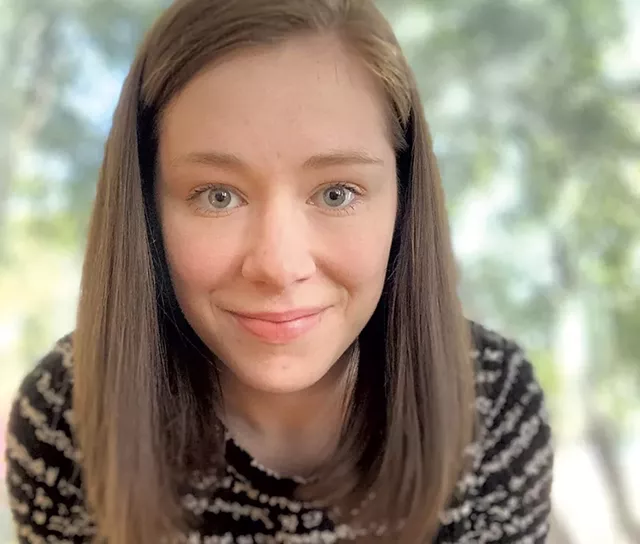 Courtesy
Allie Cashel
Allie Cashel of Burlington is president and cofounder of Suffering the Silence, a nonprofit organization that uses art, media and storytelling to raise awareness about living with chronic illness and disability. Cashel aims to make conversations about chronic illness easier after experiencing doubt and shame for years around her own symptoms stemming from Lyme disease and a few other tick-borne diseases.
She said that, despite frequent mention of people in high-risk categories during the pandemic, she doesn't believe the overall public perception of illness has shifted much. Grouping those people separately from the general public, Cashel said, "is almost like permission to not have to think about it, unless you are one of those people.
"People don't like to talk and think about getting older," she continued. "People don't like to think about mortality. People don't like to engage with the experience of disability."
For some, the increased mention of high-risk people in the media has been distressing, given the context. Early in the pandemic, Williston's Judy Hettena Wright heard CNBC television host Jim Cramer discuss how doctors might assign ventilators if coronavirus patients overwhelmed the hospital system. In early April, national media began covering states' existing and newly issued guidelines on rationing ventilators. According to the Vermont Department of Health's July 2019 plan, hospitals should "assign limited ventilators to patients most likely to benefit if no other options are available."
For Hettena Wright, who has EDS and associated conditions, as well as an undifferentiated autoimmune disorder and problems with her airway, hearing Cramer — a financial reporter — talk about this casually on TV was so upsetting that she wrote to CNBC about it. When she sees or hears arguments that a few vulnerable lives aren't worth an economic shutdown, Hettena Wright feels furious and afraid.
Hettena Wright is an accountant and owns a business specializing in estate and trust planning and returns. She loves her work and her regular clients and said it's an interesting use of her accounting and psychology degrees. She makes sacrifices to keep doing it effectively — working through pain, keeping odd hours to get it all done — even as many of her hobbies have become impossible. Currently, Hettena Wright and her employee are helping business owners understand the federal government's Paycheck Protection Program loans.
"It's what keeps me going," she said of her work. "This is how I feel I have value to give. This is a skill I have to offer the world ... We may be vulnerable, but we all have value. [Many of] my clients know I'm disabled. They still come to me."
The pandemic has had a hugely detrimental effect on Hettena Wright's health. Her office is more accessible and ergonomic than her home, but she hasn't been working there since early March. She went without treatment for lymphedema, which causes swelling, for more than two months. She injured her knee and has had difficulty going to physical therapy. Even though restrictions on medical appointments have been lifted, she's worried about going because many offices don't allow a caregiver to accompany patients. Hettena Wright, who's vulnerable to temperature changes due to her condition and generally unstable on her feet, feels nervous going without her husband. And wearing a face mask causes her to deoxygenate.
"I expected things to get better [when restrictions lifted], and then encountered a whole new obstacle when I discovered that wearing the masks is causing debilitating migraines," she said.
One of the hardest parts for Hettena Wright, though, has been not seeing her son. The two are close and share a love of science fiction, but he works in a grocery store and is terrified of getting her sick.
"As long as he's working in the public, I probably won't see him," Hettena Wright said.
James Buck
Allie Ginsbury
Allie Ginsbury, a social worker who lives in Essex Junction, was diagnosed with EDS in September and has been meeting specialists and planning treatments. She's still adapting to life with the condition. At work a few days ago, she dislocated her toe, and then realized she could put it back in place by herself.
Before the pandemic, Ginsbury had been in physical therapy and had hoped to become able to walk without a cane. The pandemic has been a major setback.
"I'm ragingly independent," Ginsbury said. "I don't want to have to depend on anyone." She doesn't know how the coronavirus would affect her if she caught it, and weighing the risks is difficult.
"It's so hard to figure out what's realistic and what's not," Ginsbury said. "There's no marker for it ... All of my providers are just like, 'Trust your gut.'"
For Ginsbury, that means she's not going to visit her family or meet up with friends, even as people around her start to do so. Her reliance on a cane has made it nearly impossible to garden or walk her dog. She goes to the grocery store but is frustrated by how many people ignore the social-distancing signs.
And she, too, has seen social media users mock mask wearing, and even post about how the pandemic might "cull the herd."
"That feels shitty, like my life isn't worth as much as yours," Ginsbury said. Those who advocate for the complete reopening of society, aware that vulnerable people will have to stay home, she said, are treating them like second-class citizens.
A few pandemic developments have actually made the lives of chronically ill people a little easier, such as curbside grocery pickup, telemedicine and Zoom work meetings — accommodations for which chronically ill and disabled people have advocated for years.
But there's some concern that these practices will disappear as society reopens. Roberts said only one grocery in Bethel is still offering curbside pickup.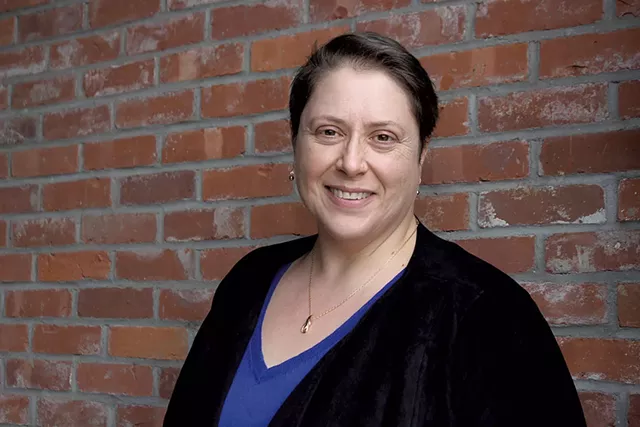 Courtesy
Cara Sachs
To Cara Sachs, who lives in Winooski and runs a life-coaching business for people with chronic illness, the pandemic has illustrated what's called "the social model of disability." It's the idea that a person's health isn't what makes them disabled but rather a society that isn't designed to accommodate their needs.
"It scares me," Sachs said. "I really wonder, in some of the harder or more isolating moments: Is it ever going to be safe for me to go out there? I would give anything for a hug at this point. A hug and to do my own grocery shopping."
If someone were to consider just the surface facts of her life, Sachs said, they might only see her illness and her vulnerability to the coronavirus. They might not see her profitable coaching business, her advocacy work and how many shares of sourdough starter she's given away to strangers via Facebook. "They're missing out on all kinds of shit," Sachs said. "I want to change the world."
Some members of the chronic illness community are also worried about the long-term impact of the coronavirus on otherwise healthy people. Leah Schulz, who lives in Williston and has a background in public health, has experienced chronic fatigue syndrome in addition to EDS and other conditions. Research has begun to show that lingering chronic fatigue syndrome can affect coronavirus patients long after they're infected with the virus. In May, a neurologist told the Washington Post that "it's quite possible some [coronavirus patients] will never get their health back."
"If you are someone that has been through hardship, like stumbling through diagnosis and pain and the ability to regain your life, you catch empathy," Schulz said. "That's really an understanding of suffering and an understanding of hardship [that] comes with chronic illness ... I don't want other people to experience that. I just want this shouted from the rooftops, essentially: We can still do things to prevent that from happening!"
Update, June 18, 2020: This story was updated to clarify the reason Cara Sachs receives EBT funds.