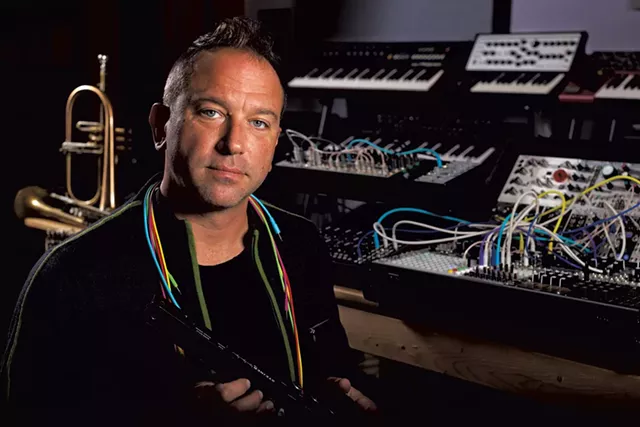 Courtesy Of Ben Stechschulte
Taylor Haskins
As the laboratories of mad scientists go, Taylor Haskins' is awfully damn scenic. From a lofty perch, its floor-to-ceiling windows open on a long, sweeping view. Beyond leafy tree branches, you can see the sleepy hamlet of Westport, N.Y., nestled along the shore of twinkling Lake Champlain. In the distance, the rolling western slopes of Vermont's Green Mountains give shape to the horizon.
Inside, you won't find bubbling beakers or gurgling test tubes. Haskins' brand of alchemy is of the musical variety, and his workshop is called Recombination Labs. Along one wall sits an Estey upright piano, its gleaming golden guts exposed above a well-worn keyboard. Beside it, a rack holds several of the piano's space-age cousins: synth keyboards of various vintages. A drum set dominates the far end of the open room, flanked by a rack of electric guitars, a battery of trumpets and, befitting the forested surroundings, a woodstove.
Just to the right of the recording console at the front of the room stands the studio's nerve center: an interlocking array of modular synths that together form an unusual wind instrument. The Taylor Haskins, Steiner-Crumar analog EVI, Steiner-Crumar analog EVI, or electronic valve instrument, has become Haskins' signature. Connected by a rainbow assortment of cords and dotted with innumerable pulsing lights as well as knobs and faders, the setup looks like the bridge of a spaceship in a campy 1950s sci-fi flick.
In this remote mountainside studio on the easternmost edge of the Adirondacks, the 46-year-old trumpeter and composer experiments endlessly with an almost unnatural synthesis of improvisational jazz and electronic music. Whether Haskins is working with his shape-shifting ensemble Gnosis, with his largely Vermont-based group Green Empire or in myriad other heady collaborations, he doesn't just blur the line between organic and inorganic sounds; he attempts to erase it.
Haskins grew up in southern New Hampshire. No one else in his family was musical, he says, though a distant uncle had a big band in Haverhill, Mass. When he was 4, Haskins began plunking out melodies on the piano in his house — mostly cartoon themes and, perhaps foreshadowing his musical future, commercial jingles.
"I think the first one was McDonald's or something," Haskins says, seated by his recording console.
He took piano lessons for 10 years before taking up the trumpet as a teenager. It wasn't his first choice.
"I wanted to play the trombone," Haskins recalls, explaining that he was intrigued by the instrument's slide. His father, who worked in corporate real estate, had another idea. "He said, 'I think you should consider the trumpet,'" Haskins says, chuckling. "'You'll probably get more solos.'"
His dad had a point. Haskins excelled on the trumpet and earned scholarships to both undergraduate and grad school. He attained a master's degree at the Manhattan School of Music, where he studied closely under jazz trumpeter Lew Soloff, best known as a founder of Blood, Sweat & Tears.
After graduating in 1996, Haskins pursued playing trumpet for a living, both in the New York City jazz scene and as a member of Broadway orchestras. He was successful, but the rigors and restrictions of the profession quickly wore on him.
"I was doing the New York thing," Haskins says, "and I didn't like it."
In short, he had a musical identity crisis.
"I never really had a specific idea of who I was in music," Haskins explains. "I just enjoyed playing the trumpet so much that I kept doing it. But I got there and thought, This is really not what I want to do with the trumpet."
Haskins began exploring other avenues for earning money in music. On a lark, he answered a classified ad in the New York Times seeking MIDI transcribers.
"I thought, I know how to do that, but who the hell would want to hire MIDI transcribers?" he says.
The gig involved helping to program artificially intelligent music software by creating a database of MIDI transcriptions of pop, rock, jazz and classical music from which the program would pull and create new works.
Haskins excelled at the job and advanced quickly. He eventually landed at a hip commercial music firm called tomandandy that, among many other credits, had created the soundtrack for the 1993 film Killing Zoe.
"They got all the coolest work in New York because of that movie," says Haskins. He worked as a commercial composer at the company for six years. Coincidentally, his first composition was a boogaloo for a McDonald's ad.
After tomandandy dissolved in the early 2000s, Haskins spent 15 years doing freelance commercial and film work. For most of the past eight, he's worked from Westport, where he lives with his wife and son. Recombination Labs is about a mile from their home.
"I could really do that work from anywhere," Haskins says. But the technology that enabled him to work remotely also helped drive him from the industry.
Haskins recently gave up commercial work, citing a digital-age market flooded with electronic composers.
"It had stopped being fun a long time ago," he says. "And, since practically anyone with a laptop can compose for commercials now, it's become very competitive."
So Haskins turned his fertile mind to something else.
"I'm doing a bit of an experiment here of how to be a musician in the middle of the woods by myself," he says with a grin.
A key theorem behind that experiment is that Haskins can blend his seemingly opposing passions: electronic music and improvisational jazz. It may not quite be his eureka moment, but his 2017 album Gnosis is evidence that he's on to something. As Downbeat magazine's Brian Zimmerman described it, the record is "a shifting tableau of swarming mesmeric electronica and acoustic jazz of an achingly human sort." Zimmerman concludes, "This is fusion of an entirely 21st-century sort."
That's not only true of the music. Haskins' method of concocting sound is equally modern and part of his grand experiment.
The bandleader recruited an ace team of guest musicians for the album, including the core players in the current incarnation of Gnosis, the band: guitarist Nir Felder, synth player Henry Hey and drummer Zach Danziger. Most of those players recorded their parts remotely and transmitted them electronically to Westport.
There, Haskins stitched them all together. Think of the record as Frankenstein's monster by way of Haskins' idol, Herbie Hancock. "It's definitely a strange way to collaborate," Haskins admits.
But he says the piecemeal approach has advantages, too. He typically offers minimal instructions for each part; it's up to each player to interpret. "It's never exactly what I have in mind," says Haskins of the resulting performances. "But it's almost always what the song needs."
He figures that by allowing players to record in their own spaces, away from the prying eyes of other musicians or impatient studio engineers, he's getting a purer performance.
"If someone is playing in their bedroom, as opposed to a studio with a dozen other people around, they're probably going to be more relaxed," Haskins explains. "So I prefer to let people be who they are as much as I can."
"He's one of the easiest master musicians to be around I've met, and I've known a few of them," says Robinson Morse. The noted Vermont bassist plays with Haskins in Green Empire, and Haskins is a member of Morse's ensemble Sound of Mind. Haskins produced, performed on and, with Vermont drummer Caleb Bronz, co-engineered Sound of Mind's 2017 album Enough Is Plenty at Recombination Labs.
"The man is a virtuoso," says Vermont composer, guitarist and bandleader Michael Chorney, who is also a member of Green Empire. "He's a master player on his instrument and in his thinking, and yet he never just settles into that or relies on it in any way. He always brings curiosity and a spirit of adventure."
In Green Empire, Haskins found a like-minded crew, rounded out by pedal steel player Brett Lanier and drummer Geza Carr. Each is considered an elite and progressive player, for reasons evident on the band's 2017 debut, The Point.
On that album, Haskins plays solely the EVI. The record's intrigue lies in how the chameleonic instrument blends into its acoustic jazz surroundings. On "Palisades," the EVI almost takes on the eerie "The Twilight Zone" tones of a theremin, pirouetting with Lanier's blooming steel lines and Carr's tumbling drums. But on the following cut, "Dandelion Winter," Haskins' unusual wind instrument adopts a more natural sound, evoking a loon call floating on the serene ripples of Chorney's acoustic guitar. On "Theme for a Farmer," Haskins' spacey, yawning licks flicker like a UFO above a rolling field of pastoral sounds.
"His improvisation is like composition, and his composition is like improvisation," says Morse.
"Where we all meet is from a very simple place: our love of music and a mutual take on what makes it exciting," says Chorney. "And it all goes back to that sense of adventure and curiosity."
Those two qualities have informed Haskins' path since he started hitting the keys on his parents' piano as a child. They continue to do so, even if he's not entirely sure where that path is leading.
"I have goals, like everybody has goals," says Haskins. "But I try to step back as much as possible and let life dictate to me opportunities and hone my instincts to recognize them better.
"I honestly have no idea what I'm doing right now," he confesses. "But I feel like my music is moving to the place where it was always meant to go."