It's not easy to ride your bike to school in rural Vermont. The journey is usually too long or too treacherous — unless you live along the Cross Vermont Trail.
The Cross Vermont Trail Association describes the route as a "patchwork quilt" of roads, recreation paths, single-track trails and old railroad beds criss-crossing the state from east to west, Burlington to Wells River. The XVT offers access to five schools it passes: Central and Allen Brook Schools in Williston, U-32 in East Montpelier, Twinfield Union School in Marshfield and Blue Mountain Union in Wells River.
"Connecting these schools to the trail gives students a safe route to school, and teachers can use it as an outdoor learning environment," says Michael Thomas, a Cross Vermont Trail Association board member.
On the annual Bike to School Day last month, my husband and I joined a gaggle of kids, parents and teachers preparing to travel to Twinfield Union School by bike along the XVT.
My husband and I know the trail well. We have traveled the nine-mile section between our home in Marshfield to Groton State Forest many times. Because this section follows an old rail bed, it's free of cars except for several short sections of quiet dirt road. There's never more than a 3 percent up- or downhill grade. It's a wonderful escape into deep woods, with the occasional foray into a village center.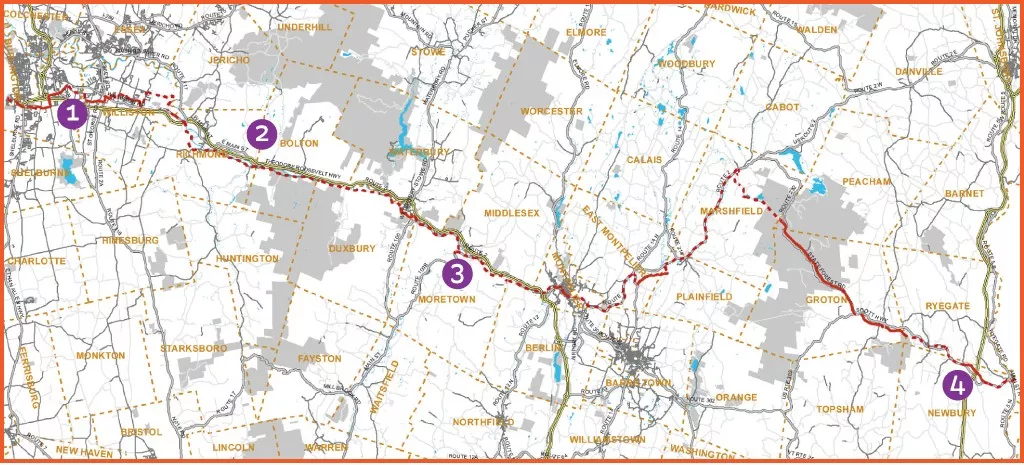 1) Sections in Williston and South Burlington include recreation trails that are perfect for families learning to ride together. 2) The views are spectacular in Bolton and Richmond, where the XVT follows a quiet, dirt road along the Winooski River. 3) If your family has road cycling experience, you can pick up the trail in Moretown where it travels along Route 100B, which has a wide shoulder and smooth pavement. 4) In Wells River and Newbury, the XVT connects to several nature trails.
When we get to Groton, we like to picnic on the shores of Bailey Pond, taking in the dramatic view of Marshfield Mountain. Or we venture into one of the state parks bisected by the trail, such as Ricker Pond and Stillwater. Someday we'll pack camping gear and make it a car-free, human-powered, overnight vacation.
And the path isn't just for cycling; it's open year-round for hikers, walkers, cyclists, skiers, snowshoers and horseback riders. Says Thomas, "It connects communities."
Find trail descriptions and maps at crossvermont.org.
Field guides Interpreting the natural landscape together can make exploring the trail even more fun. Here are a few kid-friendly field guides to throw in your pack:
Field Guide to Nature of New England by Kenn Kaufman and Kimberly Kaufman
Field Guide to New England by the National Audubon Society
Pocket Naturalist Laminated Field Guides by Acorn Naturalists