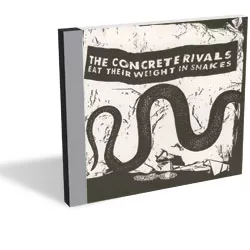 (State & Main Records, digital download, CD)
If you lived in Vermont 10,000 years ago, there was a good chance you had beachfront property overlooking the Champlain Sea. There was also a good chance there were gnarly waves to surf. As such, the Concrete Rivals, Montpelier's new surf-metal trio, arrive fashionably late on the Vermont surf scene with their debut release, Eat Their Weight in Snakes.
Snakes begins like Dick Dale and Slayer collaborating on a score for a B horror surf movie. The opening song, and certainly the high tide of the record, "Black Sea Surf," rips with ferocity. The Rivals' approach would leave early thrash-metal pioneers such as Judas Priest and Metallica enthused. But their eclectic surf-metal compositions should interest punks, metalheads and rockabilly zealots alike. If the band's van sped by you with the windows down, you might expect to hear Man or Astro-man?, Kyuss or even Danny Elfman ripping from the speakers.
"Denim Tiger" introduces Concrete Rivals' punk rock side. This song connotes more of a leave-your-surfboards-at-home-and-go-cruising-in-your-bitchin'-Camaro type of Friday-night plan.
Bassist Jen Wells shines throughout the record and is an essential part of the trio. With this aggressive style of instrumental music, hers is a big responsibility, and she owns it without hesitation.
"En Garde" embraces the good ol' spirit of early surf bands such as fuzz kings Davie Allan and the Arrows, and the Ventures. The song showcases the Rivals' unique turn-on-a-dime arrangements and twisting melodic progressions.
Drummer Ben Roy vaguely reflects the drumming styles of Bill Stinson, from stoner-rock kings Yawning Man, and Jeff Nelson of Teen Idles/Minor Threat. Roy plays with acceleration and passion, drilling undying beats and spasmodic fills that are strongly welded together.
There is an obvious driving force here: frenetic guitar player Jay Ekis. He assails his hollow-body Gretsch, offering a tremolo-sonic assault through his feral double picking. Ekis means business.
The Rivals scatter genres in creative directions. This element keeps the record alive. The absence of predictability makes Eating Their Weight in Snakes refreshing, whether compared to modern-day music or surf classics.
Although it's hard to follow Bill Mullins and local surf giants Barbacoa, the Vermont music community should be excited about a band like the Concrete Rivals emerging from Montpelier. The production on their debut is great and has a timeless feel — although some wet reverb on the guitar could go a long way. Still, Eat Their Weight in Snakes is an intelligently composed instrumental record. It makes you wonder what a Rivals live show entails. Experience one this Friday, December 16, at Charlie O's in Montpelier for the Concrete Rivals' official CD release party.