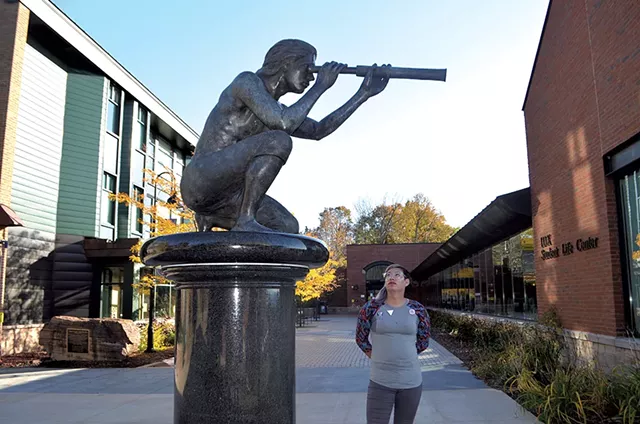 Molly Walsh
Jayy Covert standing next to the sculpture of Samuel de Champlain at Champlain College
Samuel de Champlain survived more than 20 voyages on the rough seas between Europe and North America 400 years ago. He canoed to the Vermont lake that now bears his name and helped his Algonquin allies defeat their Iroquois enemies by shooting their stunned chiefs dead with the first gun they had ever seen.
Now the legacy of the celebrated explorer, who once pulled an arrow from his own neck and lived to write the tale, is facing a new threat at one of his many local namesakes: Champlain College.
Some student leaders at the private Burlington school want a larger-than-life bronze sculpture of the Frenchman gazing at Lake Champlain to be removed from a busy campus courtyard. Despite his historical alliance with tribes including the local Abenaki, de Champlain was still one of many colonizers who imposed their own values and suppressed indigenous groups, the critics say.
"They created a new society, but through that they erased the history of many people who lived before them," said Jayy Covert, a 20-year-old junior and the Champlain Student Government Association director of diversity and engagement.
Covert introduced a resolution in September that calls for turning the 10-year-old sculpture over to an unspecified local museum. The resolution labels de Champlain a colonizer and recognizes the "pain inflicted" on indigenous people by placing the statue on campus. The student government will host an open meeting on Wednesday, November 6, to discuss the proposal, which has generated hot debate on social media and in classrooms.
The meeting runs from 6 to 8 p.m. in — where else? — the Champlain Room.
Last week, students streamed past the depiction of a young de Champlain, shirtless and with long hair, crouching on a tall block of Québec granite. The striking sculpture of the nearly naked, motionless man gazing west through a spyglass evokes a distant past.
But exactly what past? Covert told Seven Days that one of the many problems with the artwork is that the solitary figure of de Champlain reinforces a false narrative: namely that he "discovered" the lake, when in fact Native people had been living along its shores for centuries and, according to de Champlain's own written account, led him there.
Critics have leveled similar complaints about the "Everyone Loves a Parade!" mural in downtown Burlington, which also features de Champlain.
On campus, Covert wouldn't stop with the statue's removal. The student thinks the name of the college itself should change but has made no resolution to propose that and figures it would be a multiyear effort.
Meanwhile, the student government has not voted on the sculpture resolution. It's unclear whether approval would influence college administrators or trustees.
Interim college president Laurie Quinn declined to comment, and said through college spokesperson Leandre Waldo that she would wait until she had heard directly from students at the meeting. "We'd like to understand the student perspective," Waldo said.
It was former Champlain president David Finney who shepherded and approved the statue, sculpted by one of Vermont's best-known artists. That's Jim Sardonis, the Randolph man who created "Reverence," the landmark sculpture informally known as Whale Tails that can be seen from Interstate 89 in South Burlington; a slightly different version sits at Exit 4 in Randolph.
A college trustee who has since died funded the de Champlain piece, which went up in 2009 amid statewide celebrations of the quadricentennial of the explorer's arrival on the lake in 1609.
Most of those celebrations presented a glowing portrayal of the man known as the father of New France, who lived from roughly 1567 to 1635 and whose name is plastered all over the Champlain Valley region. In 1958 the school, initially founded as Burlington Collegiate Institute and Commercial College, became Champlain College.
Some students, including members of the Champlain College Republican Club, view the school's namesake as a hero and want the artwork to stay put.
"Those who are demanding the removal of the statue are not well informed on the history of Samuel de Champlain and the Abenaki people," Nicholas Chace, a 20-year-old sophomore and club president, wrote in an email to Seven Days. "The demand ... is based on a mistaken belief that Samuel de Champlain represents white colonialism and the atrocities committed against Native American tribes by early American settlers. While in actuality he was an ally of the Native American people that he met."
The Republican Club has acted as something of a provocateur on campus. Last month, members at a table in the student center hung a poster that said, "There are only 2 genders. Change my mind." About 20 people complained, and the campus bias response coordinator issued a statement in support of gender diversity.
Covert, who identifies as nonbinary and genderqueer, has no Native American heritage but says being active on transgender issues has led to a broader sense of social justice. The de Champlain statue erases indigenous people, Covert said.
This is not the first student bid to remove the statue. A similar resolution came before the student government last year but stalled. The organization is also considering, but has not approved, a proposal to stop giving wooden spyglasses modeled after the one in the de Champlain sculpture to each graduating senior. The tradition began after the sculpture was installed.
Abenaki leaders including Don Stevens of Shelburne, himself a 1991 graduate of Champlain College, have followed the debate.
Stevens isn't calling for the sculpture to be removed, but he wants art honoring the Abenaki to get similar prominence on the campus.
"Why wouldn't we have an Abenaki statue that would be of equal value?" asked Stevens, the chief of the Nulhegan band of the Coosuc Abenaki nation. "You don't always have to tear things down in order to build things up."
De Champlain allied with the Abenaki. "We don't really have that big of an issue with Champlain himself," Stevens said. Still, the sculpture leaves Native Americans out of the story of the lake. "It was here, it was ours, and we actually worked with the French," he said. "They helped us; we helped them."
It was Stevens who wrote the application for a grant and helped create a new Western Abenaki exhibit that will open November 9 at the Burlington International Airport.
He also pushed officials at Champlain College's neighbor, the University of Vermont, to formally apologize for the school's role in funding and harboring the Vermont Eugenics Survey. Directed by UVM professor Henry Perkins from 1925 to 1936, the survey portrayed white Protestant Vermonters of English heritage as the state's best "seed stock" and targeted Native Americans, French Canadians, people with disabilities and those with "dusky" skin for possible institutionalization.
UVM then-president Tom Sullivan apologized in June. Last fall, UVM trustees voted to remove former school president Guy Bailey's name from the college library because he supported the eugenics survey.
That de-naming debate occurred amid a host of others around the country involving Confederate statues, high school mascots, geographical place names and federal holidays such as Columbus Day, which Vermont has officially renamed Indigenous Peoples' Day.
While Columbus enslaved and oppressed Indians, de Champlain's biographers portray him as a strategic friend to some Native Americans and as an enemy to their enemies.
Still, there is no doubt that de Champlain was, literally, a colonizer. He voyaged to North America to help France stake a claim in the New World, engage in the fur trade and beat other European powers to establish a faster trade route to Asia.
The mission also involved bringing Christianity to what Europeans considered a savage land. De Champlain wrote of that goal in the introduction to his book, The Works of Samuel de Champlain.
The tome includes descriptions of Native American tribes de Champlain met along the coasts of what are now New England and Canada, as well as the interior. De Champlain recounts how he befriended Indian tribes in what became Québec. They helped advance his goals to ward off British rivals and to chart potential trade routes. In exchange, he helped the natives fight enemy tribes, sell furs and purchase previously unavailable goods.
De Champlain's writing includes a vivid description of the lake he named for himself in 1609 after traveling there to help an alliance that included Algonquins to battle the Iroquois.
"Continuing our course in this lake on the west side I saw, as I was observing the country, some very high mountains on the east side, with snow on the top of them," de Champlain wrote, likely referring to what we now call the Green Mountains.
According to de Champlain's account, the victory over the Iroquois was quick; they fled in shock after their chiefs were shot. De Champlain was unsparing in his descriptions of other violence, namely what the Algonquins did with their Iroquois captives.
They tortured one prisoner's torso with firebrands. "Then they tore out his nails and put the fire on the ends of his fingers and on his privy member," de Champlain wrote. "Afterward they flayed the top of his head and dripped on top of it a kind of gum all hot." Disgusted, de Champlain asked if he could simply shoot the prisoner dead and end his misery, which his Native American comrades eventually allowed.
But, de Champlain wrote, "after he was dead they were not satisfied, for they opened his belly and threw his entrails into the lake."
The book relates other such scenes of torture, as well as fighting between the French and Native tribes along the Eastern seacoast. That complicated history is not evident in the de Champlain sculpture.
Seven Days contacted the artist, Sardonis, last week to ask him about the proposal to remove his work.
"This is taking me by surprise," Sardonis said. "I hadn't heard anything about it."
On first glance, the sculpture could almost be mistaken for a portrayal of a Native American. Sardonis said that was deliberate; he wanted to portray de Champlain in a way that reflected what the artist perceived as the explorer's closeness to indigenous people.
"I did what I was commissioned to do," Sardonis said. "And I was happy with what I did, and what I felt in some ways honored the Native people in that [de Champlain], I felt, had an affinity for the way that they lived and worked."
He's not keen on moving the sculpture.
"I hope it doesn't happen," he said. "I happen to like the piece, and I like where it is."
Correction, November 7, 2019: A previous version of this story misstated the status of the proposal to stop giving spyglasses to graduates.