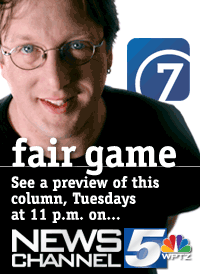 The legislative session is in the home stretch, and House and Senate leaders are giving it their best, last-lap effort. The biennium should cross the finish line some time next week.
There are differences between the chambers regarding the state budget, a texting-while-driving ban, "Challenges for Change," Abenaki recognition, health care reform, and shoring up the Vermont Yankee decommissioning fund, to name just a few.
While grueling, the final weeks of any session are also fragile.
"It's like walking on a frozen lake in late March — you just never know when you'll fall through the ice," said Senate President Pro Tem Peter Shumlin.
He doesn't think lawmakers will have to return for a one-day special session in July to iron out kinks in "Challenges for Change" — a cost-cutting and efficiency-seeking effort designed to make state government leaner without getting meaner.
"Tough decisions won't be any easier in July than they are now," said Shumlin. "We're going to get out of here with a balanced budget that is responsible and gets our own fiscal house in order."
Lt. Gov. Brian Dubie is also hopeful the legislature can finish its work next week, but he's not opposed to coming back in July if questions remain about "Challenges."
"The legislature needs to do the due diligence about any proposed cuts or changes and ensure they are fully understood by the public," said Dubie.
The task of making the numbers work has fallen mainly on the shoulders of Shumlin rival Sen. Susan Bartlett (D-Lamoille), chairwoman of the Appropriations Committee. "One does not profit at the expense of another, and no one gets everything they want," she said of the budget.
As for other must-pass items, Shumlin hopes a health care reform measure will emerge from the morass of good intentions. Leading that charge is another of Shumlin's rivals: Sen. Doug Racine (D-Chittenden), chairman of the Senate Health and Welfare Committee. He called for a design and implementation study of three different universal systems; the Senate signed on. The House said OK to the studies but tacked on its proposal to essentially create a new health care system.
Silly me, I always thought the cart came after the horse.
There's one major issue in every session — the proverbial 800-pound gorilla — that doesn't get the attention it deserves. This year it's the bankrupt unemployment insurance fund.
Last year, the legislature increased employers' taxable wage base from $8000 to $10,000 — the first increase in 25 years — and capped the maximum weekly benefit at $425.
But that "fix" didn't keep the fund from drying up this year, forcing the state to borrow money from the feds.
Long-term fixes have proved elusive. Do you keep benefits intact or cut them and tighten up eligibility rules? Do you boost the taxable wage again? If so, by how much? How about a payroll tax?
House Speaker Shap Smith said lawmakers will not walk away from the problem before adjournment.
"We've had constructive dialogue with the administration, and I expect more conversations this week," said Smith. "In some way, shape or form, I think you'll see a bill this year."
Death of Innocence?
The saga of Addison County filmmaker and storyteller Malcolm "Mac" Parker took a new twist last week as regulators charged him with securities fraud and lying to his financiers.
If you're just tuning into this morality tale, here's a recap: Parker is under scrutiny from state financial regulators for a 10-year, $10 million fundraising effort connected to his yet-to-be completed film, Birth of Innocence.
The Department of Banking, Insurance, Securities and Health Care Administration contends the agreements signed between Parker and financiers are securities and should be registered with the state. Also, Parker needs a license to sell said securities.
Parker claims the money he borrowed were loans from friends and neighbors — deals not regulated by the state.
Last week, regulators added securities fraud to the list of charges, claiming Parker lied to potential financiers by failing to disclose he was using hundreds of thousands of dollars for personal use, that his $2.5 million life insurance policy didn't cover their investments as he claimed, or that he paid out roughly $3 million to a "silent partner" named Dr. Louis James Soteriou, a Connecticut chiropractor.
In a statement, Parker admitted he made a mistake by not consulting an attorney before taking money from friends and neighbors, and for trusting Soteriou. Still, he claims he's innocent.
"How ironic that an agency of this state I love so much is now spending taxpayers' money trying to prove that I'm a bad guy," said Parker.
His attorney said the state's new allegations came as a shock.
"We don't believe the fraud allegations are viable, especially given the state's consistent assertion all along that they didn't believe Mac had committed fraud," said Wanda Otero-Ziegler. "It's also quite odd because we had just begun to have settlement discussions. This is quite a turnaround and I'm not sure what's driving it."
Crossed Wires
If you're CitiCapital, you are probably asking yourself: Will I get my next scheduled $380,000 payment from Burlington Telecom, which is due in a couple of weeks?
Most likely it'll come from the same place as a $386,000 payment made in February: a $1 million reserve fund set aside as part of the $33.5 million Citi lease agreement signed in 2007.
It's Citi's decision whether or not to take it from that fund, but the company indicated in February it would rather dip into the fund than force a default. BT will need the remaining cash, and then some, to make a nearly $700,000 payment in August.
Speaking of finding cash, BT staffers are taking time to review their accounts payable as a result of problems uncovered by auditors.
BT, which is millions of dollars in debt, managed to overpay vendors to provide video content and install systems, according to auditors from Sullivan & Powers.
In one instance, the audit found, a vendor was paid $40,000 twice for the same work. BT has since recouped the money.
On the auditor's recommendation, BT's general manager Chris Burns said his staff is combing through records to determine how many vendors were overpaid, and by how much. He expects a full accounting by the end of May.
In the coming weeks, too, City Council President Bill Keogh (D-Ward 5) and City Councilor Karen Paul (I-Ward 6) are expecting a special consultant to deliver a new business strategy for BT.
Keogh, Paul and Councilor Joan Shannon (D-Ward 5) met recently with the consultant — Terry Dorman — for a two-hour lunch in the tony town of Quechee.
"I'm convinced he's on the right track," said Paul. "But it's going to take some time."
Ding Dong, IRV Is Dead
Gov. Jim Douglas made a special stop in Burlington's New North End Saturday to sign into law the repeal of instant-runoff voting.
Douglas signed the bill before about a dozen onlookers who had worked to repeal IRV.
"Voting ought to be transparent and easy to understand, and affects the will of the voters in a direct way," said Douglas. "I'm glad the city has agreed to a more traditional process."
Traditional. No wonder he vetoed same-sex marriage.
Douglas agreed to make a detour Saturday at the request of Rep. Kurt Wright (R-Burlington), whose loss to Progressive Bob Kiss in 2009 sparked the effort to repeal IRV. The Burlington Telecom debacle fanned those flames.
Also at the ceremony were City Councilor Vince Dober (R-Ward 7), local business owner David Hartnett and Democrats Sandy Baird, Jane and John Ewing and State Sen. Hinda Miller (D-Chittenden).
Mayor Kiss was not invited, but he was aware of the guv's visit and still didn't attend. Guess he decided not to spoil the victory party.
The signing pen went to Harnett, who helped to organize the repeal effort.
"We were outspent, but we certainly weren't outworked," said Hartnett. "I feel a lot better now that IRV won't play a role in 2012."
That's the year Burlington elects a new mayor. For some Queen City voters, Town Meeting Day '12 can't come soon enough.
Out to Pasture
Rep. David Zuckerman (P-Burlington) is bowing out of politics to tend to his organic farm in Hinesburg and to spend more time with his family.
Zuckerman, who served in the House for 14 years — four of them as chair of the House Agriculture Committee — championed same-sex marriage, curbing the use of genetically modified seeds and boosting the minimum wage, among other measures.
In recent months, Zuckerman flirted with the idea of running for lite-guv or state senate.
"It's time to take a break," said Zuckerman. "I may reengage in a few years, but for now I'm going to step back from elective politics."
Fellow Progressive Chris Pearson announced Friday he would run for Zuckerman's seat — one of two in the Ward 1 district. The other is currently held by incumbent Rep. Kesha Ram (D-Burlington), who ousted Pearson in 2008 in what can only be described as a spirited race. Pearson was in the House from 2006 to 2008.
In addition to Pearson and Ram, another Prog and possibly two Democrats will vie for the two seats. Democrat Peg Boyle Single announced her candidacy Tuesday.
Another spirited race in the making?
Got a news tip? Email Shay at shay@sevendaysvt.com
Click here to follow Shay on Twitter.