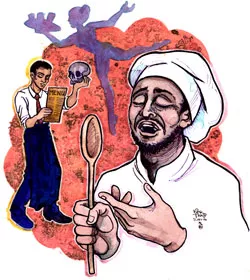 Not many restaurateurs can say they met their business and life partners between costume changes. That's the case of Mucuy Bolles and Christian Makay, who got to know each other on a recent tour with the stage version of Disney's The Lion King.
A dancer who'd already done the show on Broadway, Bolles had to race through 15 costumes as different jungle animals. Makay, the property master, was there to help. Now the pair, both 40, are engaged. And they're bringing their theatrical flair to a new venture: Three Stones Restaurant, which they opened last December in Brattleboro.
There are no jungle animals in the Brattleboro dining car that houses Three Stones — and no train décor, either. Co-owners Bolles and Makay have transformed the space into a cozy Yucatecan hacienda. Pottery and Mayan-inspired paintings decorate the walls. Bolles greets diners in an airy, embroidered garment called a huipil.
It's all in keeping with the cuisine of chef Alejandra Bolles — Mucuy's mother, a native of Ticul, Mexico. The senior Bolles learned to cook on three hot stones in her grandmother's thatched hut, the smoke escaping through its stick walls. Makay plans to evoke the hut in the train car by adding straw to the ceiling of the dining room, using the set-design expertise he gained during his years backstage.
Switching from a life in the theater to one in the restaurant business is more common than one might think. While there's truth in the stereotype of bored performer-waiters hoping for their big break, some theater folk have found themselves falling in love with the food industry. Take Deirdre Heekin and Caleb Barber. The couple, who met at Middlebury College, headed to Italy after their wedding to start a dance company. Instead, they were swept up in the Tuscan food culture, which they have since brought to Vermont in the form of their esteemed restaurant, Osteria Pane e Salute in Woodstock.
As for Makay, he studied hospitality before following his passion into technical theater, and he'd always dreamed of opening an inn or restaurant in Vermont. When the time came, he seized the opportunity to help his future mother-in-law share her Mayan cuisine with America.
Mucuy Bolles says the backbreaking work of starting a restaurant seemed easy to her. She leapt into the world of dance straight from high school, joining Eliot Feld's troupe, now called Ballet Tech. In her twenties, Bolles performed with the Alvin Ailey American Dance Theater and traveled Europe, Asia and Egypt. "When I go back to visit [the Alvin Ailey troupe], I'm like, 'Wow, that was me!'" she says. "I think it was probably the most stressful and the most fulfilling part of my career at the same time."
The brutal life of a touring professional dancer, running from airport to theater on ravaged feet, taught Bolles perseverance, she says. "I'm used to working really hard, and hard work doesn't faze me at all."
Makay, who held myriad backstage jobs on theatrical and concert tours, adds that the couple's experience on the boards has taught them the value of theatricality at their restaurant. He compares the kitchen to a backstage area, and diners to a waiting audience. "It's just like theater — as soon as you exit off the wings, it's chaos," he says. "The whole production is basically the same."
And it is a production. Bolles emphasizes that her family is trying to create a cultural experience by sharing Mayan art, dress, language and food. The menu includes a glossary of Spanish and Mayan terms.
Bolles is particularly proud that her mother makes all the restaurant's corn tortillas, or uah, by hand. Alejandra Bolles' cuisine is specific to the Yucatan, and empanadas and tamales share menu space with the less familiar panucho, a refried-bean-filled tortilla, and "onzicil," a pumpkin-seed salsa served over zucchini.
Bolles and Makay say they were happy to leave the theater behind and enjoy their restaurant and Vermont's wide-open spaces. But some restaurateurs spend their free time treading the boards — such as Chris Francis, innkeeper at Ye Olde England Inne in Stowe.
Francis says he never had ambitions of being a full-time actor, "outside of being a regular clown in life." He's never performed professionally, but for more than a decade he's belonged to the Stowe Theatre Guild, which gives him a chance to hit the stage just down the road from his inn and its restaurant, Mr. Pickwick's.
Acting seems to be a natural extension of Francis' ebullient personality. Over the years, he's had small roles in shows such as Moon Over Buffalo, Man of La Mancha and Oliver! — in which his son Ross, now an aspiring actor in Los Angeles, joined him as the Artful Dodger. In 2002, Francis, who is from the UK, used the patented, old-school Britishness associated with his menu of bangers and mash and spotted dick to play Colonel Pickering, Henry Higgins' pal in My Fair Lady.
Like Bolles and Makay, Francis says his experience in theater has enhanced his ability to run a restaurant. "Hospitality is entertainment," he says. Theatrical training, adds Francis, has taught him to use body language and eye contact when interacting with guests and employees. "You have to understand how to communicate with people. It's all to do with how you convey the message ... with a little comedy to help them relax," he says.
When planning menus with his chef, Francis says, he makes sure dishes look the part. Served in an old-country-pub atmosphere, the fare at Mr. Pickwick's has to convey homey rusticity while satisfying diners who expect Stowe-level opulence.
As the innkeeper, Francis says he sees himself as a director as much as an actor. He instructs his servers to carry themselves as if under the hot lights and to treat their guests as respected members of their audience. "Restaurants are like the theater in that every day is a new day, and your audience is changing accordingly," he says.
Lee Duberman believes that diners can sometimes be the best audience. Duberman is chef and co-owner of Ariel's Restaurant in Brookfield with her husband, Richard Fink. Both are ex-actors.
A determined child, Duberman began taking voice, dancing and acting lessons at age 6. By the time she left for college, she had appeared professionally in a summer stock production of Carnival. She toured in a Gilbert & Sullivan troupe while in college and eventually dropped out to study in New York under the superpower of acting instruction, Uta Hagen.
When workshops and off-off-Broadway weren't paying the bills, Duberman tried her hand at catering industry parties. She supplied desserts to theatrical clubhouse Sardi's and ended up leaving acting to study at the Culinary Institute of America.
Actors know when an audience is enjoying their work, and so do chefs, says Duberman. Instead of laughs and applause, she jokes, "You get contented noises." Her open kitchen allows fans to get a "stage-door" experience and thank her after a great meal.
For Duberman, cooking offers artistic fulfillment that acting and singing didn't, because it's creation from scratch. "What I do with food is not interpreting other people's works," she explains. "It's like doing a one-woman show out of my kitchen. I get the raw materials and produce and create something completely new out of it."
Fink, Ariel's manager and bartender, studied acting at the University of New Mexico before opening a theater company of his own, which produced works by then-young playwrights such as Sam Shepard and David Mamet. When Fink later moved to Vermont, he settled just three miles from Mamet. "We didn't meet until [I was] knee-deep in the restaurant industry," he says. "It's not like I was going to go up to him and say, 'David, you don't know it, but you're meeting the best actor of his generation.'"
Fink met Duberman while both were working at the New England Culinary Institute. They continued to perform and direct with groups including Vermont Repertory Theater, Unadilla Theatre and the Barre Players, until raising two boys and running Ariel's, which opened in 1997, made theater work impossible.
Even today, "I have a strong desire to act or direct," Fink says. "It hasn't materialized for years, because what am I doing on Saturday nights?"
Of course, Fink's busy Saturday nights at Ariel's still require him to perform. "There's so much social interaction in the restaurant, one might even consider it a stage or a performance," he notes. "In this capacity as a host there's a certain element of theater." One similarity: No matter what catastrophes happen backstage or in the kitchen, the show must go on.
Fink also thinks restaurants, like theater, offer customers a form of escape from their daily lives. He says he feels special pride when couples whose weddings Ariel's catered return there for each anniversary. "That … is like winning an Academy Award," he says.
Fink hopes someday to return to the theater. He and Duberman have even discussed staging their own production of Frankie and Johnny in the Claire de Lune in Brookfield.
But, like life in the theater, running a restaurant has a way of swallowing up other hobbies and pursuits. If the couple ever put on a play, "it would have to be in the winter," says Duberman, whose restaurant cuts back its hours in the off-season. "And it would have to be a very slow winter."