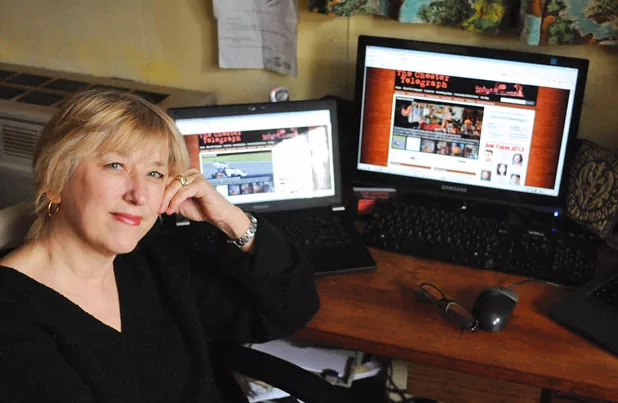 Cynthia Prairie spends dozens of hours each week in front of a flat-screen monitor, much as she did for 30 years editing newspapers in North Carolina, Chicago and Maryland. But instead of a bustling newsroom, she's working inside a 500-square-foot cabin in the woods, outside the Vermont town of Chester, population 3044.
Despite the small size of her new home, Prairie, 57, finds plenty of local news to write about for the online publication she founded a year ago. In the past week, the Chester Telegraph has carried stories about a local 8-year-old Kart racer, the merger of a jeweler and a pottery studio, and an issue of enduring obsession for local residents: the proposal to build a Dollar General store on the town's Main Street.
"People think nothing happens in these little towns, but the fact is that there is a lot going on. Just no one is writing about it," says Prairie.
Many of Vermont's small burgs are still served by local newspapers — think Charlotte, Randolph, Hardwick — but at least half of all Americans consume news primarily online, according to the Pew Research Center. Vermont has a few online-only news sites, such as VTDigger.org, and iBrattleboro, but the Chester Telegraph appears to be the first online-only news site in Vermont focused on a small town. Like VTDigger, it's a nonprofit operation that makes money by selling advertisements.
Nestled in hilly south-central Vermont near Ludlow, Chester has its own newsweekly, Message for the Week. But as far as daily news goes, it's a dead zone. The town is 37 miles from Rutland, 35 miles from Brattleboro and 23 miles from Claremont, N.H. The daily newspapers in those towns — the Herald, the Reformer and the Eagle Times, respectively — report Chester news sporadically. They don't usually cover small stories, such as arrests stemming from a local tool theft or the renovation of a food market.
"Because this area is in such a 'news desert,' I'm proud of any story that we run that gives people information that they need and didn't have before," says Prairie, looking more urbane than rural in jeans and a black sweater accessorized by a pink scarf. Atop her cropped blonde hair is a pair of funky reading glasses.
A lifelong copy editor, Prairie saw a need for a dedicated, real-time Chester news source in early 2011, on the occasion that two bridges leading into town were scheduled for simultaneous repairs. Prairie and her husband, Shawn Cunningham, realized construction would hinder incoming traffic and local businesses would likely suffer as a result. "We felt like something should be done," says Prairie.
So Prairie and Cunningham formed a nonprofit called ChesterUnited and scored a $30,000 grant from the U.S. Department of Agriculture Rural Development fund to keep residents and visitors up-to-date on detours and repair progress. The to-do list included designing and distributing paper maps and building a website.
That website, ChesterVermont.org, cost about $15,000 to build and launch. It took off quickly. "Whenever we did a story about the bridge, the hits would go up," recalls Prairie. That gave her the idea that the town might be hungry for a dedicated news website: "I knew I had an audience."
Prairie had moved to town from Maryland with her husband and daughter seven years earlier in an effort to simplify their lives. "I didn't think I'd get back into newspapers when I came up here," says Prairie, who had worked in newsrooms more or less continuously since graduating from the University of North Carolina at Chapel Hill. "For a while, we were just going to figure it out."
Prairie and Cunningham built a greenhouse in front of their cabin, named their property Pardonfield Farm and began selling plants at local farmers markets. Prairie also stayed on as a contributing editor at MarylandReporter.com, an online news site.
Starting a newspaper in Chester was out of the question. The cost was prohibitive. "It's not that I don't believe in print. I just don't read things in hard copy," Prairie notes. "I also didn't see how anyone could do print and do it effectively and efficiently." At first, she tried to turn the Chester site's blog into a news site, but the mechanics proved to be too complicated.
Prairie archived some of the stories on ChesterVermont.org and designed the Telegraph as a Wordpress site that launched in January 2012. Those first two weeks, the site got only 300 to 400 visitors, Prairie recalls. She did almost all of the reporting and writing herself, and personally solicited local businesses for ads — which she also designed. The ad rates — ranging from $15 to $50 a week — attracted enough local business to help the site build slowly.
Today, the Chester Telegraph has sections for news, sports and lifestyle stories, letters, obituaries, a police log, a community bulletin board and a weekly cooking column called the Yankee Chef.
How has it been received? Chester town officials did not return phone calls seeking comment.
"It's a good thing and it's getting better," says Bill Reed, who owns Misty Valley Books in downtown Chester with his wife, Lynne, and advertises in the Telegraph. Reed, 65, disproves a prevailing theory in the news business that towns with older populations can't attract a critical mass of online readers. But Reed, who consumes news on his iPad, notes, "I haven't bought a paper in a long time. There are new tricks for old dogs."
"A lot of the older folks are picking up these devices," asserts Prairie. "But it can still be a problem letting people know there's another way to read the newspaper. It's not like it's at the supermarket." So to promote the site, Prairie and Cunningham keep Chester Telegraph decals on each side of their red Pontiac Vibe, and hand out magnets and posters around town to spread the word.
Prairie thinks the strength of the online-only journalism model is exemplified by a recent photo essay of a fire in Chester's historic Brooks-Lackie House. The feature began on the Telegraph's Facebook page and migrated onto the website as a blend of historic photos and text with images of the devastation. "In print, we couldn't have run all those color photos. They wouldn't have looked good and it would have been too expensive," she says.
Asked if the Telegraph is making money, Prairie offers a firm "No."
"I finally paid myself a couple of weeks ago," she laughs. "I gave myself $50." Though with visits and ads increasing — 3600 people visit the site each month — she's been able to use ad revenue to buy a laptop and camera and pay occasional freelancers $35 a story.
"I'm not expecting to make a fortune off of it, but there's no doubt that journalism is a very satisfying profession for me," says Prairie, who hints she might export the model to surrounding communities. "I want people to know about the paper."
She pauses for a moment. "Notice that I still call it a paper?!"