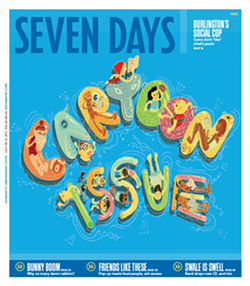 More pictures! Fewer words! That's the mantra for our annual Cartoon Issue. But in this fifth edition, the pictorial pages are contained in our features section and music, rather than filling the entire paper as in the past. Why? Let's just say that having to conceive of and write news weeks in advance renders the concept moot. It made our reporters anxious, and we can't have that.
So, about those features: Kymelya Sari and James Kochalka visited Spectrum Youth & Family Service's new car-detailing biz youth. Dan Bolles and Emily Rhain Andrews tell the story of late folk singer Utah Phillips' legendary caboose. Jordan Adams and Jarad Greene put together some stylin' ensembles for multipurpose musician Matt Hagen. Three cartoonists wrote and drew their own stories this time: Iona Fox toured Burlington's "wild side" with a local naturalist; Rachel Lindsay got all goddessy in a program called Running With Artemis; and Alison Bechdel returned to her beloved strip "Dykes to Watch Out For" to consider the country's fraying social fabric.
Happy birthday, America.