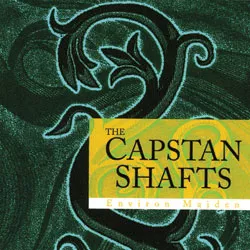 (Rainbow Quartz Records, CD)
Dean Wells, a.k.a. The Capstan Shafts, is an artist to pay attention to. Putting aside the considerable quality of his songwriting and his knack for effective under-production, one is left to contemplate the nature of his success. The Lyndonville-based one-man band has a national presence, which he achieved by word of mouth and a series of enthusiastic recommendations across the sprawling blogosphere, as well as on notable websites such as Pitchfork Media and the All Music Guide. Take note, aspiring indie heroes: The Capstan Shafts have embraced and been embraced by the new musical paradigm. The ease of file transferring and overabundance of amateur and professional opinion have worked to Wells' advantage.
Of course, to make the most of this model, one's songs have to deliver, because the surplus of opinion is negligible when compared with the plethora of bands and artists looking to make their mark.
The songs on The Capstan Shafts' new album, the unfortunately titled Environ Maiden, are quite good. Wells admittedly has taken his cue from the similarly prolific Guided by Voices, at times sounding remarkably like the band's secondary songwriter, Tobin Sprout. The songs are arranged simply, rarely exceed 90 seconds, and feature bare-bones production — all qualities that serve to draw attention to the band's strengths. Those include a keen pop sensibility, delivered with an urgency that comes off as paradoxically casual. The tens of Tobin Sprout fans reading this article need not worry. Whereas Sprout doesn't have the creative resources to compose a consistently engaging album, Wells has no shortage of musical ideas. Environ Maiden is The Capstan Shafts' 17th album, and it doesn't want for vitality, sincerity or vision.
Environ Maiden is clearly the product of blind passion for well-constructed pop songs. Though I've never met Mr. Wells, I have not the slightest doubt that his first encounter with, say, Guided by Voices' Bee Thousand was revelatory.
At its best, the relationship between music and listener is profound and deeply affecting. The impact of hearing your favorite album for the first time, or that listen when you finally recognize its greatness, should be on par with any other milestone event: your first day of school, first kiss, near-death encounters. These — along with realizing that Queen's A Night at the Opera contains a raw wisdom that can change your life — experiences may permanently shift your perspective.
Dean Wells knows this. Put your hand to your forehead. Is your brow furrowing? Maybe you should spend some time with The Capstan Shafts. There's a lesson you should learn.