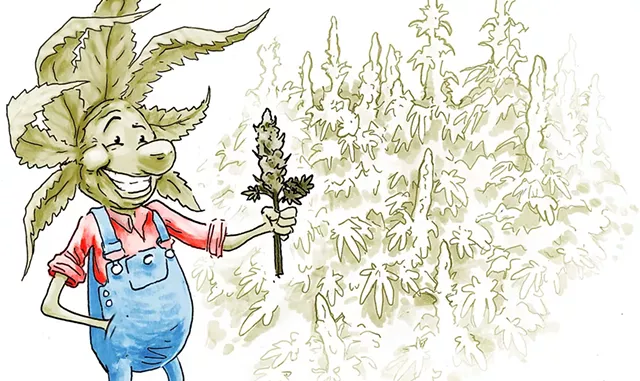 Luke Eastman
Who will be allowed to grow commercially?
We're about two months from getting the final report from the Governor's Marijuana Advisory Commission and the panel is still hashing out an important detail: the number of cultivator licenses that would be available to Vermont growers in a taxed-and-regulated market.
At a Thursday meeting of the commission's subcommittee on taxation and regulation, cannabis advocates pushed for more licenses for small or "boutique" growers and fewer for bigger firms,
VTDigger.org reported
. In other states that have legalized markets, big firms often dominate. If Vermont legalizes such a system, it's very likely big companies would look to expand to the state.
"The one concern for us was to continue to ensure the best for the smallest businesses and the smallest farmers, the best system has to be set up," said Laura Subin, a subcommittee member and director of the Vermont Coalition to Regulate Marijuana, according to VTDigger.
The state tax department, meanwhile, worries that too many licenses (even for small growers) could cause the price of cannabis to drop because of too much supply.
It certainly will be a delicate balance. We'll see what the commission has to say in December. Ultimately, the decision will be the legislature's and the governor's.
Here are some other cannabis stories we followed the last 10 days or so:
---
October 3
: A farmer in south-central Massachusetts decided to sell his property to Valley Green Grow, a cannabis company that hopes to build one of the country's largest weed farms there. Neighbors are waging all-out war against the plan. [
Dan Adams, Boston Globe
]
---
October 4
: Police in Rhode Island arrested a gubernatorial candidate and her partner (who's running for attorney general) for possessing 48 pounds of cannabis. The pair is running on the Compassionate Party line. [
Tom Mooney, Providence Journal
]
---
October 5
: Volunteer attorneys will hold expungement clinics for those with misdemeanor marijuana convictions. The lawyers will guide petitioners through the application, which costs $90. The advice is free. First clinic is Friday, October 12, from 1:30 to 4:30 p.m. at the Addison County Courthouse in Middlebury, inside the probate courtroom. [
Rob Williams, Heady Vermont
]
---
October 6
: Author Neal Pollack says he's a middle-age house dad who's addicted to weed. The whole thing's worth a read, especially if you're unsure whether there really is such a thing as cannabis dependency. [
Neal Pollack, New York Times
]
---
October 9
: Within this story about Vermont's cannabidiol scene is an interesting tidbit: About 400 people are growing approximately 3,000 acres of hemp in Vermont this year. That's four times the number of growers
as of this time last year
. [
Jon Kalish, Vermont Public Radio
]
---
October 9
: Cannabis advocates hope that the legalization movement spreading throughout the Northeast and West will soon take hold in the Midwest. Voters in Michigan and North Dakota will decide in November whether to legalize recreational cannabis for adults. [
David Eggert, Associated Press
]
---
October 9
: Walmart stores in Canada could soon start carrying CBD products. Not just yet, though. [
Bloomberg
]
---
October 9
: Cannabis in Massachusetts cafés is a proposition that's "years away," regulators in the state said this week. Openings of the first cannabis stores are weeks away, so there's that, anyway. [
Gintautas Dumcius, MassLive
]
---
October 10
: Hemp growers and those making CBD-infused products have found a banking ally in the Vermont State Employees Credit Union. [
Mark Davis, Seven Days
]
---
October 10
: Police officers in Canada are unhappy with a rule that would ban cops from consuming cannabis within 28 days of a shift. "It's effectively an outright prohibition," said Tom Stamatakis, president of the Canadian Police Association. [
The Canadian Press
]
---
October 10
: Big Tobacco has finally gotten the picture: The cannabis market is legit. The biggest tobacco company in the U.S. is in talks to invest in a Canadian cannabis company. [
Tara Lachapelle, Bloomberg
]
---
October 11
: MedMen, one of the biggest cannabis retailers in the U.S., will get even bigger. The company purchased medical marijuana company PharmaCann for $682 million, giving the combined company licenses in 12 states to operate 79 cannabis facilities. [
Michael Larkin, Investor's Business Daily
]
---
October 11
: As of November 1, doctors in the United Kingdom will be allowed to prescribe medical cannabis. The change of heart comes after highly publicized incidents involving children who wanted to use cannabis oil or CBD to treat severe seizures. [
Iliana Magra, New York Times
]
---
October 11
: Beginning next week, our neighbors up north (Ottawa, to be exact), will be allowed to legally buy cannabis from a government-run online store and have it shipped to their house for a $5 fee. Pretty wild times we're in. [
Andrew Lupton, CBC News
]
Got a story you want to see in our our weekly roundup? Send an email to cannabeat@sevendaysvt.com.