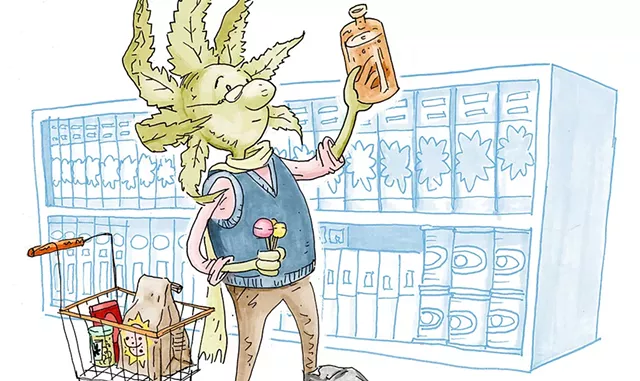 A new year, another state has opened a regulated cannabis market for adults.
That would be Illinois, where dispensaries opened their doors January 1 to big crowds. How big? The state said that more than 77,000 people bought weed products on the first day spending a grand total of nearly $3.2 million. Officials touted the big returns
at a Thursday press conference
led by Toi Hutchinson, a former state senator who serves as Gov. J.B. Pritzker's senior adviser on cannabis.
"This is one of those moments where we recognize that the significance of yesterday was that it was the end of prohibition," Hutchinson said, "and the beginning of how we hope to grow a new industry here in Illinois and then teach other states how to do it."
Illinois has licensed 37 different adult-use cannabis shops so far, including the Sunnyside Dispensary in Chicago, where patrons lined up ahead of a 6 a.m. opening on New Year's Day.
"I've been waiting for this day for about 45 years," 63-year-old Mike Hunter
told the Chicago Tribune
. "The first time I ever got high I was driving by here. I was 16 years old."
The first-day sales far outpaced those in other states that have legalized recreational marijuana. It took Michigan two weeks to surpass $3 million in sales, while buyers in Colorado spent about $1 million on the first day when the state legalized weed sales in 2014,
according to WGN-TV
.
Illinois joins nine other states and Washington, D.C., in legalizing weed. Vermont and D.C. don't allow the
sale
of recreational cannabis; legal sales in Maine are expected later this year.
Here are some other stories we've followed recently:
---
November 27
: "The federal government has not concluded that CBD is 'generally recognized as safe' for use in human or animal food. Thus, CBD in food and drink is still illegal." [
Laura Reiley, Washington Post
]
---
November 29
: Country music icon Willie Nelson, 86, has quit smoking cannabis — but hasn't given up the drug completely. [
Paul Venema, KSAT-TV
]
---
December 2
: Vermont Department of Public Safety Commissioner Michael Schirling said he doesn't think the state is ready yet for a regulated marijuana market. "This is kind of a 'what's government good at' question," he said. [
Elizabeth Murray, Burlington Free Press
]
---
December 2
: Cannabis-themed art isn't just that Bob Marley serape you bought in Jamaica anymore: High-end fairs such as Art Miami have been full of weed-inspired pieces. [
Samantha J. Gross, Miami Herald
]
---
December 4
: Had you headed up to Canada lately, you might have noticed signs at the border warning those in possession of cannabis to declare any product they've got. So, we asked, "What exactly does it mean to 'declare' that one is entering Canada with a cannabis product, and what are the ramifications for doing so?" [
Ken Picard, Seven Days
]
---
December 5
: "Ohio police are on the hunt for a convicted sex offender with a tattoo of a marijuana leaf plastered on his forehead, with the words 'Pot Head' on either side." [
Natalie Musumeci, New York Post
]
---
December 6
: At a Burlington panel discussion called "Conversation About Cannabis: Lessons from our Neighbors," Vermont Attorney General T.J. Donovan said the state is "probably in the worst position we can possibly be in, where we've legalized possession of cannabis, but we've remained absolutely silent on how Vermonters obtain it." [
Alyson Martin, Cannabis Wire
]
---
December 8
: Noting the gender divide in the weed industry, Heady Vermont is hosting a "Women in Cannabis" summit in Burlington in April. [
Anne Wallace Allen, VTDigger.org
]
---
December 9
: "House Speaker Mitzi Johnson says passing legislation to legalize a market for marijuana in Vermont is not among her priorities in 2020. That stance distances her from a commitment made by fellow Democratic leaders to bring a bill to a floor vote this coming session." [
Xander Landen, VTDigger.org
]
---
December 11
: A New York City CBD shop owner and his brother have sued the NYPD for $10 million after the cops seized a 106-pound shipment of legal Vermont hemp. One of the brothers was arrested, but those charges have since been dropped. The NYPD recently released the shipment to Oren Levy, who bought the crop from Fox Holler Farms in New Haven, Vt. [
Elizabeth Hewitt, VTDigger.org
]
Courtesy of Oren Levy
Ronen, left, and Oren Levy after they got their hemp back
---
December 12
: Major League Baseball has removed marijuana from its list of "drugs of abuse," meaning the league won't test players for weed anymore. [
Dakin Andone, CNN
]
---
December 19
: The owner of a Waterbury Center CBD shop was arrested and charged for allegedly not paying several farmers and suppliers. Douglas Bell, 57, pleaded not guilty.
One group of farmers say
they're owed about $500,000 combined. [
Olivia Lyons, WCAX
]
---
January 2
: New prosecutors in two Northern Virginia counties say they won't prosecute adults in possession of small amounts of weed for personal use. [
Justin Jouvenal and Rachel Weiner, Washington Post
]
---
January 3
: Police in Iowa busted a California man driving a truck packed with about 1,500 pounds of weed worth some $4.5 million. [
KCCI-TV
]
---
January 3
: Restaurants, hotels, music venues and other businesses in Colorado can now apply to open cannabis tasting rooms akin to those at breweries. That's one of six big changes ahead in 2020 for the state's weed scene. [
Thomas Mitchell, Westword
]
Got a tip or a story you want to see in our our weekly roundup? Send an email to cannabeat@sevendaysvt.com.