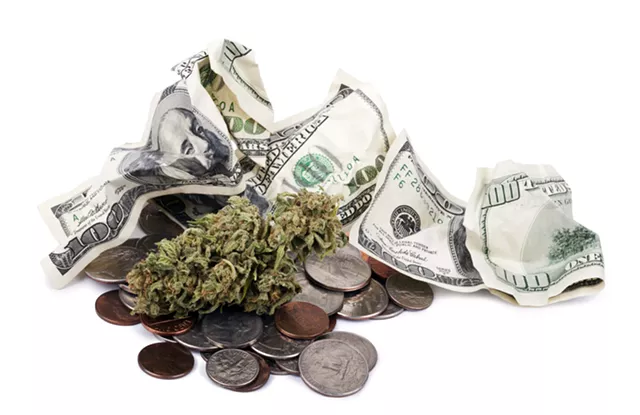 Eldadcarin | Dreamstime.com
Big bucks
Big news out of Nevada this week: The state's tax revenue from legal cannabis sales far exceeded expectations to the tune of 25 percent.
Once June numbers are tabulated, regulators said, Silver State sales are expected to exceed $500 million in the first year of legalization there. Those sales generated about $70 million in tax revenue — $25 million of which goes to the state's schools,
according to the Associated Press
.
Nevada's legal cannabis marketplace opened July 1, 2017 — about six months before neighboring California opened its legal dispensaries.
"We are viewed by many others outside Nevada as essentially being the gold standard," Nevada Department of Taxation director William Anderson told
the Associated Press
. "It's an often-used term, but it's appropriate here."
Sales numbers in Nevada, which draws huge numbers of tourists each year, far outpaced first-year figures in Washington State and Colorado, which opened their cannabis markets in 2014.
It'll be worth keeping an eye on sales in California as many of its neighboring states have already legalized recreational cannabis. Will the market remain strong or is it saturated?
Meanwhile, Massachusetts is still working to get legal sales under way. As the first East Coast state to begin legal recreational sales, the Bay State's numbers will be closely watched.
Here are some other cannabis stories we followed this week:
---
August 1
: Beer giant Molson Coors Canada is teaming up with a medical pot distributor to create a non-alcoholic cannabis-infused drink. Sorry, Americans — available north of the border only. [Ross Marowits,
the Canadian Press
]
---
August 1
: Speaking of tax revenue, Alaska reeled in $11 million during the recently ended fiscal year, outpacing expectations by $2 million. In the previous fiscal year, the state earned only $1.7 million. [
Cameron Mackintosh, KTUU-TV
]
---
August 1
: Vermont Sen. John Rodgers (D-Essex/Orleans) is running a write-in campaign as a Democratic candidate for governor. He's also a hemp farmer who's starting a company featuring cannabidiol-infused products. The primary election is August 14. [
Alicia Freese, Seven Days
]
---
August 2
: Interesting history story: New York State law has tried to steer police away from cannabis arrests for some 40 years, but arrest figures remain huge — highlighting a key difference between policy and practice. [
Benjamin Mueller, New York Times
]
---
August 2
: Yes, there is such a thing as Marijuana Anonymous, a group for people addicted to weed. Read about one such meeting in Canada. [
Rachel Brown, Vice News
]
---
August 2
: New York Gov. Andrew Cuomo created a working group to write a bill with recommendations on how to legalize recreational cannabis in the state. [
German Lopez, Vox
]
---
August 3
: Georgia's medical marijuana program allows patients to possess small amounts of cannabis oil but
does not give them a way to buy the stuff
. Yes, really. The state legislature is looking to loosen stringent rules. [
Mark Niesse, Atlanta Journal-Constitution
]
Got a story you want to see in our our weekly roundup? Send an email to cannabeat@sevendaysvt.com.