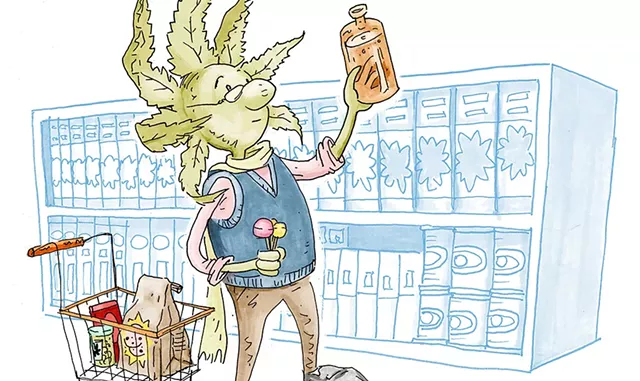 Luke Eastman
is it the prices?
When Colorado and California each legalized cannabis, activists in both states thought it would extinguish an extensive illicit market.
They were wrong.
Seven years after passage of Amendment 64, Colorado is grappling with a black market whose scope astounds even veteran law enforcement officials.
"I've only been doing this for 25 years and I have never seen the black market as robust and as complicated and as expertly cultivated as this one right now," George Brauchler, the district attorney in Colorado's 18th Judicial District,
told Community Radio for Northern Colorado
.
It's not just anecdotal. During a three-day raid in May, law enforcement seized more than 80,000 marijuana plants at 250 locations in eight counties across the state,
Westword reported at the time
. The combined number of plants made it the largest bust in Colorado's history.
Officials point to a loophole in the state's medical marijuana law that allowed patients to grow as many plants as their physician recommended. Thousands were allowed to grow up to 99 plants.
A recent law curtailed that to just 12, still a large amount when considering the high yields expertly cultivated plants can achieve.
California, meanwhile, is home to the biggest legal cannabis market in the world. But its illicit market is even bigger,
the Los Angeles Times reports
.
The state is expected to make $3.1 billion in legal sales this year, while consumers are expected to spend $8.7 billion on the black market.
Why? Taxes are high, and a large majority of cities and counties have banned cannabis shops, the
Times
reported.
"Unless the state acts to lower the taxes and lower the regulatory load, they are making the illicit market participants happy campers by keeping them in business," Tom Adams, managing director and principal analyst for sales-tracking firm BDS Analytics, told the paper.
Here are some other stories we've followed the last few weeks:
---
July 24
: Why do edibles make people paranoid? The answer may lie in how your body metabolizes THC when you eat, instead of smoke, cannabis. [
Olga Khazan, the Atlantic
]
---
July 25
: Four people are registered to grow hemp in Charlotte.
But only the registered grower behind Vermont Glasshouse, a company that is cultivating about 1,000 plants on Greenbush Road, were willing to discuss it on the record. [
Chea Waters Evans, Charlotte News
]
---
July 30
: The new weed economy, and the contrast between states where cannabis is legal or not, is making the injustices inflicted by the ongoing War on Drugs even starker. [
Livia Gershon, Longreads
]
---
July 31
: U.S. Rep. Charlie Christ (D-Fla.) has introduced a bill "that would eliminate testing positive for marijuana as a reason not to hire or fire federal employees in states where the drug is legal both medically and recreationally." [
Allison Maass and Kristin Kasper, Gray Television
]
---
August 5
: Anticipating that the legislature will legalize a regulated cannabis market in Vermont, Clarendon officials are working on passing an ordinance that would ban all cannabis sales in the town. [
Keith Whitcomb Jr., Rutland Herald
]
---
August 6
: A dearth of hemp processors in Vermont is hurting producers who are growing the stuff at a rate faster than it can be turned into CBD. [
Peng Chen, VTDigger.org
]
---
August 9
: Cannabis media and events company Heady Vermont has rolled out a glossy print guide to all things weed in New England for the nice price of $4.20. [
Derek Brouwer, Seven Days
]
---
August 14
: "Iron" Mike Tyson says he and his buds smoke $40,000 worth of weed each month while hanging on their California cannabis farm. [
Jackie Salo, New York Post
]
---
August 14
: Attendees at the Outside Lands Music and Arts Festival in San Francisco's Golden Gate Park spent a fat $1 million on weed products at the event. [
Dan Gentile, SFGate
]
---
August 14
: A battle is brewing between wine growers and cannabis cultivators in California's Santa Barbara County. Turns out the fungicides used by wine growers is drifting onto the weed plants, making it unmarketable. [
Claire Heddles, National Public Radio
]
---
August 14
: A middle-age Florida newspaper reporter detailed his December bust for weed possession during a traffic stop in Sarasota. "Nixon, godfather of the Controlled Substances Act of 1970, still dead, still hunting hippies from the grave," he wrote. [
Billy Cox, Sarasota Herald-Tribune
]
---
August 15
: Check out this profile of the soon-to-open Lowell Farms cannabis cafe in West Hollywood, Calif., "a place for locals and tourists to have a high-quality meal and smoke a joint in public." [
Maura Judkis, the Washington Post
]
---
August 16
: Emergency poison-control calls that were cannabis-related doubled for Massachusetts kids after the state legalized medical marijuana, according to research published in JAMA Network Open. [
Jennifer Whitehill, UMass Amherst
]
---
August 16
: Speaking of California: "The Coast Guard found 1,300 pounds of marijuana wrapped in plastic — estimated to be worth $1 million — just floating off the coast of" Catalina Island. [
Kelly Vinett, VICE News
]
Got a story you want to see in our weekly roundup? Send an email to cannabeat@sevendaysvt.com.