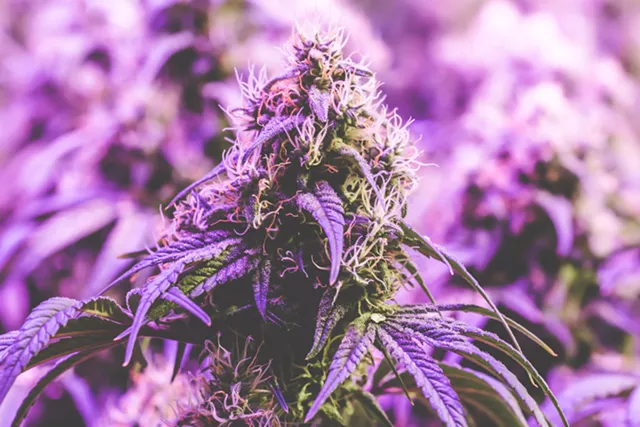 Taisacankyle | Dreamstime.com
Dank lookin' nugs
The U.S. surgeon general and the secretary of Health and Human Services issued dire warnings at a press conference Thursday concerning the use of cannabis by pregnant women and young people.
"This is a dangerous drug," Secretary of Health and Human Services Alex Azar II said. "No amount of marijuana use during pregnancy or adolescence is safe."
The federal push comes as more states create medical marijuana programs and legalize recreational use of the drug. Ten states, including Vermont, and Washington, D.C. have legalized recreational
weed for adults. Other states have decriminalized use.
But that doesn't mean it's good for you, or safe, the federal officials warned. They cautioned that newer strains "pose other risks, including
anxiety, agitation, paranoia
and psychosis," the
New York Times reported
.
Surgeon General Jerome Adams told reporters that the amount of THC in modern cannabis can generally be anywhere from 12 to 25 percent, compared to about 4 percent two decades ago.
"The scary truth is that the actual potential for harm has increased," he said. "This ain't your mother's marijuana."
The warning extends to lactating women, the officials said. Read the full
advisory here
.
Here are some other stories we've been following:
---
August 23
: Nearly 200 people in 22 states have contracted a mysterious lung illness linked to vaping. Twenty-two of those sickened have been in Illinois, where the first person died of the illness earlier this month. [
Matt Richtel and Sheila Kaplan, the New York Times
]
---
August 27
: Former Patriots tight end Rob Gronkowski won't be playing football this fall. Instead, he's joined a CBD company and is promoting cannabidiol as a way for athletes to recover. His former colleagues in the NFL won't be using it, though: The league has banned the substance. [
WBZ-TV
]
---
August 27
: The Drug Enforcement Administration
announced
that it will begin reviewing applications from growers hoping to cultivate weed for scientific and medical research. The country has long lagged in research because of strict regulations on growing. [
Will Stone, National Public Radio
]
---
August 27
: Wondering what to tell your kids about cannabis? Read on for some facts, expert opinions and real-life stories to help inform the dialogue in your home. [
Adam Bluestein, Kids VT
]
---
August 27
: The California State Assembly approved a bill that would allow parents to administer non-smokable medical marijuana to their children on K-12 campuses. Students who use cannabis to treat seizures and other ailments currently must leave school grounds to take their medicine. [
Associated Press
]
---
August 28
: A New York law that decriminalized possession of cannabis took effect on Wednesday. [
Fred Mogul, Gothamist
]
---
August 29
: An employee at an unlicensed cannabis dispensary in South Los Angeles was shot and killed. [
City News Service, KNBC-TV
]
---
August 29
: Law enforcement officials seized about 400 pounds of weed from a home in Alexandria Bay, N.Y., which is on the St. Lawrence River, just across the border from Canada. Cops say a New York City man rented a house in the village as part of a scheme that involved smuggling the cannabis from Canada in a boat. [
Diane Rutherford, WWNY-TV
]
---
August 29
: This is a
satire
column, people: "Citing a string of recent busts in Burlington, the Drug Enforcement Administration said that fatal overdoses from cannabis consumption now stand at zero deaths per — well, probably ever." [
Bryan Parmelee, Seven Days
]
---
August 29
: U.S. Attorney for Vermont Christina Nolan explains why the feds went after two Burlington business owners accused of selling weed out of their stores. "They were either involved in gun activity or violence, there were indications that they were selling to young people," Nolan said. "And they were selling in areas of high commercial foot traffic and they were selling very openly." [
Dom Amato, WCAX-TV
]
Got a story you want to see in our weekly roundup? Send an email to cannabeat@sevendaysvt.com.