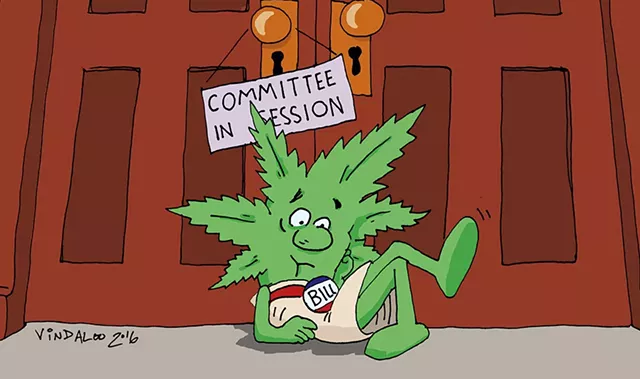 A bid for full cannabis legalization in Vermont flamed out on Friday.
Hours after a group of Vermont lawmakers
revived the dormant idea
of a taxed-and-regulated cannabis market, the House quickly shot it down.
Rep. Diana Gonzalez (P/D-Winooski) proposed the amendment to H.167 on Thursday, but by Friday morning, the House
voted 106 to 28 to shelve it indefinitely
.
The proposal likely would not have made it past the desk of Gov. Phil Scott — who earlier this year signed a much more limited cannabis-legalization bill in private, and
with "mixed emotions"
— though it had support from House Minority Leader Don Turner (R-Milton).
"It does not make sense for us to not tax and regulate," Turner told
Seven Days
' John Walters. "Having it be legal without regulation and no resources for the associated costs [of legal marijuana] makes no sense to me."
Other legislators just didn't understand the timing.
"We had similar votes [on full legalization] and they failed," House Majority Leader Jill Krowinski (D-Burlington) said after the vote. "We've already had this debate, so why all of a sudden, with two weeks left in the session, bring it back now?"
That's not to say the idea is dead — though its prospects for this year likely are. Lt. Gov. David Zuckerman remains optimistic.
"There is plenty of support to legalize," he said, "but sometimes in this building, the powers that be guide legislators to do something that isn't what their constituents want."
Here are some other cannabis stories we read this week:
---
April 24
: Dr. Sanjay Gupta wrote an open letter to U.S. Attorney General Jeff Sessions in support of medical marijuana. Gupta noted that he, too, was once opposed to medical marijuana. [
Sanjay Gupta, CNN
]
---
April 25
: People like weed and people like coffee. They also like weed
and
coffee — you know, consumed at the same time. Now there's weed
in
your coffee and you can make it in your Keurig machine. [
Lester Black, the Stranger
]
---
April 25
: A bill currently in the Vermont House would protect medical marijuana users in need of medical treatment, including an organ transplant. What does the surgeon at the University of Vermont Medical Center, the only hospital in the state where kidney transplants are performed, think of the idea? [
Sasha Goldstein, Seven Days
]
---
April 26
: University of Utah researchers are preparing to launch a two-year, $740,000 study on the way cannabis interacts with the human brain and why it affects some people differently. [
Luke Ramseth, the Salt Lake Tribune
]
---
April 26
: A new networking event, Women of Cannabis, launched in Burlington on Wednesday. [
Katie Jickling, Seven Days
]
---
April 26
: Have you heard of cannabinoid hyperemesis syndrome (CHS)? It doesn't sound pleasant. [
Josh Jardine, the Stranger
]
---
April 26
: Will Michigan be the next state to legalize recreational cannabis? Residents will vote on it in November. [
Kathleen Gray, Detroit Free Press
]
---
April 27
: Sad news out of Colorado. There are reports that the Cannabist, the
Denver Post's
cannabis site, is no more. [
Jake Browne, Twitter
]
Got a story you want to see in our our weekly roundup? Send an email to cannabeat@sevendaysvt.com.