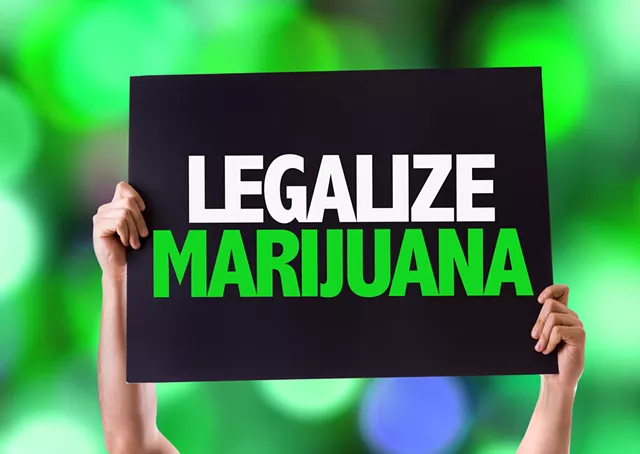 Gustavo Frazao | Dreamstime.com
A new
Gallup poll
found that two in three Americans — 66 percent — support cannabis legalization.
Such strong support is no surprise here in Vermont, but to see it on a nationwide scale is staggering. Consider that in the year 2000, the number was closer to 30 percent.
Since then, nine states have legalized weed. Many others have legalized medical marijuana programs. And measures to legalize recreational weed in North Dakota and Michigan are on the ballots November 6.
It's not clear what has so quickly changed public opinion about the drug. Some 75 percent of Democrats, 71 percent of independents and 53 percent of Republicans support legalization, according to Gallup.
Wondering about candidates in the Green Mountain State? The Vermont Coalition to Regulate Marijuana has
put together a handy voters' guide
on gubernatorial and legislative candidates. Just search by district to see where everyone stands.
Here are some other cannabis stories we followed this week:
---
October 22:
The first recreational cannabis dispensary east of the Mississippi is set to open very soon in Northampton, Mass., just off Interstate 91. Here's a look inside the New England Treatment Access shop. [
Alden Bourne, New England Public Radio
]
---
October 23
: South Koreans who go to Canada and smoke weed could face criminal penalties when they return to their home country. That's right — South Korea's laws extend beyond its borders. Also illegal in South Korea? Gambling. [
Choe Sang-Hun, New York Times
]
---
October 23
: Utah is considering legalizing medical cannabis, so Jim Dabakis, a Democratic state senator and self-described "marijuana virgin," went to Nevada recently and ate a weed-laced gummy bear. "I thought it was about time that at least one legislator knew a little about marijuana before we changed all the laws," Dabakis said as he consumed it on Facebook Live. [
Bethany Rodgers, Salt Lake Tribune
]
---
October 25
: A new study found that liverwort produces a chemical, perrotetinene, that relieves pain in much the same way as THC. Liverwort, though, is not psychoactive, meaning you won't get stoned. [
Natasha Frost, Quartz
]
---
October 25
: Fresh off legalization in Canada, Toronto's Pearson Airport installed trash cans for flyers to toss their stash before they go through security. Some smarties thought this meant free weed! Alas, it doesn't. "Once something goes into the container, it doesn't come out," an airport official said. [
Hudson Hongo, Gizmodo
]
---
October 26
: Faced with chronic cannabis shortages, government-run weed dispensaries in Québec will close three days a week. The stores will be open Thursday through Sunday until the "availability of products is stabilized." [
Marilla Steuter-Martin, CBC News
]
---
October 26
: Check out this profile of Cannabis Wire, one of the best weed news sites in the business. [
David Beard, Poynter
]
---
October 26
: Cannabis legalization in Canada brought with it a whole bunch of new jobs in the industry. [
Amanda Coletta, Washington Post
]
Got a story you want to see in our our weekly roundup? Send an email to cannabeat@sevendaysvt.com.