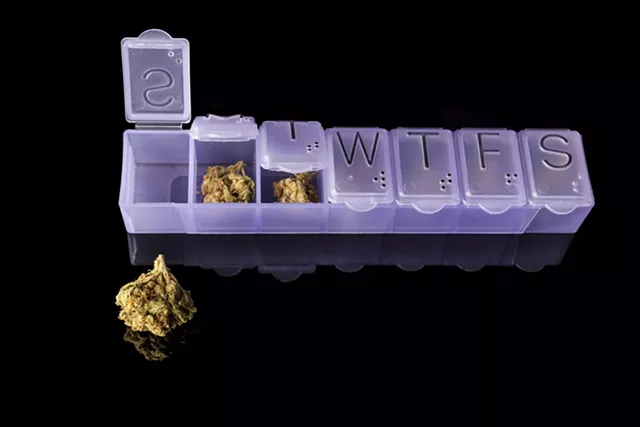 Dreamstime
Your weekly dose of cannabis news
A groundbreaking new report found that the number of opioid prescriptions dropped in states that implemented medical cannabis programs.
"Medical cannabis policies may be one mechanism that can encourage lower prescription opioid use and serve as a harm abatement tool in the opioid crisis,"
the medical journal JAMA concluded
.
The study found that Medicare prescriptions for opioids fell in states that implemented a medical marijuana program. The numbers fell further, by as much as 14 percent, when states allowed for medical cannabis dispensaries.
While there's a correlation between the two, the study's authors caution that they did not determine causation, meaning there could have been other factors at play. And they cautioned against the idea that relaxed pot laws alone can solve the opioid crisis.
"Like any drug in our FDA-approved pharmacopeia, it can be misused," W. David Bradford, a study author and a professor of public policy at the University of Georgia,
told National Public Radio
. "There's no question about it. So I hope nobody reading our study will say 'Oh, great, the answer to the opiate problem is, just put cannabis in everybody's medicine chest and we are good to go.' We are certainly not saying that."
Here are some other cannabis stories we followed this week:
---
April 2
: Nothing like riding the subway in New York City while passing around a communal joint with some strangers. Hey,
there
are
a lot worse
things
that
can happen
on the train. [
Barstool Sports
]
I was mad watching him smoke on the train...but when he passed it and everyone was with the shits, it brought a smile to my face kinda lmfao. 😂😩😂 pic.twitter.com/CUn2VbCUrd

— KELLY S. 💋 (@Kissedby_k) April 1, 2018
---
April 2
: Maine's medical marijuana sales and its patient total plummeted last year compared to 2016, when the state voted to legalize recreational weed. That drop is apparently in line with other states that have legalized, such as Colorado, Nevada and Oregon. [
Eli McVey, Marijuana Business Daily
]
---
April 3
: The Massachusetts Cannabis Control Commission received 218 applications from those hoping to open retail weed shops. Oh, and that number came on the
first day
the process started and were made only by those eligible for "priority certification." [
Gintautus Dumcius, MassLive
]
---
April 4
: Is hemp Vermont's next big cash crop? Could it help boost struggling farms looking to diversify? State officials weigh in. [
Don Amato, WCAX
]
---
April 5
: The answer to your burning question: Should I give my dog weed?
[
Spencer Buell, Boston magazine
]
---
April 5
: Before you listen to Dr. Dustin Sulak speak Friday night at Burlington City Hall, read this Q&A with the Maine-based doc who believes in the healing power of pot. [
Sasha Goldstein, Seven Days
]
Got a story you want to see in our our weekly roundup? Send an email to cannabeat@sevendaysvt.com.