David Carilett/Dreamstime
Court's adjourned
Old cannabis possession conviction got you down? Looks like you will soon be able to get your record expunged for some offenses in Chittenden County.
A report Wednesday
by the Huffington Post
mentioned a soon-to-be-deployed plan from the Chittenden County State's Attorney's Office that would "allow individuals to apply to have their past marijuana possession records expunged or sealed regardless of when the conviction took place."
Sarah George, the Chittenden County state's attorney, confirmed to
Seven Days
that a plan was in the works, but she declined to provide details until sometime next week. George did speak generally about the topic on camera with NECN,
telling the TV station
, "I actually think we're behind in this discussion."
"Any time that someone has a conviction on their record of something that is now legal, it should be expunged," she said.
The concept is not new. Several California counties have announced policies that would clear past pot convictions, while the city of Seattle has done something similar. Colorado could soon follow suit, too.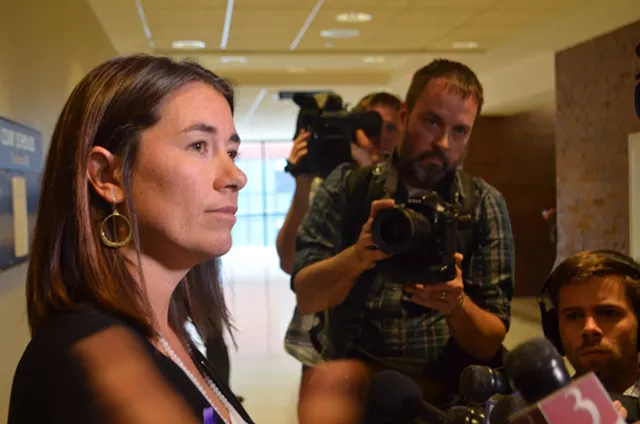 File: Sasha Goldstein
Sarah George
Vermont legislators have already introduced a bill,
H.865
, that would allow someone to apply for a pot expungement once five years have passed since he or she finished their sentence. The bill was introduced in February and is still in the House Judiciary Committee — meaning it's unlikely to be passed this session.
Vermont Attorney General T.J. Donovan told
Seven Days
Thursday that he'd support expungements for possession convictions, saying the old offenses can keep people from getting housing, jobs or students loans.
"Criminal records keep people marginalized," Donovan said. "We need to give people the opportunity to be productive citizens."
Here are some other cannabis stories we followed this past week:
---
April 30
: Another week, another former athlete/coach who's getting into the weed game. This time it's Don Nelson, a former professional basketball player and longtime NBA coach. He now lives in Hawaii and grows his own bud, including a strain named after him, called Nellie Kush. How'd he get into cannabis? Nelson hosts Willie Nelson, Woody Harrelson and Owen Wilson at a weekly poker game at his Maui home and, well, they apparently like weed. [
Alex Williams, the New York Times
]
---
May 1
: Curious what happens at a medical marijuana facility? These pics give a behind-the-scenes look at one of Massachusetts' largest such facilities, Sira Naturals' 30,000-square-foot plant in Milford. [
Kaitlin Flanigan, NECN
]
---
May 2
: Film director Kevin Smith went on "The Late Show with Stephen Colbert" on Tuesday and said a doctor told him smoking a joint before he suffered a recent massive heart attack might have saved him because it kept him calm. Doctors on Wednesday rebutted Smith's assertion and said the
opposite
— that Smith's use contributed to his heart disease — was more likely true. [
Tom Avril, Philadelphia Inquirer
]
---
May 2
: A bill in the Vermont legislature that would have allowed police to take saliva samples from drivers to test for drugged driving has died in the Senate Judiciary Committee. [
Taylor Dobbs, Seven Days
]
---
May 2
: Authorities in Sonoma County, Calif., are investigating a rash of home invasions, allegedly committed by bandits from out of state seeking marijuana. [
Hannah Beausang, the Press Democrat
]
---
May 3
: Weed porn! Check out this author's thoughts on the most beautiful strains he's come across so far this year. [
Herbert Fuego, Westword
]
---
May 3
: Even groups
opposed
to marijuana legalization think the feds are way too harsh in stunting cannabis research. [
Tom Angell, Forbes
]
---
May 3
: Colorado lawmakers have sent a bill to the Democratic governor's desk that would allow marijuana dispensaries to open "tasting rooms" for patrons to vape and consume edibles on site. [
Alicia Wallace, the Denver Post
]
---
May 3
: Colombia, long known as the source for illegal drugs such as cocaine and marijuana, is now getting into the medical marijuana game and positioning itself to grow mad herb for the industry. [
Helen Murphy and Nelson Bocanegro, Reuters
]

Got a story you want to see in our our weekly roundup? Send an email to cannabeat@sevendaysvt.com.