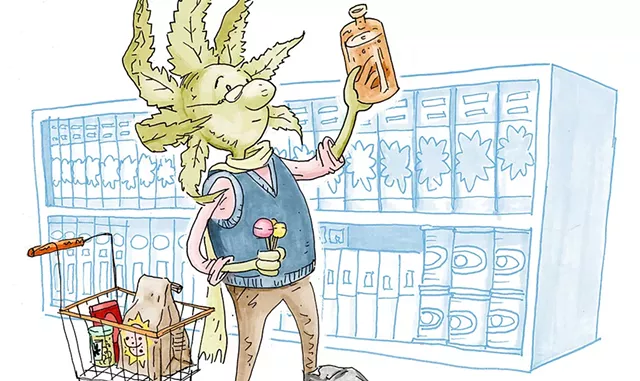 Luke Eastman
What's best for Vermont?
Movement is afoot
in the Statehouse on a bill to create a regulated cannabis market in Vermont.
The latest version, approved Thursday night by the House Government Operations Committee, adds some interesting components. Towns would have to vote to allow pot shops to operate,
our Taylor Dobbs reported
, meaning retail weed establishments would be banned otherwise from municipalities by default.
The legislation would also enable law enforcement officers to take saliva samples from suspected drugged drivers.
As it has been for at least a year, the most consequential component is likely the saliva-testing procedure. The version Gov Ops passed contains a significant compromise. Officers could take a sample back at the station and send it to a lab for testing, as opposed to the roadside test with instantaneous results that Gov. Phil Scott prefers. He said Thursday that he's "always willing to listen."
Nothing about this version is final. The bill heads to at least one more committee, Appropriations, before it goes to the full House for a vote. It could change along the way. And any final House version would need to be reconciled with the
Senate-passed S.54
, which contains none of the provisions added in House Gov Ops.
It's a tangled web, for sure. Can legislators untangle it in time to get a bill before the governor?
Here's what else we read this week:
---
April 29
: There's plenty to read in
Rolling Stone's
weed issue, but start with this cover story on legendary stoner Willie Nelson, who is still going strong at 86 years old. He claims pot saved his life — and that he's high literally
all the time
. [
Patrick Doyle, Rolling Stone
]
---
April 30
: A new study by the University of Colorado Boulder found that 80 percent of pot users in states where it's legal consume weed before or shortly after working out, and "most report that it motivates them to work out, helps them enjoy exercise more and improves their recovery." Insert "runner's high" jokes here. [
Lisa Marshall, CU Boulder Today
]
---
May 2
: Vermont's style of cannabis legalization is often compared to Washington, D.C.'s — but that could change. Mayor Muriel Bowser has proposed a bill to allow recreational cannabis dispensaries to open in the district. [
Rachel Kurzius, DCist
]
---
May 2
: Check out this Q&A with New Jersey senator and presidential candidate Cory Booker. The Democrat calls his cannabis crusade "bigger than presidential politics." [
Tim Dickinson, Rolling Stone
]
---
May 2
: Brooklyn Nets guard D'Angelo Russell was arrested at LaGuardia Airport in Queens when TSA found weed in his checked luggage. He allegedly had it hidden — seriously — in one of those fake Arizona Iced Tea cans that you can buy at head shops everywhere. [
TMZ Sports
]
---
May 2
:
Vermont Edition
checked in with a pediatric psychiatrist about the effects of cannabis on the developing brain. The verdict? It's not recommended for young people and could lead to increased risk of developing psychotic symptoms. [
Jane Lindholm and Matthew F. Smith, Vermont Public Radio
]
---
May 2
: Florida has the fastest growing medical marijuana program in the country, with 213,000 registered patients and 10,000 new ones signing up each month. Consider that Vermont has about 5,200 or so
total
. [
Carlos Miller, Miami New Times
]
---
May 3
: An anonymous complainant accused Champlain Valley Dispensary of growing high-THC cannabis plants on an unsecured farm under the guise that the crop was hemp. The state looked into the matter, but it's unclear if the Department of Public Safety took any enforcement action. [
Taylor Dobbs, Seven Days
]
---
May 3
: This California pastor calls weed the "devil's lettuce" but, believe it or not, he's all about a little herb. Craig Gross runs a church that helps congregants who are addicted to porn, but now he's preaching about pot and how it helped him connect with God. [
Caleb Parke, Fox News
]
---
Got a story you want to see in our our weekly roundup? Send an email to cannabeat@sevendaysvt.com.