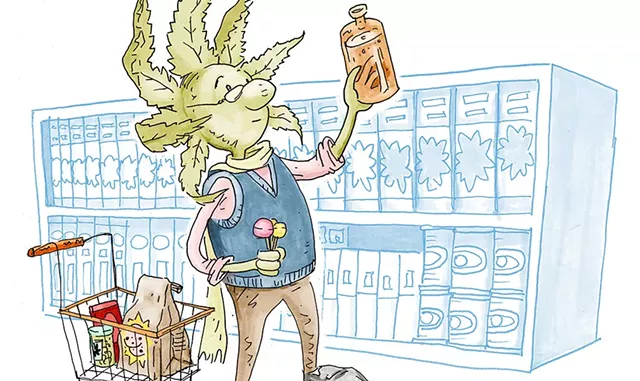 Luke Eastman
This could be you.
A newly formed political action committee is pushing to get a recreational weed market bill passed into Vermont law early enough in the upcoming legislative session to allow communities to discuss the legislation at Town Meeting Day in March 2020.
Founded by Geoffrey Pizzutillo and Jennifer Dye, the Vermont Growers Association wants state representatives to work off the framework of S.54, a cannabis regulation bill that
passed the Senate
last session
but never came to a vote in the House
. Eli Harrington, a lobbyist and cannabis consultant working with the PAC, thinks the group can convince enough lawmakers — and, they hope, Gov. Phil Scott — to get the measure across the finish line.
Harrington admitted that
the organization's
proposed timeline is tight but said Town Meeting Day is an important deadline. The group is currently running a policy survey on its site.
"To make this thing work, it's got to work for each community," Harrington said. "We think it's important for people to start the dialogue of, 'Are we going to allow retail? If so, where? What kind of zoning is required?'"
Some communities are already passing outright
bans
. The Clarendon selectboard recently voted to prohibit recreational marijuana dispensaries from opening in town,
following in the footsteps of both Newport and Dover
. Meanwhile, Killington is considering a ban on medical marijuana dispensaries.
The first steps for groups like Harrington's is to get a recreational sales bill passed. He thinks the Vermont Growers Association can offer valuable input. Harrington pointed to the regulations surrounding Vermont's medical marijuana dispensaries as an example of what
not
to do. He called the recreational market a chance to "reset."
The group emphasizes allowing enough growers to participate in the new business sector so there's sufficient opportunity — and product — to go around.
"It's an ambitious timeline, but the plant's been around for 5,000 years, and it's been effectively regulated and sold in these United States for quite a while," Harrington said. "We have the information, we have the capacity and I think we have the will. What's important is that we don't screw it up."
Here are some other cannabis stories we've been following:
---
August 28
: About 160,000 people with marijuana convictions in New York State will have those offenses wiped from their records under a new law that recently took effect. [
Azi Paybarah, New York Times
]
---
September 2
: Vermont Tech is offering a CBD & Greenhouse Cash Crop certificate program. The three-part class was scheduled to begin September 12. [
Sarah Earle, Valley News
]
---
September 5
: Researchers at the University of Pittsburgh have created a weed breathalyzer. But, as other scientists have found, the technology remains far from ready for use by police departments hoping to detect impairment. [
Francesca Paris, National Public Radio
]
---
September 5
: Amid the outbreak of a lung illness linked to vaping, the
New York Times
editorial board called for more research on e-cigarettes. [
New York Times
]
---
September 7
: Fall River, Mass., Mayor Jasiel Correia
was arrested and accused
of extracting hundreds of thousands of dollars in bribes from companies that applied to open marijuana dispensaries in the city. Correia has denied the charges and refused to resign. In fact, he was one of the top two vote getters in a recent primary and will run for reelection November 5. [
WCVB
]
---
September 8
: More than $4.3 million worth of weed — about 1,000 pounds — washed up on a California beach north of San Diego. [
NBC7
]
---
September 9
: A Texas high school student passed out and was taken to the hospital after hitting a vape pen right before choir orientation. [
Jessica Willey, KTRK-TV
]
---
September 9
: Vermont's Youth Risk Behavior Survey found that more than three-quarters of young people don't think marijuana use is harmful, a statistic that concerns state health officials. [
Kiernan Brisson, WCAX-TV
]
---
September 10
: A new study has found that legalizing marijuana has not necessarily lead to a spike in youth use of the drug: "It is more difficult for teenagers to obtain marijuana as drug dealers are replaced by licensed dispensaries that require proof of age." [
Elizabeth Murray, Burlington Free Press
]
---
September 10
: The Washington, D.C., public school system will allow health professionals to administer medical marijuana and CBD on campus for students who use it. [
Mark Segraves and Allison Park, NBC4
]
---
September 11
: Those "trees" growing in Charlotte and all over Vermont aren't trees at all. They're hemp plants! [
Ken Picard, Seven Days
]
---
September 11
: Cops chasing a couple of guys spotted smoking weed on a Bronx corner ended up finding a bound and beaten man inside the basement of a bodega. Yes, really. [
Ben Feuerherd and Ben Cohn, New York Post
]
---
September 12
: The third-largest CBD producer in the country is located in Vermont's Northeast Kingdom. After just four growing seasons, Sunsoil has 100,000 plants in the ground at farms in Hardwick and Hyde Park. [
Dan D'Ambrosio, Burlington Free Press
]
---
September 16
: Vermont-grown cannabis quality-tracking software company Trace recently received a patent for its tech, will have an app in the Apple store soon and is expecting to land its first government contract by the end of the year. [
Anne Wallace Allen, VTDigger.org
]
---
September 16
: About 10 students at Lake Region Union High School in Barton got high — and some got sick — after eating THC-infused chocolate on campus. [
Christina Guessferd, WCAX
]
---
September 17
: Even ahead of full legalization in Vermont, the town of Clarendon has passed a ban on weed sales and dispensaries. [
Matt Leighton, WPTZ-TV
]
---
September 18
: Thieves in California broke into a cannabis dispensary and made off with $69,000 worth of weed and related products. [
Hope Miller, KCRA-TV
]
---
September 25
: Cops in Minnesota busted a 22-year-old who had 77,000 vape cartridges that were loaded with a combined 185 pounds of THC. [
Paul Walsh, the Star Tribune
]
---
October 2
: Vermont's five medical marijuana dispensaries, which are regulated by a division of the state's Department of Public Safety, can prevent the release to the public of
any
information about them. [
Sasha Goldstein, Seven Days
]
---
October 2
: A Kentucky-based hemp company that purchased a Middlebury processing facility in 2018 has pulled out of Vermont. [
Sasha Goldstein, Seven Days
]
---
October 3
: The Centers for Disease Control and Prevention says there have been more than 1,000 reported cases of a severe lung disease related to vaping. Eighteen people have died in 15 states. As of October 1, officials have reported cases in 48 U.S. states. At least three nonfatal case have been reported in Vermont, though several possible cases are under investigation. [
CDC.gov
]
---
October 4
: Here's some satire for you to round out this Cannabis Catch-Up: "Dealer.com Receptionist Tired of Explaining That They Are Not That Kind of Dealer." [
The Winooski
]
---
Got a story you want to see in our our weekly roundup? Send an email to cannabeat@sevendaysvt.com.

Correction, October 7, 2019: A previous version of this story misidentified the kind of dispensary banned by the town of Clarendon.