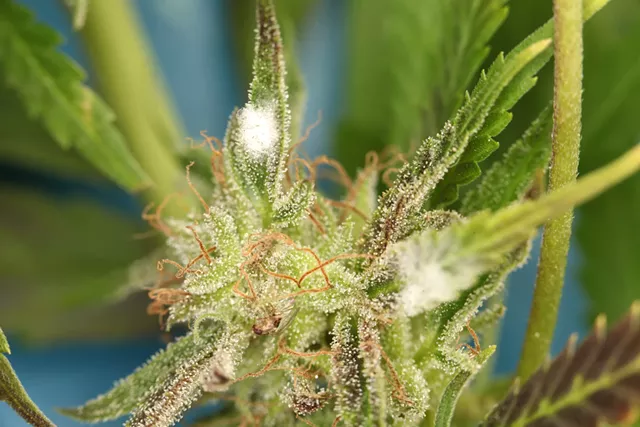 Olegmalyshev | Dreamstime.com
White mold on a cannabis plant
Is there a mold problem at Champlain Valley Dispensary?
Yes, say five former employees who spoke to
VTDigger.org for a story published December 4.
"There were a lot of times when it was questionable," one former cultivator told the website. "If it was my personal grow, that would be unacceptable."
"There was a lot of concern that patients were ingesting product with mold, especially high-risk patients with cancer, and immunocompromised patients," another told Digger.
Such conditions are not necessarily unique to Champlain Valley Dispensary, Vermont's largest medical cannabis business. One expert said mold is common throughout the medical cannabis industry and estimated that "between 20 and 30 percent of cannabis samples contain [a] significant amount of mold," Digger reported.
So what's the solution? Shayne Lynn, the Champlain Valley Dispensary CEO, says more regulation. As it stands, there is no third-party testing requirement, meaning dispensaries test their own cannabis products — and not always for things such as mold. Some other states with legal weed require such outside tests.
Will Vermont follow suit?
"Right now, it's left up to us to say, 'This is what is acceptable,'" Lynn told Digger. "If it's not, I'd like the state to tell me that's it not."
Here's what else we read this week:
---
December 4
: Denver officials are working on a plan to clear thousands of low-level cannabis convictions from before Colorado legalized weed sales in 2014. [
Kathleen Foody, Associated Press
]
---
December 5
: How to save Vermont's general stores? One proprietor has a simple idea: Allow the stores to stock and sell weed, just like local produce. [
Sasha Goldstein, Seven Days
]
---
December 5
: Burlington-based Upstate Elevator Supply, a cannabidiol company, has released an "African Ginger & Mexican Lime CBD Sparkling Beverage." [
Upstate Elevator Supply
]
---
December 6
: Weed isn't yet legal in New York, but NYC politicians are already squabbling over ways to spend the tax proceeds of potential cannabis sales. One pol wants to use the fantasy green to prop up the city's ailing subway system. [
Jillian Jorgensen, New York Daily News
]
December 6
: As legalization spreads across the country, this could become a big debate. "The Maryland Medical Cannabis Commission voted unanimously Thursday to ban billboard, radio, TV and most online advertising by marijuana companies." It also prohibits advertising in newspapers that can't prove 85 percent or more of their readership is over 18 years old. That's a tough standard… [
Doug Donovan, Baltimore Sun
]
---
December 6
: In the 50 days since Canada legalized recreational cannabis, National Access Cannabis — the country's largest weed retailer — took in about $4 million in sales revenue across its 18 stores. [
Bill Kaufmann, Calgary Herald
]
---
December 6
: Vermonters attending an event in Hartford held by the Governor's Marijuana Advisory Commission urged those in power "to not overregulate a potential industry and keep it true to Vermont's values." [
Jordan Cuddemi, Valley News
]
---
December 6
: ... Meanwhile, as part of the commission's tour, Vermonters attended a similar event in Bennington. [
Keith Whitcomb Jr., Rutland Herald
]
---
December 7
: Here comes Big Tobacco: Altria, which owns Philip Morris USA and its Marlboro brand cigarettes, is investing $1.8 billion in Canadian cannabis company Cronos Group. The bid gives Altria a 45 percent stake in the company. [
Paul R. La Monica, CNN Business
]
---
December 7
: Old people like weed! Haven't we seen this story before? [
Paula Span, the New York Times
]